6 KEY SIGNS THAT YOU NEED TO SEE A MASSAGE THERAPIST
You use your body all day, every day. It is a working machine that helps you to accomplish everything on your list, including working out, taking care of your family and getting tasks done at work. Every muscle, organ and nerve functions synchronously and while this is a great feat, it does come at a price. The wear and tear and stress can do a number to your physical health. There are undoubtedly days where you feel the repercussions of this and your body starts sending out red flags. In times like these, you could really benefit from seeing a massage therapist at our wellness center in Kansas City.
That might leave you wondering about what exactly these red flags look like and what you need to be looking out for. Our team has compiled  this list describing  the seven key signs that you need to book an appointment with a massage therapist.
SIGN #1: YOU SUFFER FROM FREQUENT HEADACHES
While there can be  many causes behind headaches, such as dehydration, improper nutrition and hormonal imbalances, a common reason is tension and stress. This is especially true if you are experiencing tension around the head, neck or shoulders. These headaches or migraines are often accompanied by pain in the neck, shoulders and back. If you believe that your headaches are being caused by stress and tension in these areas, try booking a massage. 
At our wellness center in Kansas City, we offer a wide variety of massage therapy options, including the Head, Neck + Shoulder Relief massage. In just a quick, half hour appointment, this massage relieves headaches and reduces anxiety through stimulation of the nerves on your scalp. 
SIGN #2: YOU ARE STRESSED OUT
Does balancing everything on your list make you feel like you're at your wit's end? Between home, work and social obligations, it's perfectly normal to feel stressed out and exhausted. After all, you're only human and can only accomplish so much in one day! No matter what the source of your stress is, know that you deserve to feel your best. One highly recommended option is to book a massage appointment. Not only will your body receive some much needed attention and care, but you will also be in a quiet, calm environment that fosters healing and restoration. 
SIGN #3: YOU HAVE A DESK JOB
When you think about jobs that are physically demanding, you probably conjure up thoughts of construction workers or home contractors. While it's no secret that these fields can take a toll on one's body, if you have a desk job, you are actually susceptible to pain, poor posture and bad aches. Tasks such as sitting and typing for long periods of time or hunching over your desk doing paperwork can do some serious spinal damage. 
As an office employee, do yourself a favor and book a massage appointment. Even if you think you feel okay right now, it's best to get ahead of the issue. Visiting a massage therapist once or twice a month will do wonders for your posture, your spine health and your overall quality of life.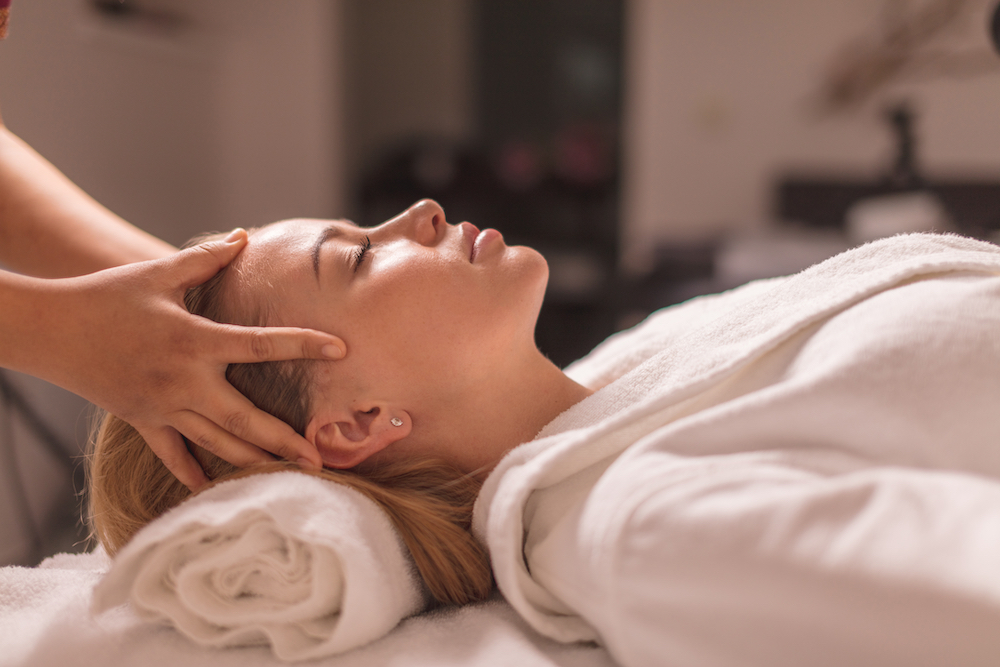 SIGN #4: YOU ARE NEW TO THE GYM
If you are one of the many people who set a new year's resolution to get healthier and start working out, you know that it can be both fun and rewarding to begin your workout routine. Now that you are almost a month into your goal, you are probably noticing some changes in your body. While most of these are likely positive, it is inevitable that you are experiencing some bodily pains as well. This might include muscle aches or joint pain that leave you feeling uncomfortable and are possibly even hindering your workouts. 
If this is something that you are dealing with, it's high time to book an appointment to see a massage therapist. Here at Woodside, you get the luxury of being able to hit the gym floor and visit the spa all in one convenient location! Your membership doesn't just give you access to cardio machines and free weights, but also to the whole host of amenities that our wellness center has to offer. 
SIGN #5: YOU HAVE POOR POSTURE
Another key red flag to be aware of is how your posture is on a routine basis. Whether you are sitting or standing, take note of a few things, such as how you are holding your shoulders or if the position of your neck feels off. If you are having a difficult time correcting your posture, it could be due to lingering tension in your muscles. 
The most effective way to remedy this is to get a massage. Be sure to share with your massage therapist any pain or discomfort you might be experiencing, as well as any recent issues with your posture. This will help them to target afflicted areas and ensure that you leave the spa feeling your absolute best. 
SIGN #6: YOU HAVE NEVER HAD A MASSAGE
All too often, massage therapy gets written off as something that you should only do once in a blue moon, such as on vacation or as a treat for your birthday. However, massage therapy is rooted in wellness and is a tool that exists to bolster your quality of life by relieving pain, decreasing your anxiety, improving your blood flow and so much more. If you have never gotten a massage before, don't hesitate to experience all the health benefits it has to offer!
VISIT OUR NEWLY REMODELED SPA
Our Woodside members can reap all the benefits that our spa has to offer, including a wide variety of massage therapy options, facials, skincare treatments and so much more. If you aren't yet a member of our luxury wellness center in Kansas City, now is your chance! Contact us today for more information as well as book a time to take a tour and see for yourself why a membership to Woodside is the best investment you can make for you and your health. Also, all new members enjoy 50% off their first service in The Spa.