HOW TO MAXIMIZE YOUR RELAXATION AT THE SPA AT WOODSIDE
Health and feeling good isn't just about working out and eating right. While that is clearly a huge factor, we have to remember that wellness is made up of many moving parts. If we don't have balance within our minds and spirits, our bodies can only do so much. That's part of the reason it's so important to nurture these elements as well, and making time to do this will play a huge role in our overall wellness.
If you're in need of some "R&R" and are looking for a great opportunity to treat yourself, pay a visit to the Woodside Spa of Kansas City. Our world-class spa is home to a wealth of amenities, providing the perfect spot for you to relax, heal and unwind. Don't just scratch the surface on what's available, let's take a moment to really explore how to get the most of your time at Woodside!

There is nothing more revitalizing for the body and mind
than a massage
from one of our highly trained professional staff members. Our therapists are there to cater to all body types and pressure preferences. A massage is an excellent way to recover sore muscles and tissues, help circulation, and work out troublesome tension and stress in our bodies.
While we have an array of offerings, check out these popular options available to book at The Spa at Woodside:
Signature Massage: This massage is full-body and helps stimulate circulation while easing muscular tightness. Our therapists adapt their individual technique to suit your needs and preferences, and get your body back in peak condition.
Energy Balancing CBD Massage: CBD is well-known for it's healing properties, and including CBD-infused lotions and oils into a session is just adding another layer to the curative properties of a massage. This brand new massage offering is something really special, and sure to leave your feeling balanced and reenergized.
Prenatal Massage: If you're an expecting mother, this is a wonderful choice. Our specially trained therapists use safe techniques to help ease any of the discomfort that can be brought on by pregnancy. Organic coconut oil is used for its subtle scent and nourishing benefits. You're growing a new life, you deserve to treat yourself!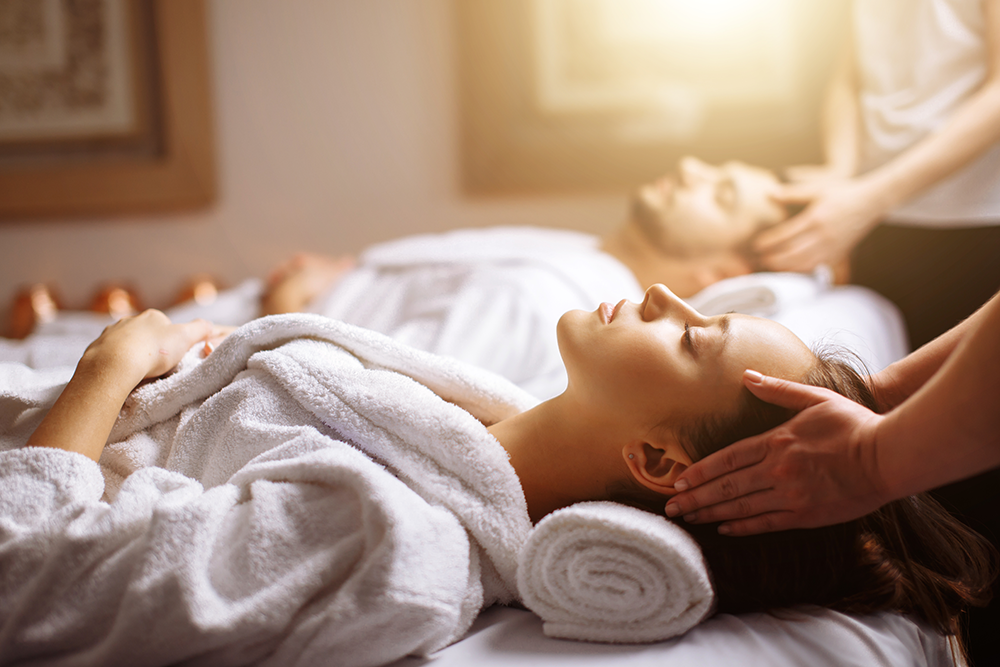 Give your face a gift that it really deserves:
a relaxing and revitalizing facial or chemical peel
. The skin is the body's largest organ, and keeping it healthy and well-loved requires a little bit of work. Every day, our skin gets affected by sun exposure and other environmental factors, leaving it feeling dehydrated and inflamed. A facial can certainly go a long way to help that. Below are a few of the great options we offer at Woodside Spa here in Kansas City:
Brightening Vitamin C Facial: Invigorate your skin with a brightening vitamin C facial. It will instantly brighten and hydrate your skin by undergoing a double cleanse under steam, opening and decongesting your pores. The gentle enzyme peel and potent vitamin C mask are designed to instantly diminish uneven skin tone and combat any present sun damage.
Custom Peel & Collagen Mask: Fully customize your peel procedures to help improve the health and appearance of skin by smoothing texture, diminishing acne and reducing pigmentation. The added collagen mask will calm and hydrate your face giving you an all-over nourishing treatment.
Facial for Men: Guys' skin needs some love too! Razors can leave your face feeling irritated and unhealthy. This facial helps your skin recover from acne, irregular skin surface, razor burn and uneven pigmentation.
Of course, our world-class spa is only the best in the business because of the training and efforts of our highly qualified staff. With over thirty years of experience between our therapists, you know you're getting an array of expertise and knowledge, each working from their own core philosophy and with their own unique style. Take a moment to
review their profiles
and see for yourself what they each bring to the (massage) table! No matter which of our caring and trained therapists you book, you won't be disappointed.
When you're done with your massage or facial, don't let the relaxation stop there. Pay a visit to one of our other unparalleled amenities at our
newly remodeled indoor spa pool area
, complete with a state of the art sound system and acoustic ceiling.
Waterworks: Relax by taking a long dip in our indoor pool, heated to the perfect temperature. Or sit back and enjoy our expansive hot tub with luxury jets. If you're wanting to sweat away your stress, be sure to spend a little time in our steam room or dry sauna. Either way, you're sure to really relax and settle in!
Take the Plunge: Here at Woodside, we are home to Kansas City's only full-body cold plunge for contrast therapy. The cold water acts as a stimulus and the hydrotherapy helps to manipulate circulation, pushing the nutrient-rich blood back to the body's core.
The Details: For us, luxury is found in the details. It's found in the little add-ons that really top off an experience, making it not only memorable, but something truly worth revisiting. Once you get out of the steam room or the pool, cool off with a chilled, eucalyptus-infused towel as you lounge about on our modern, comfortable seating or use one as you relax in one of the hot tubs or sauna.
The bottom line is this: you work hard and you deserve to rest! While working out and keeping up on a fitness routine is extremely beneficial, it's equally as important to make sure you're relaxing and taking the proper time to rest and recover your body as well as your mind. Our spa was created to do just that. If you're not yet a member of Woodside, you should be! Check out our
membership options
to see what works for you. Or if you need to check it out yourself, take a moment to
book a tour
of our facility. What are you waiting for?