WANT TO AMP UP YOUR FITNESS IN 2023? 6 TIPS TO HELP YOU STICK BY YOUR GOALS
'New year, new me.'
If you are someone who sets new year's resolutions, this is probably something that you have said to yourself to help inspire change and motivate you to meet your goals. For many people, these resolutions include eating healthier, exercising more and focusing on fitness. However, because these changes won't happen overnight, it's important to go into the new year with the proper mindset and be prepared to take on various challenges. Here at our Westwood gym, we have a few tips that will help you stay motivated as you head into 2023.
1.) ONE STEP AT A TIME
There is an old adage that goes 'Rome wasn't built in a day' and neither is any goal worth accomplishing. If you haven't exercised regularly all year, you aren't going to hop up on January 1 and run a marathon. Pace out your goals and make them both attainable and manageable. For example, plan to start out by walking for 15 minutes on the treadmill five times a week when you visit the Westwood gym. After a few weeks, work up to walking for 30 minutes each time. From there, you can add jogging and running in various intervals. 
Trying to take on too much at once can be very discouraging and daunting. The most important part is to stay focused and move forward with your plan. Setting micro goals along the way will help lead you to your ultimate goal as well as keep you motivated.
2.) SWITCH THINGS UP
Have you tried sticking to your wellness routine in the past but found that it quickly got stale? If hitting the gym and using the same equipment over and over isn't your cup of tea, don't be afraid to switch things up! One of the best ways to do this is by taking group fitness classes. Here at Woodside, our Westwood gym features a robust and diverse schedule of various group classes. From yoga to cardio, strength training and more, you are sure to find something that shakes up your routine, and your membership includes unlimited classes
On the plus side, you can participate in these courses knowing full well that they are being led by some of the top instructors in the Kansas City area. All of our instructors are highly trained and qualified to guide you through all aspects of class, including coaching in proper technique and keeping you motivated when things get tough.
3.) MAKE A PROPER PLAN
If you want to reach your fitness goals, you need to set out a clear cut plan for how to incorporate fitness into your everyday life. Simply saying 'I think I'll go after work a few times a week' won't work and will quickly cause your motivation to fizzle out. To remedy this, write down your workout schedule into your planner or daily calendar. Include a set amount of time that you will visit the gym and stick to it. 
You can also incorporate fitness into your everyday routine in more unconventional ways. For example, take the stairs instead of the elevator. On your lunch break, go for a walk or take the time to do a few stretches in your office. These small changes will surely add up to big ones over time.
4.) GET AN ACCOUNTABILITY PARTNER
There is nothing quite like working out with someone who will hold you accountable and keep you motivated. Whether it be a good friend or your significant other, having someone by your side is sure to help you stay on track. They do this in several ways. First of all, you don't want to let your partner down by failing to show up to the Westwood gym at the agreed upon time. Even on the days you want to skip your workout, knowing that your partner is counting on you is enough to ensure that you get up and go. 
Secondly, if you are struggling, they will be the first person there to help you and encourage you. They know exactly what you are going through and may even be facing the same things. There will be opportunities to return the favor and provide them with support and encouragement as well.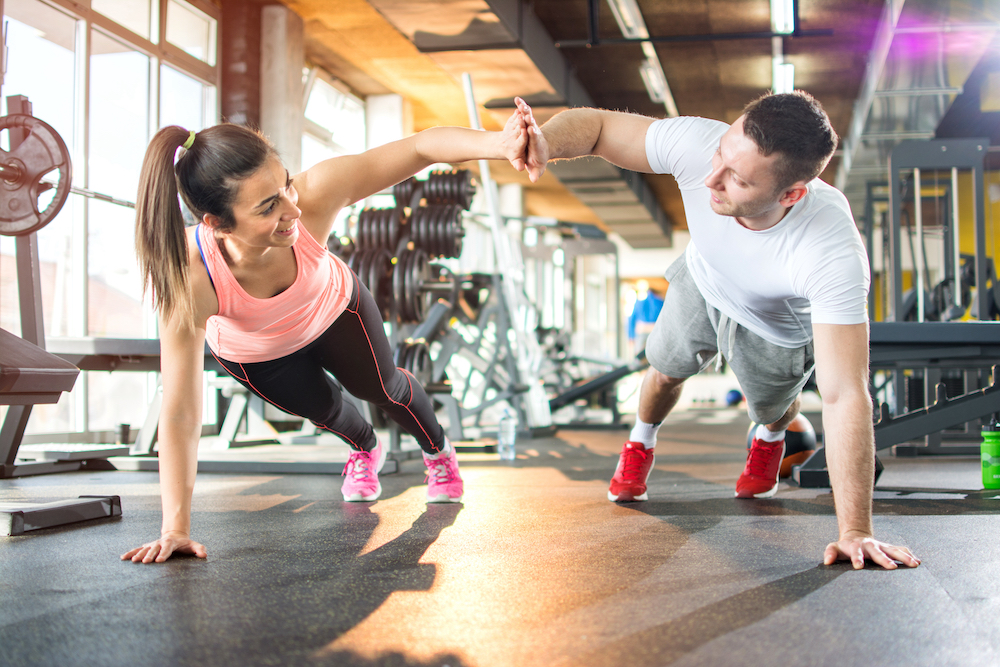 5.) TRY A PERSONAL TRAINER
When you hear the words 'personal trainer', what do you think of? Perhaps you are struck with a dramatized Hollywood version of the profession that entails being yelled at by a super buff person. Thankfully, this is only a stereotype and not at all indicative of how a real personal trainer behaves. In fact, personal trainers are there to help teach you and guide you through proper techniques to ensure that you are having the safest and most fruitful gym experience.
Not only that, but personal trainers can design a workout program that will suit your needs and goals. They can also offer professional guidance, accountability and the encouragement to get you where you want to be. If you've never considered using a personal trainer before, 2023 is your year to do so!
6.) REWARD YOURSELF
Any time you reach a fitness goal, you deserve a reward! This could include treating yourself to a new pair of workout shoes or headphones. Or it could entail booking yourself a massage or taking a trip to the spa. No matter what that reward looks like for you, just make sure that you are taking the time to recognize all of your effort and hard work! 
JOIN OUR WESTWOOD GYM
This year, set yourself up for success by joining a gym that is focused on your all around fitness. By becoming a member of Woodside, you can have access to a wide wealth of amenities that will give you all of the tools you need to reach your goals. A top of the line fitness center, a robust group fitness schedule, highly trained staff and more all await you with your membership! Don't let another year pass you by – join Woodside today!