With the summer heat rising outdoors, this may be just the time for you to find an indoor cycling studio in Kansas City! Many people have found great satisfaction when they've established a cycling routine and discovered the feeling of joy an exercise journey can bring.
Here at Woodside, the opportunities abound and we can show you how to benefit from your time on the bike! Whatever your desire, our trainers and Cycle Studio can meet your needs.  Besides getting out of the heat of summer, here are some of the reasons you should consider taking indoor cycling classes:
1.) CARDIOVASCULAR FITNESS 
There are many reasons trainers and even most doctors recommend you begin with cardio exercise when you want to begin working out–even if you are only starting by walking. When you introduce cardio into your exercise routine, three things immediately happen to your body: oxygen flow increases, heat is eliminated via sweating and breathing and your body eliminates waste. These are just the immediate health effects you can expect. 
The most major benefit your body receives when you begin a cycling routine is that it decreases your chances of developing Coronary Heart Disease or other cardiovascular issues. Therefore, establishing a regular routine of cycling to challenge yourself can significantly improve your overall health in some of the most incredible long term ways. Our group fitness instructors at Woodside can help you begin your journey to cardio fitness!
2.) MUSCLE DEFINITION
Another advantage of cycling is the strength that can develop from core muscle definition. As you develop muscles in your body's core area, you will lose fat and your overall health will improve. Your legs will be stronger and leaner as well, which will prolong your overall stamina and improve your life and the activities you can easily participate in with others. 
In addition, as you burn calories while cycling your body will begin to take its ideal shape becoming stronger and more defined. Clothes begin to fit differently and your skin begins to look and feel healthier. You are off to a whole new you in both appearance and how you feel. 
3.) LOW IMPACT EXERCISE
One of the greatest benefits of cycling is that there is relatively no risk of injury. Cycling is even an exercise you can do if you are recovering from injury or illness. However, you can also continue to increase the level at which you are working yourself to level up your challenge. Yet, even during that challenge, you will not wreck, collide with another cyclist or run across rough trails or bad weather making your workout treacherous. Instead, you are able to focus fully on meeting your health goals and what you need to do to move toward them.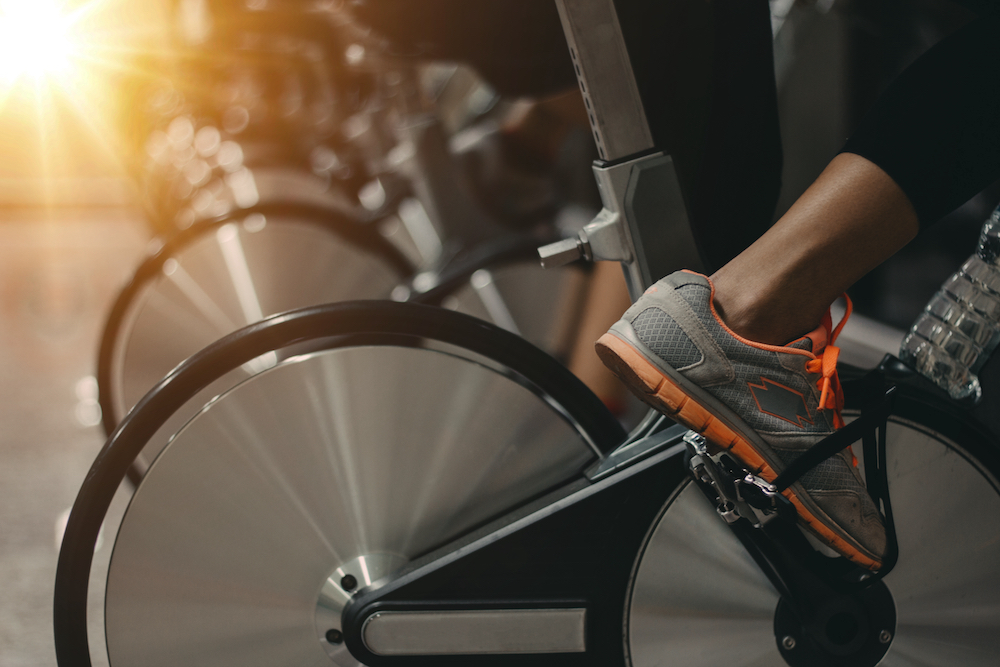 4.) STRESS RELIEF
All evidence and research by experts in the field indicates that exercise relieves stress. Indoor cycling allows you to clear your head, forget the stressful day you have had and spend time relaxing. There's nothing better than forgetting about the negative aspects of your day while you bring your body into a space where it draws in more oxygen and burns calories. You rebuild your energy and improve your mood at the same time you improve your metabolism.
Regular exercise is shown to decrease tension, stabilize your mood, improve your sleep patterns and even improve self-esteem. Pumping up endorphins through physical activity can improve your overall sense of well-being while also increasing your physical health. Let our cycle instructors at Woodside show you how to gain these benefits in your life. 
5.) WORKOUT WITH COMMUNITY 
Oftentimes being part of a cycling class motivates you to work harder because you are part of a group. Studies show that most people spend significantly more time working out if they do so with a partner. The sense of being part of a team, a community, leads us to follow through with more commitment to our exercise plan. 
At Woodside, there are a variety of plans to fit all needs and desires. Our renowned instructors will lead you in our state-of-the-art Cycle Studio. We offer a variety of levels to challenge yourself, so there really is something for everyone! Experience the Woodside Ride in all of its pedal-turning, fast-paced challenge as you benefit your cardo health, improve your muscle endurance, and build your health community. 
THE BEST INDOOR CYCLING STUDIO IN KANSAS CITY
Are you ready to join a community of cyclists and start your journey to a new and better you? Are you ready to feel the joy that comes with increased endorphins triggering positive feelings in your body while you become a leaner and stronger individual? You will combat fatigue, depression and stress while you build a new and better body and life.
The experts at Woodside are ready to show you around our cycling studio in Kansas City as you discover the variety of programs waiting for you. Whether you are ready for a relaxing ride a time or two a month or training five times a week for outdoor cycling, there's a plan for you. Cycle instructors at Woodside can help you find the right program and set you on the training journey to meet your goals. 
At Woodside, we are always ready to discuss membership opportunities with you so be sure to contact us today. We would love to provide you with a tour of our Cycle Studio and check out the other amazing amenities that we have available to members. Don't wait– start your journey to better health now!