With spring just around the corner, people are gearing up for ways to look and feel their very best. For a comprehensive experience with a focus on the whole person, most of us are looking for state of the art facilities and exceptional staff. With gyms near Kansas City to assist you on this quest, let's look at a few ways a Woodside membership can help you do just that! 
#1.) JOIN A GROUP FITNESS CLASS
One of the best ways to begin a journey of fitness is often with a group fitness class. Sometimes the motivation of attending a class when others will be there, too, helps us keep going. With over 120 fitness classes for you to choose from, Woodside has the right group fitness class to move you toward your overall health goals. We offer diverse selections of classes to choose from and the classes are offered seven days a week at a variety of times of the day, so we can meet your scheduling needs. This diversity in times is not something found at your average gym.
In our group classes, you will have a professional instructor to work alongside you to motivate you and keep you moving toward your goals. The various class types  will allow you to choose one that moves at the pace you choose, and you can attend just one a week, or more. Your Woodside membership includes unlimited group fitness classes. At Woodside, it is easy to find the class or classes to meet your fitness needs and build a health community for support at the same time. 
#2.) WORK WITH A PROFESSIONAL PERSONAL TRAINER
Another way to work toward personal health goals is to meet with one of our personal trainers to set up an individual plan. you may have specific goals that you want to work toward at a greater pace than may be met in a group class. 
Oftentimes, working with a personal trainer to set you on a path that is individual to you and your body and goals may be just exactly what you need to meet your goals in the time you hope to meet them. Personal trainers are committed to making their clients' goals a reality. Woodside's personal trainers are some of the very best found at gyms near Kansas City. Having the best personal trainers on staff is one way we make a commitment to you to help you feel and look your very best. 
#3.) TRY TENNIS OR SWIMMING
If you are more interested in a specific sport as your form of exercise, you could try out our pool or tennis courts. For those who would like to enjoy tennis, even if you have never played before, Woodside offers clinics year-round, and we do so for beginners and advanced skill levels, and we even have a doubles clinic, if you are interested in taking lessons with a partner.  Simply check out the schedule to see what might fit yours.
For swimming laps or relaxing, there are two adult pools for your enjoyment, as well as an additional large family pool. Members can enjoy these pools for both exercise and fun. Woodside is also proud to host a youth swim team. All pools are scheduled to open in May.
Becoming and staying fit can be a personal or family affair at Woodside. We realize that if good habits begin early, they are most apt to be lifelong ones that continue into adulthood. A variety of activities for health needs and desires is one of the many things that make us unique at Woodside.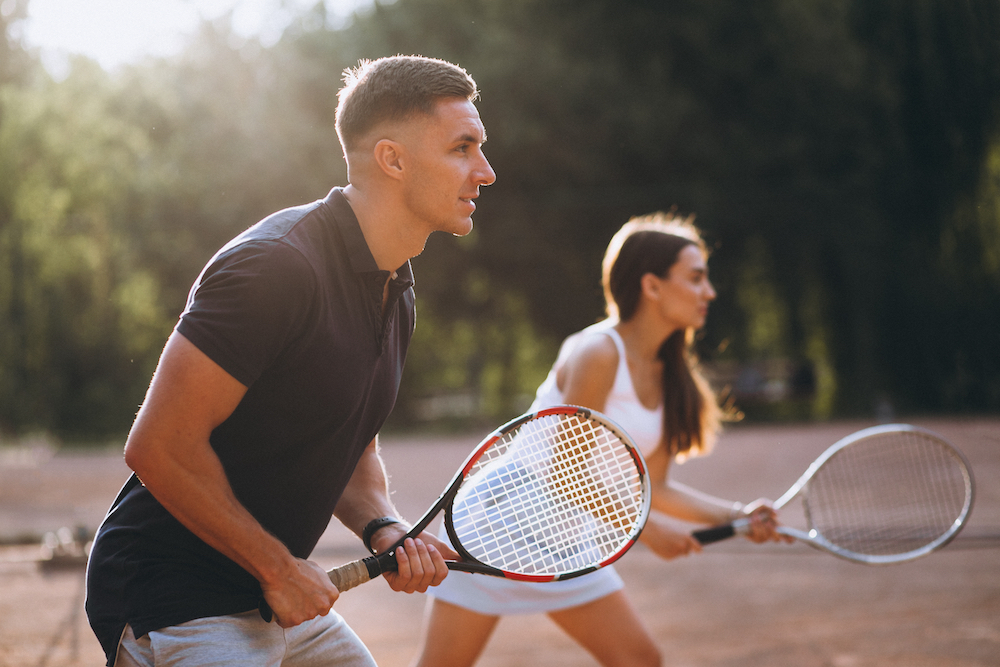 #4.) GRAB A BITE AT THE KITCHEN
The Kitchen adheres to strict quality standards and provides the purest ingredients possible for your body and mind. Animals are raised without antibiotics or hormones; others are wild-caught  or grass fed; as well as offerings that are organic or naturally grown. As a commitment to our community, we use area producers and growers who are also committed to our 6 Standards of Quality.
There are numerous menus to choose from in The Kitchen, as well as ones that specifically serve The Pool, The Bar and more. The offerings are numerous, and there are even Grab + Go  options available. 
Most menu items can be made gluten-free, vegetarian or vegan. Just ask! We are here to help you stay as healthy as possible and to maintain the health journey you desire. 
#5.) VIST THE NEWLY REMODELED SPA
Nestled in the gym near Kansas City, the newly remodeled spa is a place to soothe your muscles, release your tension and relax your mind. The overarching principle is of the connection between the body, mind and soul being vital to overall health. 
One major way to revitalize the body and mind is through professional massage. Our spa providers offer a number of massage services that will fit your needs for rejuvenating  your body and mind. Massage offerings are customized to your needs and can focus on the whole body or specific problem areas. In addition, there are offerings focusing on facials and skin care or even balancing energy. View our wide variety of spa offerings to see what service might work best for you!
In addition, our spa offers members a Hydrotherapy room for relaxation that is unlike any other found in the Kansas City area. It is just one of the many amenities offered for rejuvenation of body and mind at the spa. 
JOIN WOODSIDE TODAY!
When you consider where you want to spend your time reviving your body and mind, when you are looking for your health and wellness destination, don't you want the most unique location and the best experience? That is what Woodside can offer you with the numerous amenities provided to its members. 
You should consider becoming part of the most extensive gym near Kansas City to become the best you can be. View our beautiful photo gallery now to see what you are missing out on.
Then, to become a member of Woodside, consider scheduling a tour today with one of our professionals to find out what we can do for you on your road to help you look and feel your best!