CELEBRATE NATIONAL HEART MONTH WITH THESE 5 GREAT WELLNESS TIPS
February is here and it's time to focus on your heart – and not just because of Valentine's Day! In fact, February is American Heart Month, which provides the opportunity to focus on ways that you can better improve your cardiovascular health. Heart disease is the number one cause of death in America for both men and women alike, and if you have concerns about your heart health, this is a great chance to make some positive changes. 
If you aren't sure where to start, don't worry! Our KC wellness center has compiled a list of five great wellness tips you will want to check out. Keep reading to learn more!
#1.) START AN EXERCISE ROUTINE
One of the quickest ways to improve your health, including your heart health, is to get up and get moving. Staying active and having an exercise routine can do wonders for improving your quality of life and help you to stay healthier longer. Researchers and doctors both recommend getting around thirty minutes of exercise a day. Cardio exercises, such as walking, running and swimming are especially beneficial to improving heart health. 
Joining a gym can provide you with ample opportunities to get active! For example, our KC wellness center offers our members access to state of the art exercise machines, a robust schedule of group fitness classes and even the chance to work with a certified personal trainer. 
#2.) KICK THE HABIT
It is no secret that smoking is one of the worst things that you can do for cardiovascular health. Each cigarette takes precious time off of your life and increases your risk for developing heart disease. This month, make it your goal to get rid of your smoking habit for good! There are many free resources available online that can help provide guidance on how to quit. Having a conversation with your doctor is also a great place to start. 
#3.) EAT A HEALTHY DIET
The food you eat is fuel for your body and you want to make sure that you have a nutritious and healthy diet. If you find that your cabinet is full of snack cakes and chips, it is probably time to reevaluate your eating habits. However, making this change can be easier said than done.
Aren't sure what to add to your cart during your next grocery shopping trip? Here are a few ideas to help you get started:
Begin your day with a breakfast of oatmeal. Oats are extremely good for the heart because they contain a special type of soluble fiber called beta-glucan. Top off your oatmeal with a handful of blueberries for additional flavor and a dose of antioxidants.
Omega-3 fatty acids and fish oil play an instrumental role in bolstering heart health. According to research, they are capable of preventing heart attacks and keeping the heart in rhythm. Opt to eat fatty fish such as salmon, albacore tuna, mackerel and sardines, as these are high in fish oil and omega-3.
Vegetables are always an excellent addition to any healthy meal, but dark, leafy greens are the best if you are focusing on your heart health. This includes options such as salad greens, spinach, kale and swiss chard.
If you want a spot to pick up a delicious and nutritious meal, consider stopping by The Kitchen here at our KC wellness center. With a seasonal menu and ingredients selected using our 6 Standards of Quality, you can rest assured that you are getting to enjoy some of the finest cuisine in the area.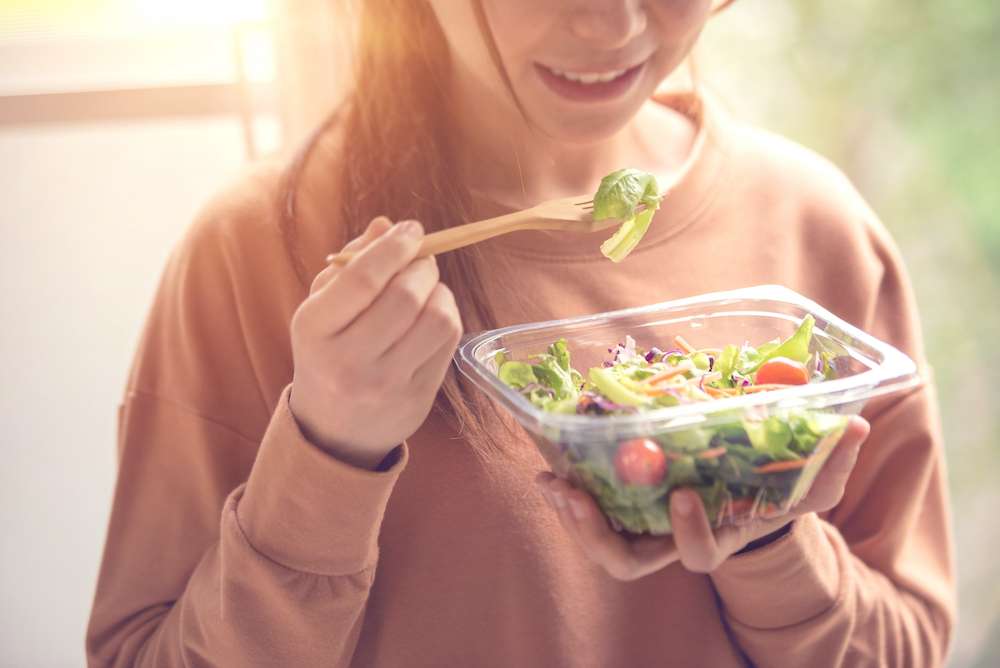 #4.) REDUCE YOUR STRESS
Stress has a way of creeping up on you and can have some serious health implications, including raising your blood pressure and increasing your risk for heart disease. Between juggling projects at work, staying on top of everything at home and still trying to find the time to drink enough water, moisturize and get 8 hours of sleep a night, it's no wonder you're feeling burnout! While stress is an inevitable part of life, you can find ways to manage it so that it doesn't impact your day to day routine. 
In order to reduce your stress levels and lead a healthier life, there are few good measures you can take. First of all, working out can release endorphins and help clear your mind. Finding hobbies that you enjoy can also do wonders for relieving stress. If you've never tried getting a massage or facial, this is an excellent option to alleviate tension, remove toxins from the body and  simply help you to relax. Members of Woodside can enjoy booking with a massage therapist at our newly renovated spa! 
#5.) MANAGE YOUR WEIGHT
Obesity plays a significant role in increasing your risk for having a heart attack, stroke and developing diabetes. The journey to weight loss is more than just working out and eating healthy. It is a very personal process that requires a lot of patience, tenacity and dedication. If you have struggled with losing weight in the past, be sure to book a check up with your primary care physician. They can run tests, such as bloodwork, to determine if there are any underlying factors and create a plan to help you move forward. Not only will you feel better about yourself, but you will also be doing your heart health a huge favor!
JOIN OUR KC WELLNESS CENTER
If you are serious about improving your cardiovascular health, don't put it on the backburner any longer! Instead, become a part of a community that is there to support you every step of the way. Here at Woodside, our mission is to help our members achieve an overall elevated sense of wellness, including physical, mental and social. Each of our incredible amenities offers a new way to better yourself and prioritize your health. 
To become a member, contact us today! We would be happy to give you a tour of our facility and answer any questions that you may have. Once you step foot into Woodside, we are confident that you will see the difference a membership can make for you and your life.