We are thrilled to welcome Woodside's new Executive Chef, Michael Giampetruzzi, who joined the team late last summer. Chef Mike is originally from Bangor, ME but has lived in Kansas City for over 20 years, and is a father to a three-year-old daughter who he claims – alongside her mother – is the focus of his life. Chef Mike comes to Woodside from Café Trio where he worked as Executive Chef for the last three years. Below he shares with us a little about his culinary upbringing, why he is excited to be part of the Woodside team, and what inspired his first menu at the Club.
What made you interested in having a career in food?
My grandparents came to America from Hungary in the 1950's. My grandfather was a master boat builder and, along with his wife, tended a farm. They lived off the land — growing fruits and vegetables and raising cattle and other animals. I spent a lot of time with them on the farm as a child. My grandmother was a self-taught, traditional Hungarian cook. I enjoyed watching her use what she grew from the garden in the meals we would eat each night. It was through cooking with her as a child that I learned how to combine flavors.
My father was born in Italy. His family moved to New York City when he was about six years old. In New York, you have access to fresh ingredients on every corner. We would get fresh pastas and meats from Italian and Jewish delis to use in our meals. I remember a large pot of marinara with sausage and braciola was usually simmering on the stove, cooking low to develop deep flavors. I would watch meals take days to come together, so when it came time to eat it wasn't just thrown onto a plate – extra time was taken to present it with the same pride that was used to create it. That feeling is one I carry with me in my culinary career, today.
Through experiences with both sides of my families in their kitchens, I was exposed to so many different types of food, schools of thoughts and techniques. These experiences helped to shape my style and taught me to create without recipes. If you eat one of my dishes, it might taste a little different every time, because I am always striving to make it better.
So, from a young age you knew you wanted to be a chef?
Well, I didn't realize it at the time, but yes. I worked in corporate banking for about 10 years before becoming a chef, and that was very unfulfilling. I had always loved cooking and was urged by those close to me to give it a try so, I enrolled in a few culinary courses at Johnson County Community College. From there I entered an apprenticeship and have been cooking ever since.
What made you want to come to Woodside?
Growing up, I had always been involved with health and fitness in one way or another but sometimes took long stints without. My health has always been of high importance to me in daily life. At Woodside, everyone is working to be the best version of themselves. Here, I could spend more time with my family and get back to a better state of health. It is a close community and the staff at Woodside all work there for a reason.  I wanted to be a part of it.
Tell us about the new menu and what inspired you?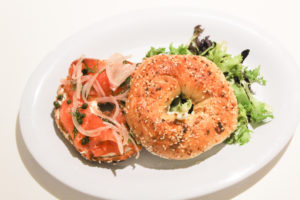 The biggest thing for me was being able to bring some of my family and culinary backgrounds to the menu. You will notice that most of the new items use very minimal ingredients, but are packed with flavor —  much like that of my Hungarian and Italian roots. My last six years have been in fine dining – so I wanted to create dishes for Woodside that give a hint of fine dining, but at an approachable and affordable price. It was also very important to me to have options for every diet. To do so, we are making more made-from-scratch items. We will always accommodate any dietary needs to the best of our ability – we are even offering the Impossible Burger for non-meat eaters on this menu.
So far, it's been fun to work at a place where health is a main focus, and I want to make eating healthy as easy as possible for our members. For instance, on the Bagel and Lox, we cure the salmon with a smoky citrus cure in house which takes five to six days. Then, we top it with traditional fixings, and a probiotic cream cheese. Small things like that have been fun and new for me to explore while creating this menu.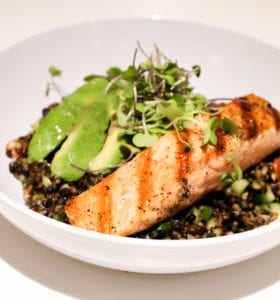 What dish are you most excited about?
That is a hard one! I am excited about all of them for different reasons. But if I had to choose, I think I'm most excited about the salmon and trout dishes. We are using high-quality, fresh fish sourced from the Faroe Islands off the coast of Denmark. I chose this farm specifically because it is strictly monitored for sustainability and is renowned for its quality. The fish we serve is sustainably farm-raised in the open waters around the island. This specific area has currents that help with maintaining optimal health and natural growth of the fish, and the extremely cold water allows for higher-than-average levels of body fat. Working with this farm allows us to have more consistency in the fish that we serve.
I am also excited to introduce a "Soup of the Day." This is one of my absolute favorite things to create and a huge part of Hungarian cooking. In working to become a zero-waste kitchen, we are looking to really utilize every part of our meat and vegetables to make stocks and soups. It is exciting to be creative every day and these dishes allow me to do that.
When not at Woodside you can find Chef Michael spending quality time with his daughter, relaxing by the fire pit, gardening or rooting on the Chiefs.
The new menu is now available from the Kitchen. You can view the new menu here, or stop by the Earthbar to try it today.