Have you ever considered taking a 'whack' at tennis? Or maybe your racquet has sat in the back of the storage closet for too long collecting dust and you need to get back into the swing of things. Regardless, playing tennis actually comes with a wealth of health benefits! So whether you are a newbie or a seasoned pro wanting to pick back up, our Woodside health and tennis club has a few reasons why you should consider stepping onto the court this spring.
1.) FUN WITH FRIENDS
Spending time in person with our favorite people is certainly something many of us have missed doing over the past two years. If you are wanting a fun social activity where you can make new friends or bring along old ones, then tennis is right for you! Tennis is played in either singles or doubles, meaning that no matter which way you prefer, you have someone to play with or against. This not only makes the game more fun but also provides you with some healthy competition and like-minded people to help you reach your goals.
2.) IMPROVED MENTAL SKILLS
If there is one thing that can be said about tennis, it's that it requires you to think on your feet. Tennis calls for the player to have a combination of critical thinking skills and mental alertness of what's going on around them. While no one expects you to step onto the court and be inherently perfect in these areas, practicing and playing tennis can certainly aid you in the development of these skills.
Not only that, but did you know that playing a sport such as tennis helps to regulate serotonin in your brain? While it might not look like it from watching the infamously irritated John McEnroe, tennis can actually help you feel calmer, sleep better at night and have an overall better handle on your emotions.
3.) PREVENT HEART DISEASE
Heart disease is the number one cause of death in the United States for both men and women. If you are looking for a great way to help prevent the development of heart disease, tennis could be a viable answer! When playing tennis, you are engaging in a sport that focuses on cardio and endurance. These two factors play a huge role in decreasing blood pressure, which in turn lowers your risk of heart attack, hypertension and stroke.
4.) IMPROVED BALANCE, COORDINATION AND FLEXIBILITY
Have you ever watched a tennis match and one of the players has to stretch all the way out in order to successfully keep a ball in play? This is something that is no easy feat and requires a lot of practice, dedication and skill. As you come to play tennis more and more, you will begin to develop these abilities, constantly improving your flexibility, balance and coordination. Endurance will also serve you well in tennis, as the momentum of a match can shift in an instant. You have to be prepared for whatever is hit your way!
5.) WEIGHT LOSS
Was losing a little weight one of your resolutions for 2022? If you are feeling stuck in a rut with your typical workout routine, taking up tennis might be a good way to mix things up and help you push toward your weight loss goal! During the average tennis session, most people burn anywhere from 600-1200 calories. That makes sense when factoring in just how much moving, stretching, running and pivoting you do while out on the court. You are sure to leave our Woodside health and tennis club feeling like you have put in the sweat and hard work!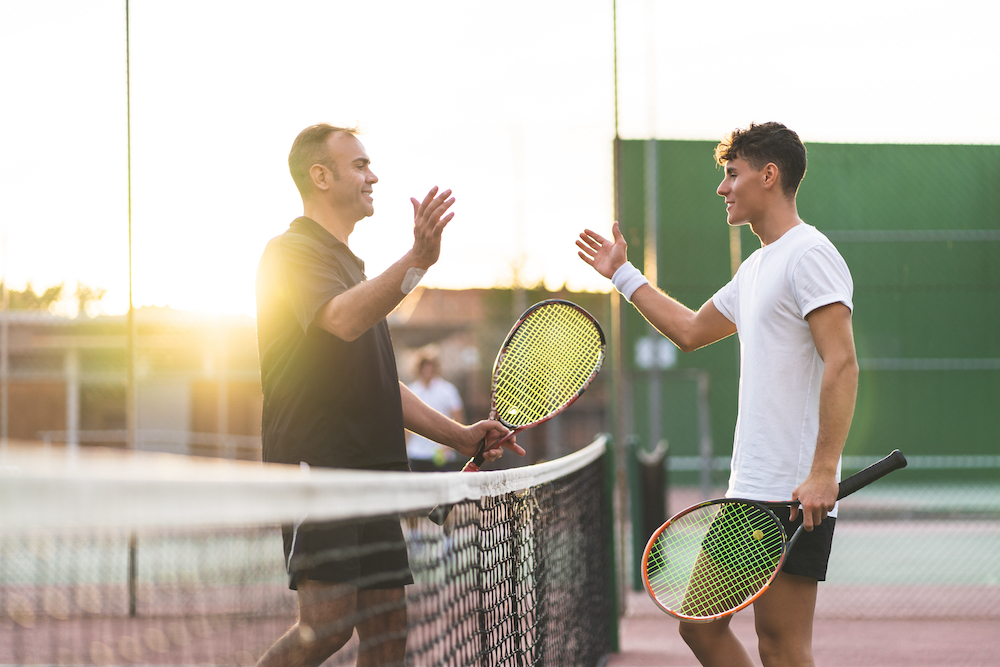 6.) STRESS RELIEF
Life is stressful – that's hardly a secret! Between work, friends, family and more, things can really bog us down. It is important that you find an outlet for this stress, otherwise it can be extremely detrimental to your health.
While many people may opt to jump on the treadmill or go for a run around the neighborhood, it can still be easy to fall into a trap of your thoughts. "Did I pay the electric bill?" "What am I going to make for dinner?" "Do I have everything squared away for tomorrow's meeting?" It can be hard to completely detach from the world around you.
Tennis, however, is a sport that forces you to leave these nagging thoughts behind. You have to have your undivided attention focused on tennis – where the ball is going next, what your opponent's next move is, how you are holding your tennis racquet. With all of this going on, it makes it difficult for unnecessary thoughts to wiggle into your brain, making it the ideal stress relief activity! (Plus, hitting a tennis ball with your full force never hurts, either!)
7.) A LIFE-LONG ACTIVITY
No matter what age you first begin to play, tennis can be a life-long activity. More physical or rougher sports such as football or soccer don't have the same sort of longevity that tennis does thanks to the way playing other sports can wear and tear at the body.
In fact, if you have ever visited a retirement home, you've probably spotted two things: a tennis court and a golf course. People of any age can participate in tennis, making it the perfect activity to enjoy for the long term. As an added bonus, this means that you get to keep playing the game you love with your friends for a very long time!
WOODSIDE HEALTH AND TENNIS CLUB
Here at Woodside, we are proud to have tennis as one of the highlights of our club. Whether you want to join a clinic and take private lessons with one of our fantastic coaches, or you simply want to grab some friends and rent the court for a few hours, we are the perfect venue. We strive to create an environment that is friendly and fun while still fostering a sense of healthy competition for all skill levels.
Have we convinced you to give tennis a go? Then you should consider joining Woodside today! We would love to help discover (or rediscover!) a love for this incredible sport. In fact, all new members get a complimentary tennis hit. When you join, our Director of Tennis will reach out to help get you started.