HOW WOODSIDE CAN HELP YOU REACH YOUR FITNESS GOALS
It's the height of summer, and soon, these long days and relaxing vibes will give way to the busy fall season. Whether you have children or not, August and September always feel like a blur as one season transitions into the next. 
During this time, it can be a challenge to keep up with our fitness goals, as we tend to put ourselves and our own needs to the wayside as life gets hectic and stressful. If you're feeling this way or worried this might be you, don't worry! Woodside Health and Fitness Club is here to help you along every step of the way. From our highly-trained personal trainers, to our scientifically designed fitness classes and world-class kitchen, we know that wellness isn't just a number on a scale – it's a way of life.
A common misconception about having a personal trainer is that it is one, very expensive and two, an intense, daily commitment. This is not necessarily the case! At Woodside, we've designed our training programs to be adaptable to any lifestyle or needs. So regardless of your schedule or budget, they're there to help you focus on getting healthier, stronger and reaching your goals. 
Getting a personal trainer in Kansas City is now easier than ever with our four ways to train:
One on One

: Whether you're new to fitness or are looking to gain a little guidance, booking a one-on-one training session will prove to be extremely beneficial. If a group setting is intimidating and you'd rather receive focused instruction, opt for this type of session. A trainer will help you uncover your strengths and weaknesses and stay goal-focused.





Small Group Training

: If you're a person who thrives in a group setting, be sure you check out our small group training. Here, you can build comradery that will help keep you focused and held accountable, while also having fun at the same time. This high-intensity interval training program will burn fat, build muscle and provide overall full-body conditioning.





Training Camps

: Participating in seasonal training camps can be a great way to step up your game and push yourself to new limits. These camps span all fitness levels and types, so regardless of your goal or where you're at along the way to it, there is sure to be a session on the calendar that fits you.





Pilates Training

: Stott-certified personal trainers lead our pilates classes. Pilates helps individuals build long, lean muscles, improve core strength and restore balance and tone throughout the entire body.

Read more about our pilates courses

and book a session today!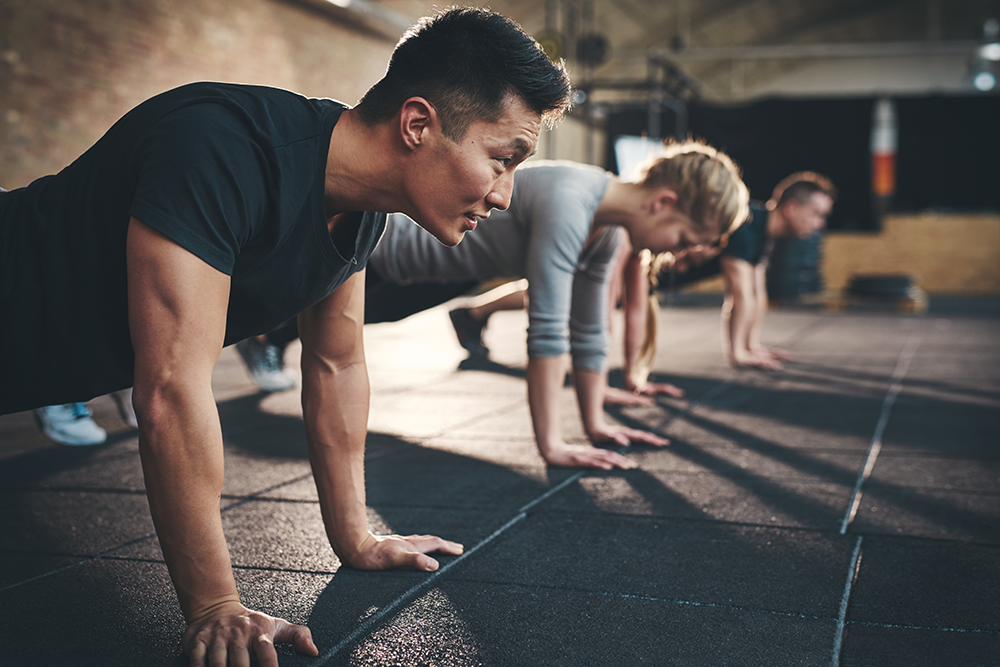 Other than our pilates and training camps, we offer a robust schedule of other fitness classes that you can take. With 120+ course offerings each and every week, you're bound to find something that fits your schedule and your goals. Structured group environments can also be a great way to socialize, allowing you to be held accountable while making friends at the same time.
Cardio, strength, indoor cycling, yoga and more: no matter what you're into, check the calendar for class times. Structured courses such as these can take some of the heat off of trying to build your own workout routine every time you hit the gym floor. Getting overwhelmed can deter or distract you from your fitness goals and can be extremely counterproductive. So grab a friend and a water bottle and get ready to sweat it out and have fun while you're doing it! 
If there is one element of wellness that is often overlooked, it's the importance of having a consistent rest day.
Rest days exist to restore our bodies and our minds. While rigorous workouts are good for burning fat and building muscle, if we don't properly care for our bodies in between sessions, we are bound to run ourselves into the ground. Doing this is extremely ill-advised as it could lead to an injury or burnout, effectively putting an end to your goal.
So what does Woodside offer in terms of a rest day? Well, we're glad you asked.
Book a Massage

: Revitalize the body and spirit with a massage from one of our certified and trained staff members. With

different options ranging from deep tissue to an energy-balancing CBD-infused massage

, treating yourself to a regular trip to the spa will keep you refreshed and renewed.





Take a Dip in the Pool

: Water is known for its healing properties, and that's not just when you're drinking it. Whether you're in our heated indoor pool or expansive hot tub, or even paying a visit to our steam room or dry sauna, water can go a long way in helping restore our bodies. When you're done, wrap up in a eucalyptus-infused towel and kick back in our modern lounge seating.





Get a Facial

: Our skin is the largest organ the human body has, and it deserves TLC, too! After sweating at a workout, recondition and rejuvenate your skin

by booking a facial

. Combat sun damage, unclog and decongest pores, and reduce blemishes with any one of our signature skin-care services. 
Setting fitness goals for yourself can be intimidating no matter where you are in life or what your current fitness level is. A few quick tips we have are listed below. Remember, you can rely on us here at Woodside to keep you motivated and moving, and we're always here to help and provide support.
One at a Time

: There exists an old adage that asks, 'how do you eat an elephant?' The answer is simple: 'one bite at a time'. Keep this in mind when making goals and set just one at a time. This will help keep you focused and prevent you from feeling like you're juggling too much at once.





Make it Your Own

: When it comes to weight loss or exercising in general, it can be easy to compare ourselves to those around us and want to use their goals as our own. Each person is different, and what works for you might not be realistic for the person next to you. Identify what you want for yourself and take it!





Make it Obtainable

: For your very first goal, don't choose something like 'lose 100 pounds' or 'run a marathon'. Maybe that can be your long-term idea, but it's important to set small goals along the way. Start off small and build up. Maybe your first goal is to run a mile without stopping or to workout at least four days a week. Accomplishing smaller, stair-stepped goals will boost your confidence and keep you on the right track.