6 PRACTICAL SKINCARE TIPS YOU CAN'T OVERLOOK THIS SUMMER
At long last, summer is finally here! For many people, that means it's time to head outdoors and soak up the sunshine. While activities like going to the pool, taking a hike on your favorite nature trail and spending long weekends camping and fishing is great for the soul, it can actually do a number on your skin if you're not careful. Factors such as heat, sun exposure, humidity, wind and more all play a role in skin damage.
Don't worry – we still want you to have a summer of fun! Our KC wellness center has put together a few tips to make sure you protect your skin in the process. Keep reading to learn more!
TIP #1: APPLY SUNSCREEN OFTEN
If you think you can just lather up the sunscreen really quick before leaving the house and call it good, think again! Sunscreen needs to be applied evenly and thoroughly, and then continually applied throughout the day. Prolonged exposure to the sun without the protective barrier of sunscreen can lead to skin damage, including burns, blisters and yes, even skin cancer. Sunscreen should be worn any time you are outside, but especially during the summer months. 
Which brand of sunscreen you use is typically based on personal preference and it is important to opt for those that have at least 30 SPF and above. Anything less than that isn't giving you the proper protection you need. If you have sensitive skin, especially on your face, look for brands that cater to these needs. Also, don't forget to put sunscreen on your lips! Certain brands of lip balm offer coverage with 30 SPF or more. Visit The Spa or Concierge at the Adult Pools to purchase Coola Suncare products.
TIP #2: KEEP MOISTURIZING 
The winter air is known to dry out our skin, especially when it comes to those nasty wind chills. While those are long behind us, it doesn't mean that you can skip out on moisturizing! The key is to find a lighter moisturizer that doesn't make your face or skin feel so heavy or oily. Apply this first thing in the morning before you head out for the day, and reapply as needed. However, it's important to note that a moisturizer doesn't replace the quality coverage and protection given to you by sunscreen!
TIP #3: USE MAKEUP WITH SPF
If you are someone who wears makeup, choosing to wear foundation with some SPF coverage can give you a nice base layer of protection. After all, caking on sunscreen over your makeup hardly sounds appealing. Whether you're outdoors all day for a wedding or enjoying a local festival downtown, you want to both look and feel your best while also protecting your skin. Many brands offer lines of makeup that have SPF coverage built into the product. Double check the label prior to purchasing and you should be good to go!
TIP #4: WEAR CLOTHES WITH COVERAGE
Don't worry, no one is telling you that you have to hit the pool decked out in a full body wetsuit! However, when not in the water, it is important to choose clothes that offer some coverage and protection from the sun. For example, if you're walking around the cabana area or enjoying a drink from the bar at our KC wellness center, throw on a t-shirt or swimsuit cover up and sit in the shade. This way it is still light weight so you don't overheat while also blocking out any harmful UV rays.
If you are someone who loves to hike or even go running outdoors, make sure to wear appropriate clothing. There are even long sleeve shirts that are made of breathable, lightweight material that can actually help to keep you cool. Remember, if there are exposed areas, be mindful of when to reapply your sunscreen!
TIP #5: WASH YOUR FACE IN COOL WATER
We get it – there is nothing quite like washing your face in hot water. You wash your hands with hot water, so that should be okay for your face, right? Well, wrong. The skin on your face is so much more sensitive and delicate than the skin on your hands. Washing with hot water can actually dry your face out, leaving it reddened and inflamed. Instead, go for lukewarm or even cool water. It will be refreshing as well as less harsh on your face!
TIP #6: GET REGULAR FACIALS
All too often, skincare is viewed as something you do only as a special treat. Getting something like a facial, collagen mask or chemical peel shouldn't be seen as a luxury, but a necessity! Members of our KC wellness center can book regular facials with one of our highly skilled staff members. Our services are ranged, bringing you a variety of options including a signature facial, a Vitamin C facial and even a purifying facial. Customize any of these treatments with a collagen mask or other amazing add-ons. While you're here, don't forget to add brow waxing or lash tinting!
While it might not seem like something you need at first glance, facials are just another amazing preventive measure to reduce the effects of skin damage. Over time, these facial treatments add up and work to bolster the overall longevity and resilience of skin health. If you're already a member, book online today or through the app! If you're not a member yet, sign up today!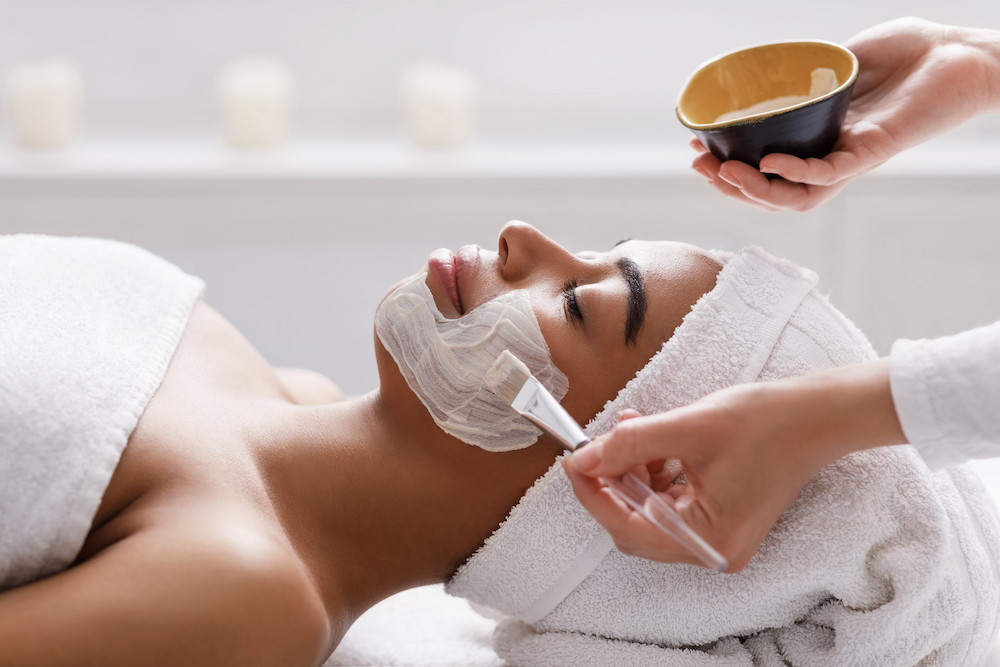 WRAP UP
This summer, be sure to take care of your skin with these six practical tips. Remember to apply and reapply sunscreen while spending the day outdoors, and don't skip out on places like your lips or the tips of your ears! Pay attention to labels and how much SPF is present in the products you are buying. Cover up with protective clothing when you can, and don't forget to wash your face with cool water. 
If you are interested in joining our club so you can book a time slot for a facial, contact us right away! We would be happy to talk about our services more in depth as well as give you a tour. Our KC wellness center isn't just a spa or a gym, but a place that truly cares about your overall health and wellbeing. We can't wait to see you around!