10 BENEFITS YOU CAN GET FROM WORKING WITH A PERSONAL TRAINER AT WOODSIDE
If you're struggling to reach your fitness goals, you know how frustrating and discouraging it can be. Maybe the scale hasn't moved in a while, or your pants are still fitting the same, or maybe you're just unhappy with your form or bored with your routine.
None of these situations are ideal and the last thing you want to do is throw in the towel. So what can you do to help rectify this? Our recommendation: a personal trainer.
Not only can personal training help kick start your motivation and create accountability, but it can also help give you the competitive edge that's been missing and reignite your spark for your goals. Keep reading to check out more benefits!
GET EDUCATED
When looking to utilize a personal trainer, one of the key perks is getting information about how to exercise properly. Injuries can be dangerous – a twisted knee or a tweaked back can not only get you out at the gym, but it can also affect your day-to-day activities. If you're just starting out, let a trained professional show you the ropes to minimize risks and maximize your potential. 
FIND THE MOTIVATION
We're busy people, no doubt about that. Obligations surrounding work and family leave us feeling like there just aren't enough hours in the day. It is easy to put exercise on the backburner. However, regular sessions with a personal trainer can help bolster your motivation once again. Knowing someone is in your corner and rooting for you can make the world of difference!
HELD ACCOUNTABLE
Accountability and motivation work in tandem. If you have one without the other, you only have half of the recipe you need to be successful. A personal trainer is there to help hold you accountable. Not only with staying on task during a workout and making sure you finish your reps, but they also motivate you to keep coming back. It's a lot harder to skip and say 'not today' when you know someone is at the gym waiting on you.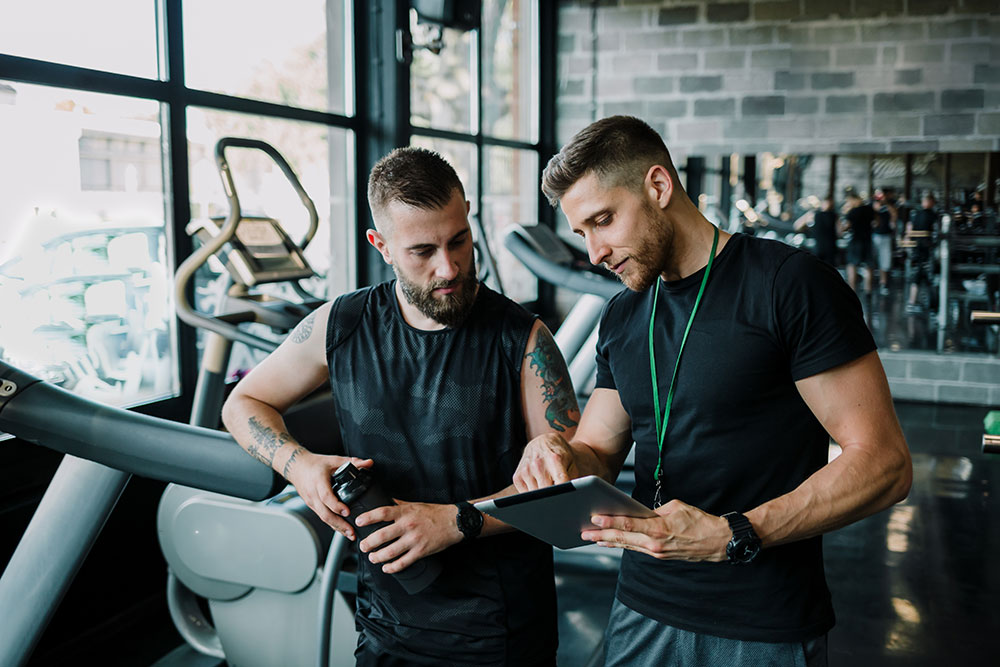 A PLAN JUST FOR YOU
Television and media have painted a negative stereotype about personal trainers, making them all out to be big meatheads who are high energy and in-your-face, forcing you to lift heavy weights or making you feel bad about yourself if you make a mistake. This couldn't be farther from the truth! Their occupations are called that for a reason – they want to help you make a personalized plan just for you. 
In your initial consultation, make sure to communicate your current skill level, what your goals are and if you've experienced any injuries in the past or if you have any underlying health conditions, such as asthma or diabetes. This will give your personal trainer a better picture of how to piece together a plan that works best for you.
A NEW CHALLENGE
Okay, so you're someone who has been working out for a long time, or maybe you're even a former high school or collegiate athlete, and you've hit a wall: you're bored. Exercise was something you were super passionate about now, it's kind of fizzled out. Working out with a personal trainer can help keep things fresh and reignite the spark that used to be there. A new and challenging routine could be the secret to getting you back on track!
SWITCH IT UP
Nobody likes eating the same meal each and every day without variation, so who would want that when working out? When you team up with a trainer, you can develop a routine that has the potential to help you across all muscle groups as well as workout types. Free weights, cardio, machines, heavyweights – the possibilities are endless! No two days in a row will be identical. 
REACH NEW GOALS
Elephants are eaten one bite at a time, just like major fitness goals are achieved by counting smaller milestones along the way. A personal trainer will help you set both short-term and long-term goals as well as support you at every turn. Having a clear road map to success as well as the tools to get there are sure to keep you on track. And if you stumble, no worries! Remember, that's what having a trainer as an accountability partner is all about.
SEE MORE IMPROVEMENTS
The stats don't lie – those who work with a trainer see better and quicker results than those who don't. They are there to supervise and make sure you're doing all of your lifts and exercises properly as well as coaching and motivating you to keep on task. This support and encouragement means a lot and can serve as the catalyst for achieving the improvements you really want to see. 
FLEXIBLE HOURS
Trainers aren't banks: their schedules are very flexible. So if you want to work out before sunrise, over your lunch hour, or even after work or late at night, don't worry – our personal trainers are there to make your fitness a priority and fit into your schedule! If you're willing to make time to achieve your goals, we're willing to be there whenever needed. 
OVERALL WELLBEING
Remember, fitness isn't just about your physical body. Working out and regular exercise also helps to improve your mental wellbeing, too. Your trainer isn't just there to collect a paycheck. In many ways, they become an unofficial therapist, listening about your day and your needs. They can also help to provide some nutritional information to help you feel better from the inside out! 
BOOK AN APPOINTMENT TODAY!
Don't wait any longer – let one of our highly trained staff members help you reach your goals! Kansas City personal training has never looked better, and now is your chance with the help of the Woodside team. Book your first session for free and see just what you've been missing out on! 
Prior to booking, be sure to check out our impressive staff roster! With a variety of backgrounds and educations, as well as countless certifications, the perfect trainer is already here and waiting to meet you!