No matter what time of year it is, stress has a way of sneaking up on you. Between the hectic demands of work, family and social obligations, it's no surprise that you might be feeling rundown or simply not like your best self. Over the past few years, there has been a push to encourage a focus on wellbeing and the concept of self-care. However, implementing this practice is almost always easier said than done. 
Thankfully, having a membership to Woodside can really come in handy, as we offer many ways to relax and unwind. Members have full access to our wide range of amenities, including our newly remodeled Woodside spa in Kansas City. Continue reading to learn more about how you can relax and unwind at our luxury health club:
#1: BOOK A MASSAGE
Whether you are sore from a strenuous workout routine or are holding a mountain of stress in your shoulders from a difficult project at work, you deserve a massage. All too often, people write off getting a massage as something that they should only get as a special treat, such as for a birthday or anniversary. However, there are many long term health benefits of getting routine massage therapy, including improved joint mobility, better blood circulation and an overall improved sense of mental and physical wellness.
Below are a few of the services we highly recommend you check out when you visit our Woodside spa in Kansas City:
DEEP TISSUE MASSAGE:
With this service, our certified massage therapists use techniques that focus on reaching deep muscles and connective tissues to improve posture and relieve tension. A deep tissue massage is ideal for individuals who enjoy tense bodywork and receive routine massage therapy.
HOT STONE MASSAGE:
Do you suffer from tight and stiff muscles or often experience high inflammation in various parts of your body? If so, then a hot stone massage could be the right choice for you! This massage technique emphasizes the use of thermotherapy by applying hot stones to key points along your body, working to melt tension away.
PRENATAL MASSAGE:
It is no secret that expecting mothers experience quite a bit of bodily discomfort, including various aches and pains. Easing this discomfort is essential to ensuring that you have a happy, healthy pregnancy. A prenatal massage offers relaxing and safe techniques to mothers beyond the first trimester as well as those who are postpartum. When you receive a prenatal massage from our Woodside spa in Kansas City, you can rest assured that the service is being performed by a licensed professional specializing in safe prenatal techniques. 
#2: TREAT YOUR SKIN
Have the harsh winter conditions done a number on your skin health? Give your skin what it deserves by booking a facial with one of our caring and certified professionals. The Spa at Woodside offers a wide range of rejuvenating facial services, including chemical peels, advanced facials and our renowned GENEO services. On top of that, you can also receive brow and face waxing as well as lashing tinting. Get ready for spring while taking the time to unwind by booking any of these excellent facial and skincare services.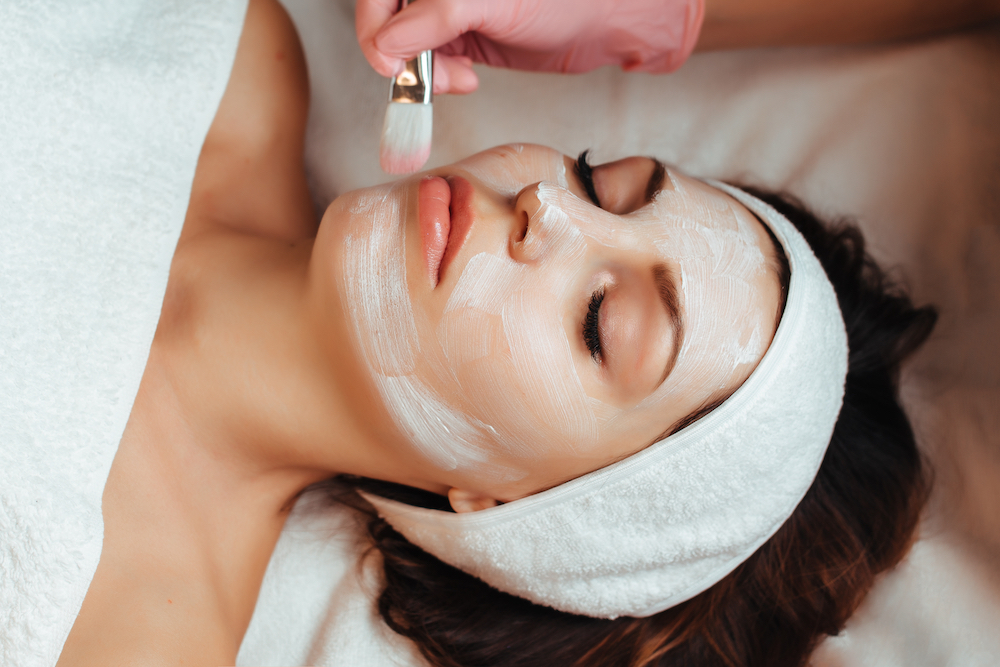 #3: VISIT THE INDOOR POOL AREA
While it might not yet be warm enough to swim outdoors, you don't have to miss out on spending time in the water thanks to our luxurious indoor pool. Hydrotherapy has been proven to have many health benefits, including being an excellent way to relax and unwind. In fact, taking a dip in our heated therapy pool is only just the beginning. As a Woodside member, you will have access to many other great amenities in our indoor pool area, such as our expansive hot tub, steam room and dry sauna. Finish off your visit by wrapping up in a chilled, eucalyptus-infused towel and relaxing in our comfortable lounge seating. 
#4: TRY OUR ROLL + RELEASE GROUP FITNESS CLASS
When you think of taking a group fitness class, what is the first thing that comes to mind? You likely conjure up images of cycling to upbeat music or sweating it out in a HIIT class. While these are great options, if you're looking to relax and unwind, you might be on the hunt for a course that is a little more lowkey. If so, then our ROLL + RELEASE class is right up your alley!
At our ROLL + RELEASE class, a highly qualified instructor will guide you through how to properly stretch and self-massage any tight muscles present in your body, working from your neck all the way down to your feet. Here, you will also increase your flexibility and maximize your athletic performance by utilizing myofascial massage balls. The best part? This class is suitable for all fitness levels, so don't be afraid to sign up!
#5: UNWIND AT THE LOUNGE 
No visit to Woodside is complete without taking the time to unwind at The Lounge. Enjoy a glass of wine by the fireplace while you chat with fellow Woodside members. Replenish after a workout with a delicious smoothie from Earthbar. If you work remotely, this can also be an excellent spot to experience peace and quiet in a relaxing atmosphere. No matter how you enjoy The Lounge, know that it is a favored hotspot among Woodside members for a good reason!
BECOME A WOODSIDE MEMBER TODAY
Don't let another season pass you by where you put yourself and your own personal wellbeing on the back burner. You deserve to truly feel your very best, and a membership to Woodside will help you do exactly that. Joining is an investment in yourself as well as your mental and physical health. 
To get started, schedule a time to take a tour of our beautiful, state of the art facility. Ask questions about our amenities and the benefits of a membership. Once on location, you will see for yourself exactly how joining a health-focused community will do wonders for helping you to destress and relax.