Do you ever feel like you are juggling far too much in your life and not leaving yourself with enough time for your health goals? It may be time to include group fitness classes in Kansas City to work toward your overall fitness goals.
Fewer than 25% of Americans get enough exercise on a regular basis. Recommendations suggest that adults exercise for at least 2 ½ hours of moderate aerobic exercise or at least a little over an hour of vigorous exercise every week. If you are having trouble fitting in this much exercise or more, perhaps now is the time to try a group fitness class at Woodside, a luxury gym in Kansas City, to help you meet your exercise goals. 
Let's look at a few reasons you should consider taking group fitness classes:
#1) REDUCE DISEASE RISK
Getting the recommended amount of exercise each week can reduce your risk for diseases such as heart disease, which is one of the top causes of death for adults. You can also decrease your risk of developing diabetes and certain types of cancer through exercise. 
Regular exercise has been shown to decrease your loss of bone density resulting in stronger bones, which can help with the risk of falling and having a major injury from the fall. 
In addition, exercise can help work out some of the negative and painful effects of arthritis. 
#2) GET IN SHAPE
If you would like to get in shape, a group fitness class may be the perfect idea for you since it will be at a consistent time and help keep you exercising regularly. 
Try taking a variety of classes to help work different areas of your body. Creating a routine of attending classes regularly over time will not only help you get in shape, but will help you stay in shape in the long run.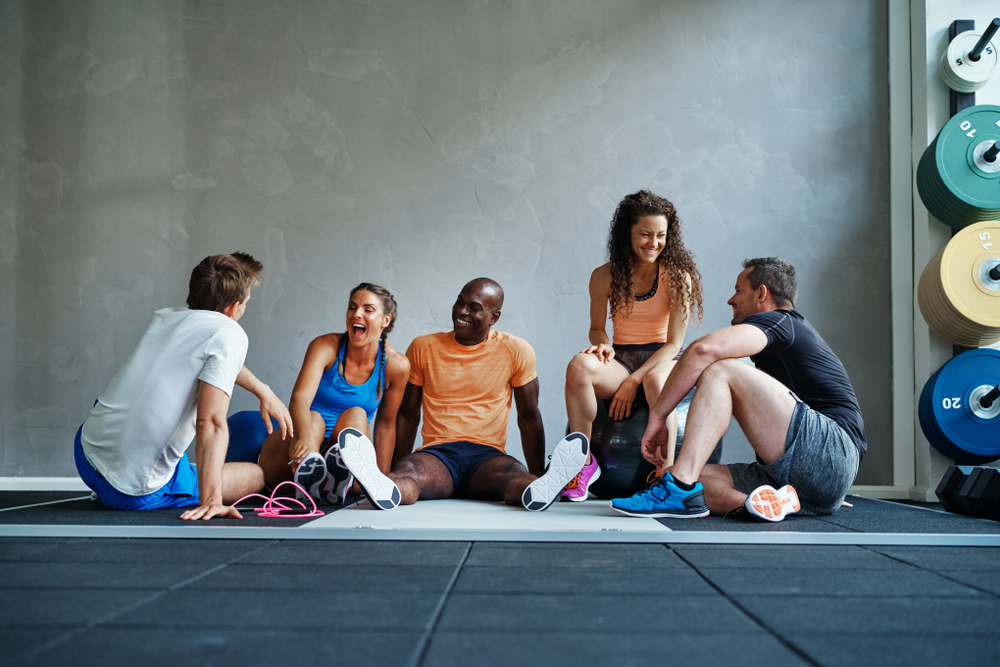 #3) BE PART OF A GROUP    
Besides the physical benefits of exercise, being part of a group also has mental benefits. Studies show that working out with a group increases your motivation to continue and to work hard to meet your goals. Research indicates those in a group work harder and maintain their motivation longer than those who work individually. 
Group fitness is also a way to meet and make friends. We are so busy with work and other activities that it is sometimes hard to meet people that share our interests. Group fitness is a positive social interaction that helps us meet new people in a healthy setting where you have similar goals and concerns. 
#4) STAY ACCOUNTABLE    
Sometimes we need motivation to stay active with our exercise routines, and being in a group helps hold us accountable. 
It is much easier to turn off an alarm or put off an activity if we are doing it alone. However, when we are scheduled for a specific time to exercise with others, the motivation to stay active lasts. 
#5) WORK WITH A PROFESSIONAL
An additional benefit of a workout class is that you get to learn from a professional. Your group fitness instructor can ensure you have the proper workout form to best benefit your body. 
Also, a professional can help you prevent injury or strain by teaching you the best ways to do the type of exercise they are leading. Woodside group fitness instructors are some of the most popular in Kansas City.
Find Your Perfect Workout Classes in Kansas City at Woodside!
By trying a new way to exercise, you can learn more about yourself and what you enjoy. 
If you are looking for something new to add to your existing exercise regime, or are just beginning a new one, check out our group fitness classes at Woodside! Woodside's extensive group fitness offerings include over 120 classes to fit any schedule and fitness need. 
Maybe you would like to try yoga, cycling, pilates or another type of class. Our Yoga Studio alone offers over 30 classes each week, with a variety of seven different types and three levels of yoga, making it easy to find one that best fits you. Yoga can strengthen your body, improve flexibility and help with mental clarity. 
Our state-of-the-art Cycle Studio can help you cycle your way to improved cardio health and muscle endurance. Cycling is a results-driven activity where you let the music and your teacher inspire you to better overall health. 
Pilates classes are designed to target and strengthen abs, lower back, hips and glutes. Pilates uses smooth movements working against resistance to gain the benefits of this mode of exercise. 
At Woodside, our comprehensive health, fitness and social club, we also offer a variety of other group classes, such as ones more specifically tied to a particular need like SHOCK + SHRED, BEST BUTT NOW and BODYPUMP™. We provide a community that cares for the whole person and will work to help you meet your individual goals. You will be able to find the perfect class to meet your health goals at Woodside. 
If you are interested in finding out more about the group fitness classes we have to offer at Woodside, we'd love to provide a tour and information to help you make your decision.  We know our workout classes in Kansas City can benefit you!