At Woodside, our Indoor Pool Area offers five different temperature zones to help you recover, detox and relax. Woodside's Indoor Pool Area is regulated with a Desert Aire air handler unit which allows us to not only regulate the temperature of the area but also the humidity. The Desert Aire settings keep the temperature of the common space of the indoor wet area at 88°F at 50% humidity.  Below are some of the health benefits of implementing contrast therapy into your wellness routine and how each zone can help you get the most of your next visit to the Club.
Hot therapy is a great way to increase your blood flow and circulation which helps relieve tight and sore muscles, target pain spasms or just relax. Woodside offers four heated temperature zones that treat a wide range of needs.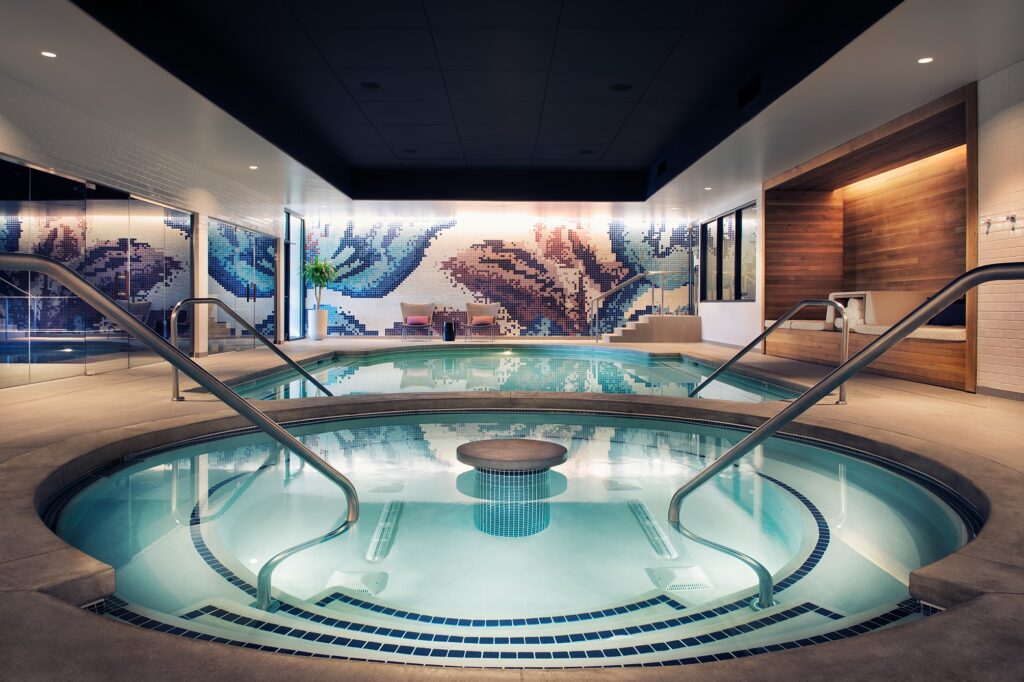 HEATED INDOOR POOL (~90°F)
This zone is best used for those that need to relax and recover. Here you can aid sore muscles and joints, improve circulation, relieve stress, or practice float therapy. Float therapy consists of floating on your back in warm, buoyant water. It is proven to help with pain management, enhanced recovery of muscles and joints, and delivers anti-gravity benefits such as fine-tuning your balance and increasing musculoskeletal awareness. This practice can even allow for mediation.
EXPANSIVE HOT TUB (~104°F)
This zone is great for those who want to improve their range of motion, relieve arthritis pain, fibromyalgia symptoms and ease sore muscles especially lower back pain. Additionally, it helps with sleep quality and can decrease high levels of anxiety. A 15 to 30 minute soak is recommended for optimal benefit.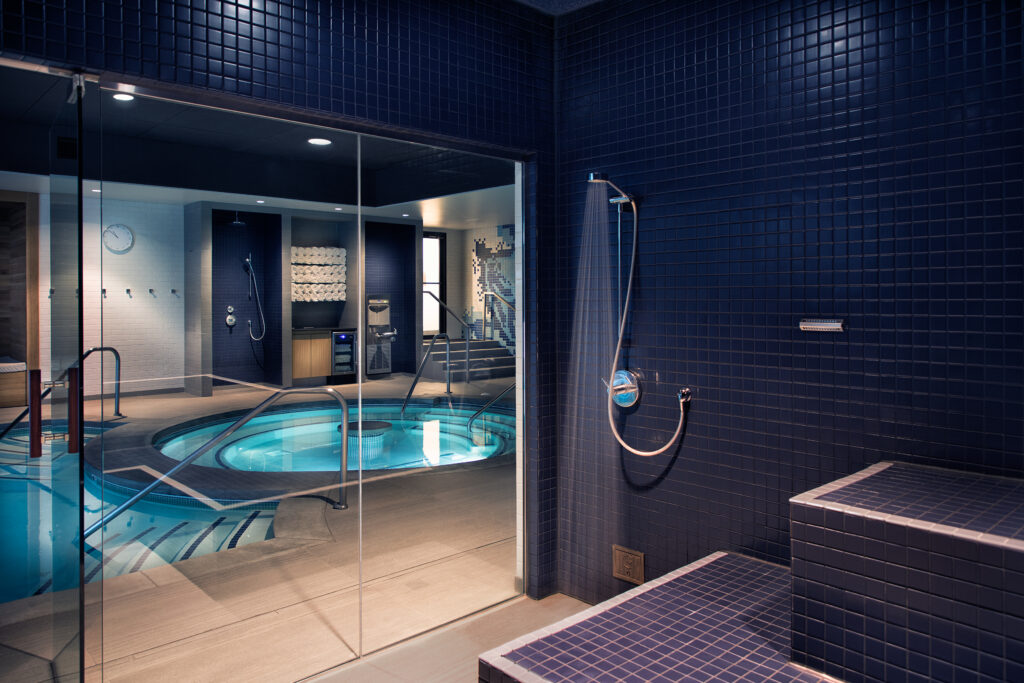 STEAM ROOM WITH SHOWER (~115°F)
This space helps open up sinuses, improve circulation, optimizes workout recovery, loosen stiff joints and burn calories. This space also supports healthier skin by allowing it to soak up additional moisture.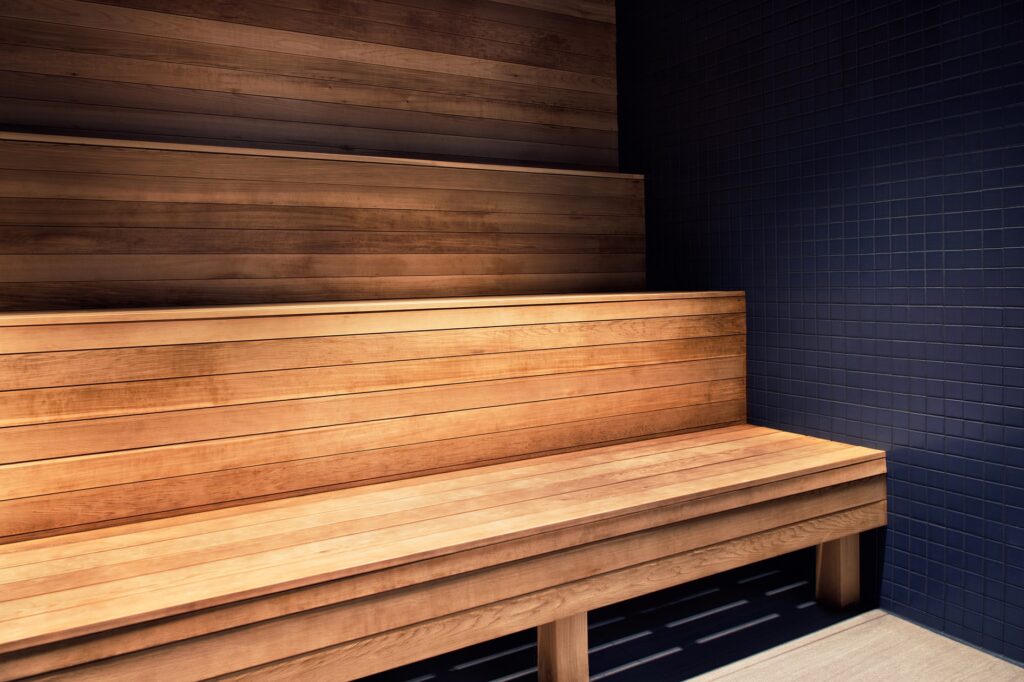 DRY SAUNA (~132°F)
Sitting in a dry sauna for a 20-minute session everyday can help provide an overall increased quality of life. This space helps reduces muscle pain, boost immunity, promote heart health, reduces risk of dementia, ease headaches and migraines, balance blood pressure and aid in better lung function. The benefits of sauna are recommended by many health care professionals due to its purifying benefits. A few minutes a day is all it takes to look and feel better!
In contrast, cold therapy can be used to reduce inflammation by slowing down your blood flow to the affected area and is extremely beneficial in reducing exercise-induced muscle damage. Additionally, it can be beneficial for those who suffer from migraines. Woodside offers the only full body cold plunge in Kansas City!
FULL BODY COLD PLUNGE (~50-54°F)
Cryo-hydrotherapy, or submersing in cold water, improves lymphatic circulation, mega cardiovascular circulation, reduces inflammation, boosts happiness levels, aids weight-loss efforts, improves the quality of your hair and skin, reduces pain and swelling and speeds healing. Cold plunging is also a great way to target your nervous system. It allows you to focus on your breath and clear your mind. When first starting with a cold plunge you may want to start with 15-30 seconds slowly working your way up to 3 minutes – this is long enough for the body to tap into the fat-burning and circulation enhancing benefits cryo-hydrotherapy offers.  Scared to take the plunge? Experiment with cold showers until you build up to a full, immersive plunge.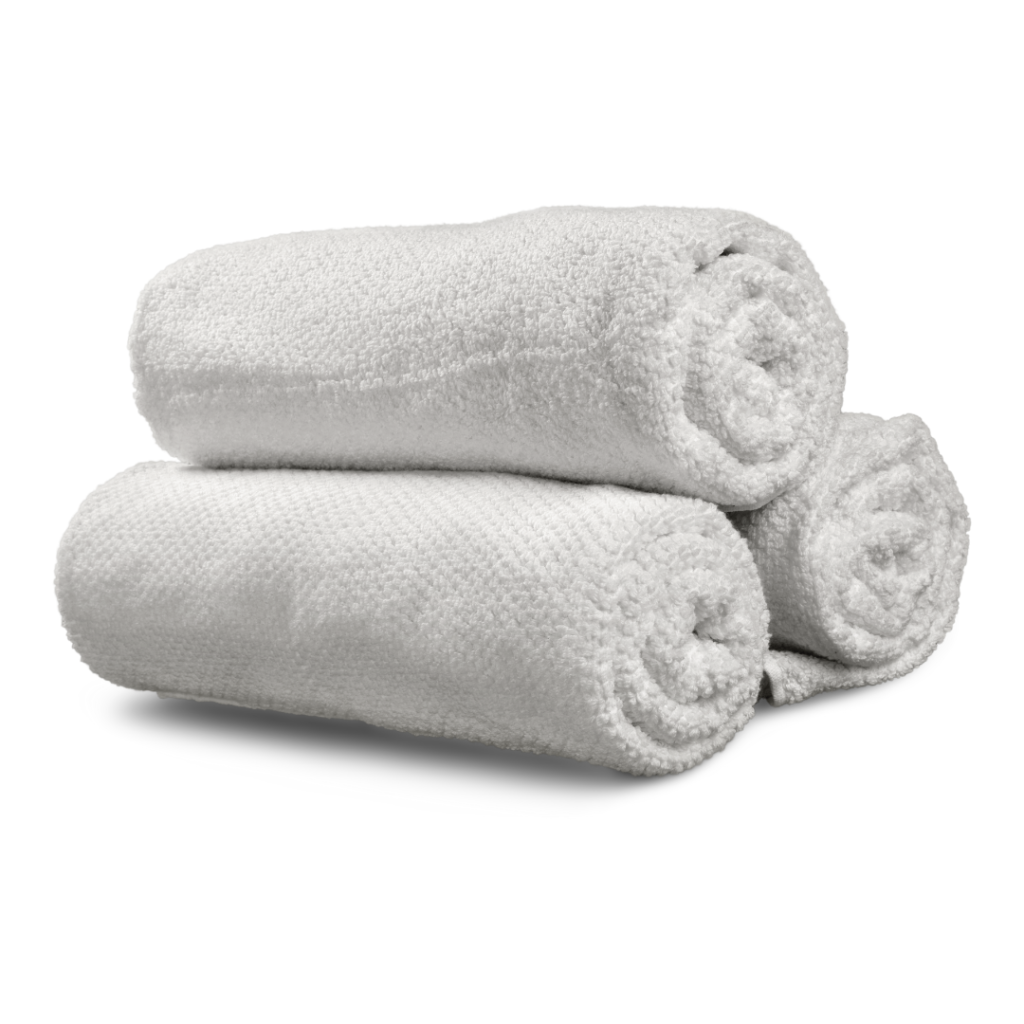 CHILLED EUCALYPTUS-INFUSED TOWELS
The benefits of eucalyptus oil in a cooled towel offers respiratory relief, clears sinuses and acts as a natural pain reliever. Additionally, it can help relieve sunburn, alleviate headaches, boost brain function and has anti-inflammatory and antiviral properties. This is great to use before or after using any of the hot temperature zones.
Members can also enjoy modern, comfortable lounge seating, state-of-the-art sound system and acoustic ceiling and truly relaxing environment, perfect for recovery and self-care. The Indoor Pool Area is open Mon – Fri 5AM – 10PM and Sat – Sun 7AM – 7PM. For more information and to see the space click here.
Please note all temperatures are determined, set and regulated by Kansas State Law.