SKILLLine from TechnoGym is designed with athletes to achieve top sport performance. 
Created side by side with research institutes and renowned universities, the SKILLLINE of equipment is designed to help athletes achieve peak performance. With their experience as the Official Fitness Equipment Supplier to 8 editions of the Olympic and Paralympic Games, Technogym brings you all the latest developments in biomechanics and training methods for sports precision training. Read more about the new additions to Woodside all included with your membership, below. 
Skillrun shatters all expectations of what a treadmill can be. This is the first piece of running equipment designed to meet the training requirements of high-level athletes and demanding fitness enthusiasts and is the first ever treadmill with Multidrive Technology™ for effective power and cardio conditioning. The variety of on-board video-guided Routines and specific workouts for skill training enables elite athletes and demanding fitness enthusiasts to achieve outstanding performances every time. Click learn more below to read more about its features. 
SKILLRUN is a treadmill, sled and parachute — all in one making it perfect for runners, high intensity fans and elite athletes alike.
Improve your speed, endurance and coordination with SKILLRUN automatically guiding your pace and making it easy for you to do the hard work and go beyond your regular cardio workout. 
Activate SKILLRUN's Sled and Parachute Training modes for controlled resistance on the slat belt running surface to make you unstoppable and attain relentless power. 
Make instant adjustments on the Swiftpad feature of SKILLRUN's interface making it quick and easy to change speeds and get the most out of your workout.
Workout with in comfort with the streamlined and ergonomic design featuring up to 30% more working space.
Get the most out of your next run with the ability to run up to 30 km/h (18.6 mph) on the comfortable slat belt, and with a +25% / -3% incline helping you go the extra mile. 
With acceleration ramps that move twice as fast as the standard treadmill you can also reach new heights with sprints and intervals. 
Get your adrenaline racing with high intensity sessions focused on performance. Sled and parachute training bouts, maximum speed and acceleration: all during your bootcamp session.
Choose from goal oriented routines or power training while you useful performance data and learn fundamental running metrics with biofeedback. 
Improve rowing skills, cardiovascular fitness and total body power with the most advanced indoor rower ever. The SKILLROW was created with athletes for a total body training that expands the boundaries of traditional rowing. Equipped with state-of-the-art technology. Click learn more below to read about all the features you can take advantage of, included with your membership.  
Achieve cardio and power in one stroke with Multidrive Technology™.  This enables you to select the rowing mode for a cardiovascular workout or the power mode with added resistance to perform power-specific exercises and simulate rowing with additional load.
Plus, with its resistance turn dial, you can easily adjust the level of resistance from a comfortable seated position.
Follow the natural curve of the stroke in the water with Aquafeel™. The resistance gradually increases in a fluid and safe movement to avoid a backlash effect on the lower back.
We used air resistance for the rowing mode and focused on promoting a natural curvature throughout each stroke. The handle is your oar, and each stroke should feel like it. Aquafeel™ strives for gradual resistance to promote a fluid movement. This maintains proper core form and lowers the strain on your back and ribs. With the SkillRow, TechnoGym wanted to design a rowing machine that would be dedicated specifically to feel like you are rowing in the water. Aquafeel™ mirrors the feel of water encourages the perfect stroke and provides resistance throughout the entire process.
Experience a more comfortable row with ergonomic seats and easy to reach handlebars — located in the closest and most ergonomic position possible so you can workout longer, in total comfort. 
Watch your results in real time with the new intuitive consoles allowing you to view useful performance data from all exercise positions or place your phone in the integrated phone holder and open the SkillRow app to pick a challenge, train with the best and get real-time feedback on your performance metrics.
PRECOR EFX 885 ELLIPTICAL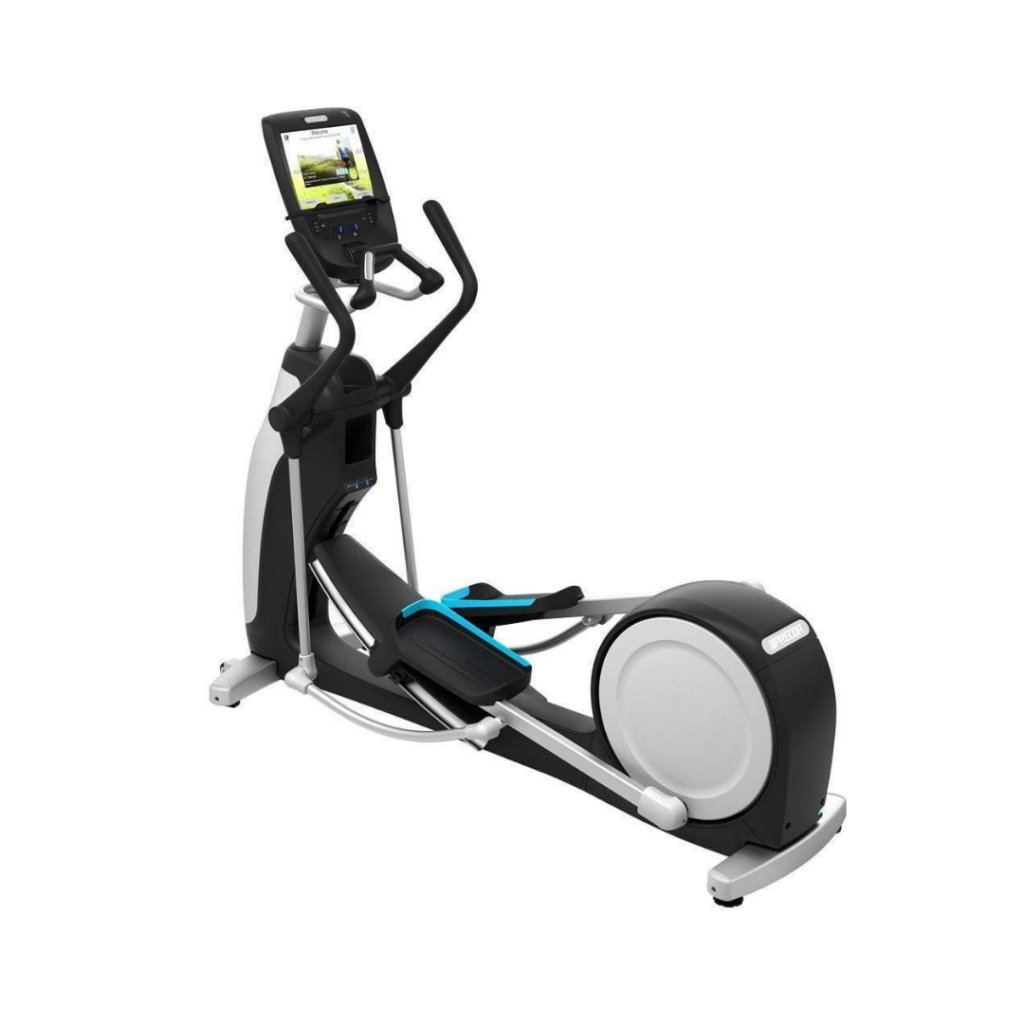 The EFX® 885 Elliptical with Converging CrossRamp® combines essential reliability and ease-of-use with a natural, low-impact stride. The unique adjustable Converging CrossRamp® technology and upper body moving handlebars deliver a total body workout to help you meet your fitness goals. 
With moving handlebars, you can push and pull with your upper body while moving your legs to achieve a total body workout.
The Converging CrossRamp®
Patented converging footpath design and incline adjusts between 10 – 35 degrees, paired with 20 levels of resistance offering a challenging workout with a more natural feeling stride.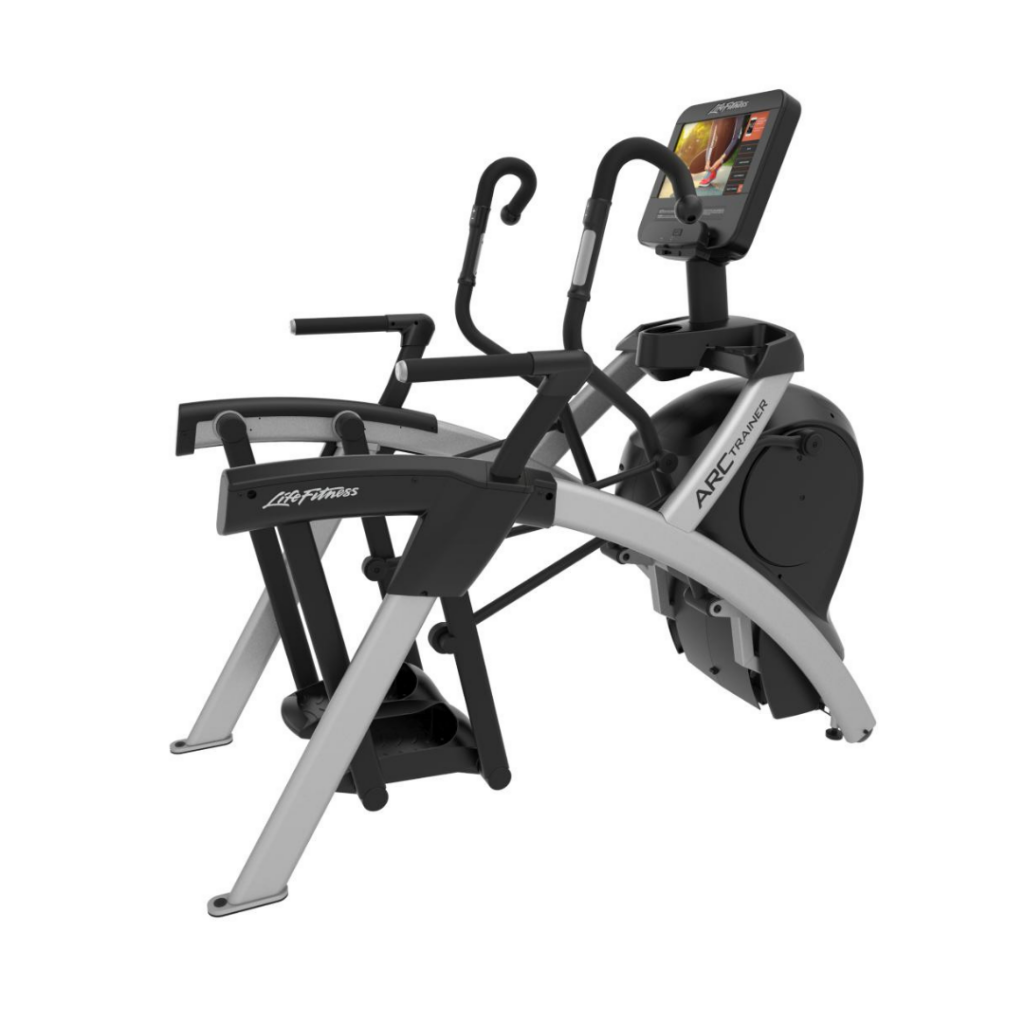 The Life Fitness Arc Trainer is an alternative-motion cross-trainer that provides a non-impact training solution for a wide variety of exercise needs. With over 1200 watts of available power the Arc Trainer can be used for strength and power training, expanding its use from just cardio workouts.
The Arc Trainer provides the variety of an elliptical and climber with less stress on the knees than walking. It was built to reduce force on the joints. And with 21 incline levels, any exerciser can find their most efficient workout with an improved stride. 
The total-body configuration allows exercisers of all fitness levels to engage their whole bodies while on an alternative-motion cross-trainer. It includes cruiser grips and curved hand grips that have remote controls for incline and resistance adjustments
on the fly.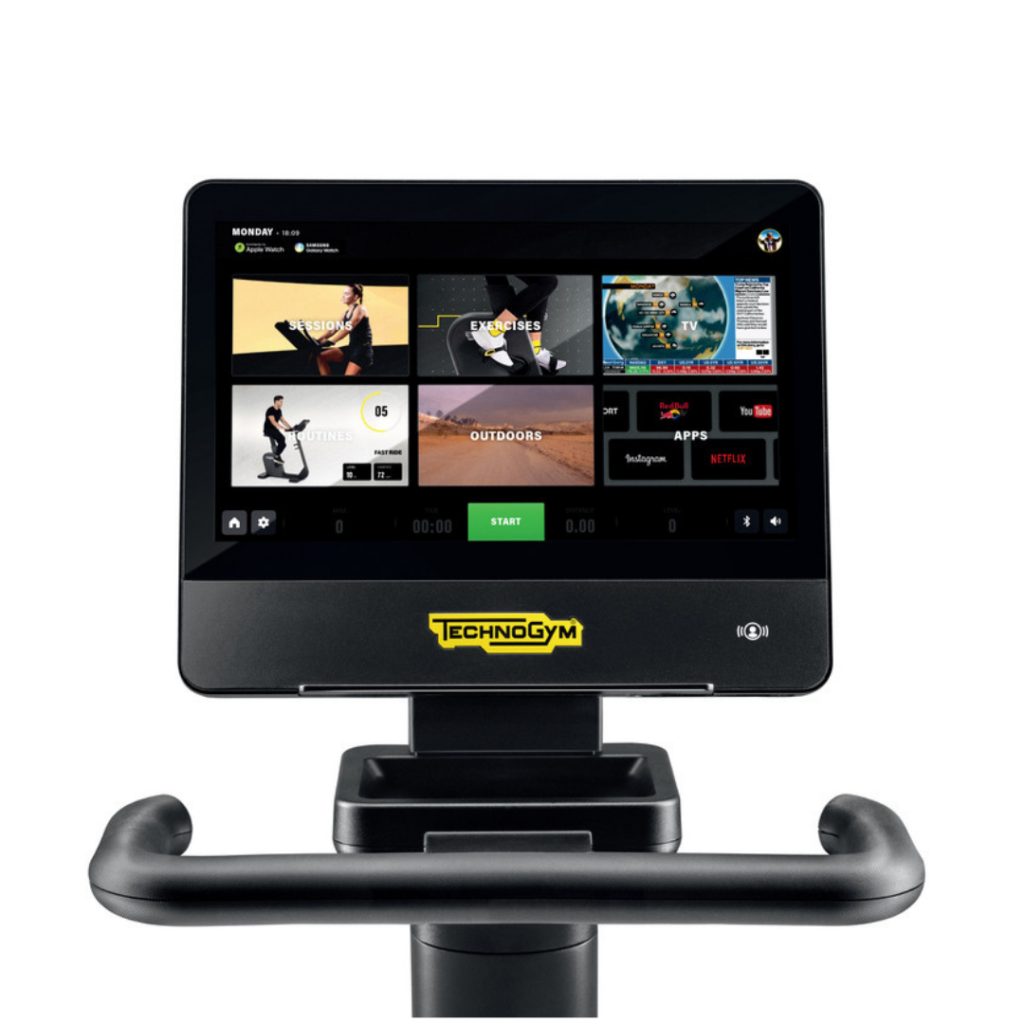 LEVEL UP YOUR WORKOUT
Each new cardio machine will come with Technogym Live technology. With its myriad workouts like trainer-led sessions or quick routines as well as countless entertainment options, you can personalize your workouts to fit your health and wellness needs with a touch of a button. Plus, it is all included with your Woodside Membership. Click the button below to learn more.