RELIEVE TENSION AND STRESS WITH THESE 4 GUA SHA MOVES
Last month, we showed you how to get started with gua sha as well as five ways movements you could use to promote movement of lymph through the body. April is National Stress Relief Month and we talked with Woodside Licensed Esthetician and Massage Therapist, Trina Blake to learn four areas you can gua sha that can help relieve tension and stress in the body.
Some of the most common places we carry stress in the body are our heads, jaws, neck and shoulders. Storing stress in these parts of our body can lead to a number of health issues like headaches and migraines, heart and blood pressure issues, irritability, fatigue, decreased immunity and insomnia just to name a few. Gua sha is a great way to not only relieve stress and tension in the body but also lift and sculpt the body for firmer more supple skin.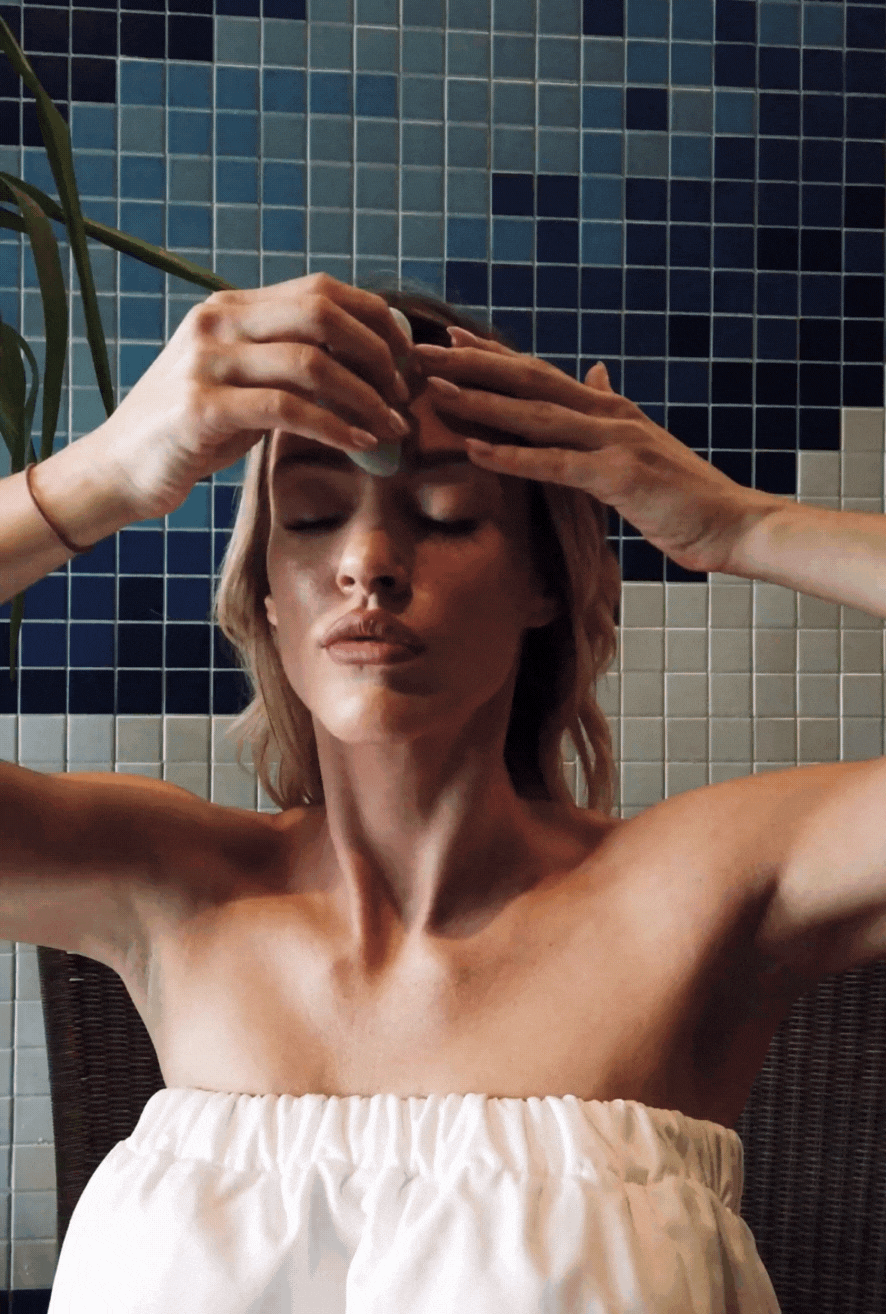 RELEASE TENSION IN THE HEAD
Using the flat side of your gua sha tool, start in the middle of our forehead and gently glide the tool outward toward your temples all the way into the hair line. Repeat 3 to 5 times and then switch sides. Using your freehand you can also slightly pull back on your temple to support the movement across your forehead.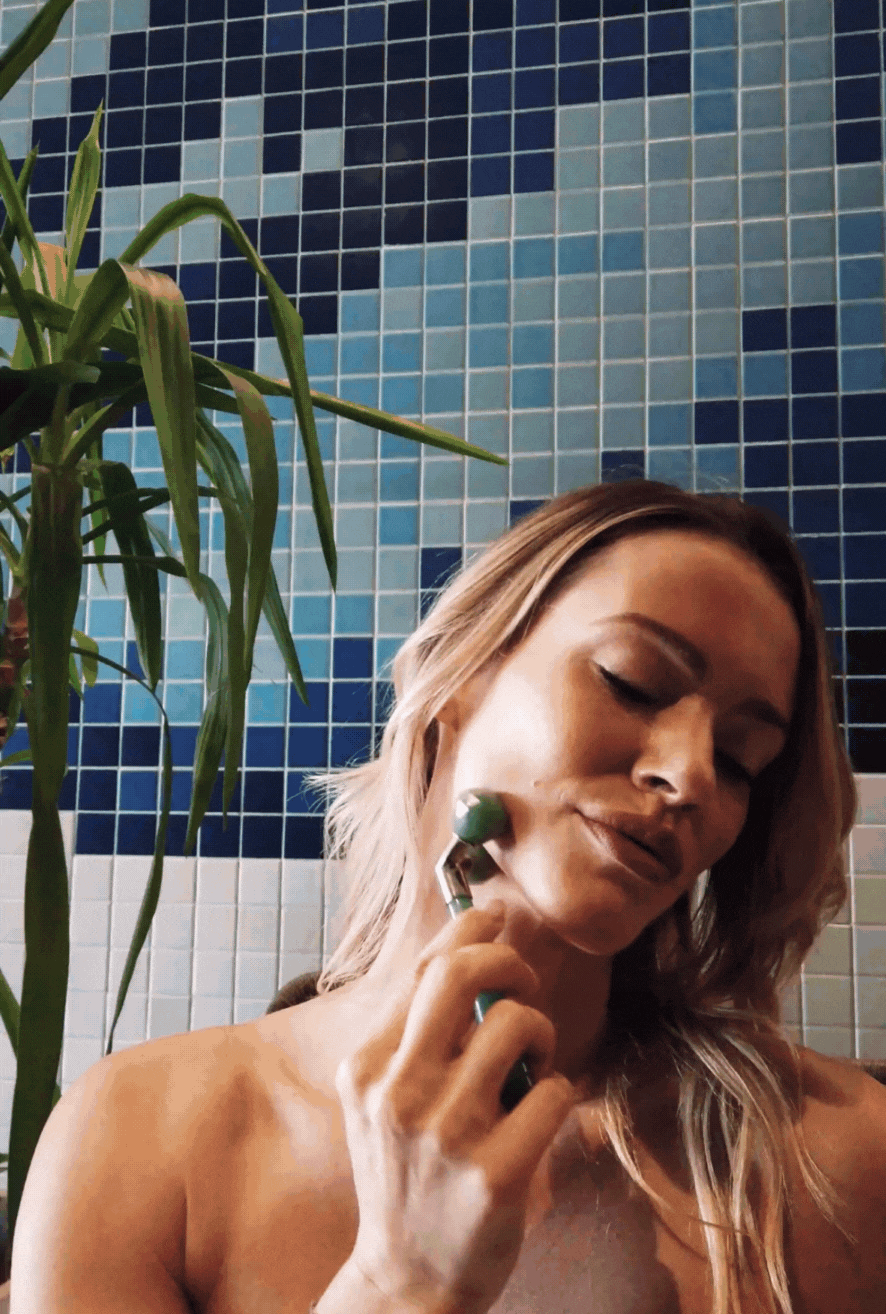 RELEASE TENSION IN THE JAW
Using the notched side of the stone place the tool where your chin meets your cheek. Gently glide the tool upward along your jaw line and pause while gently applying pressure and wiggling the stone. Repeat 5 times and then switch sides and repeat. This move is great for people who clench their jaw or suffer from TMJ.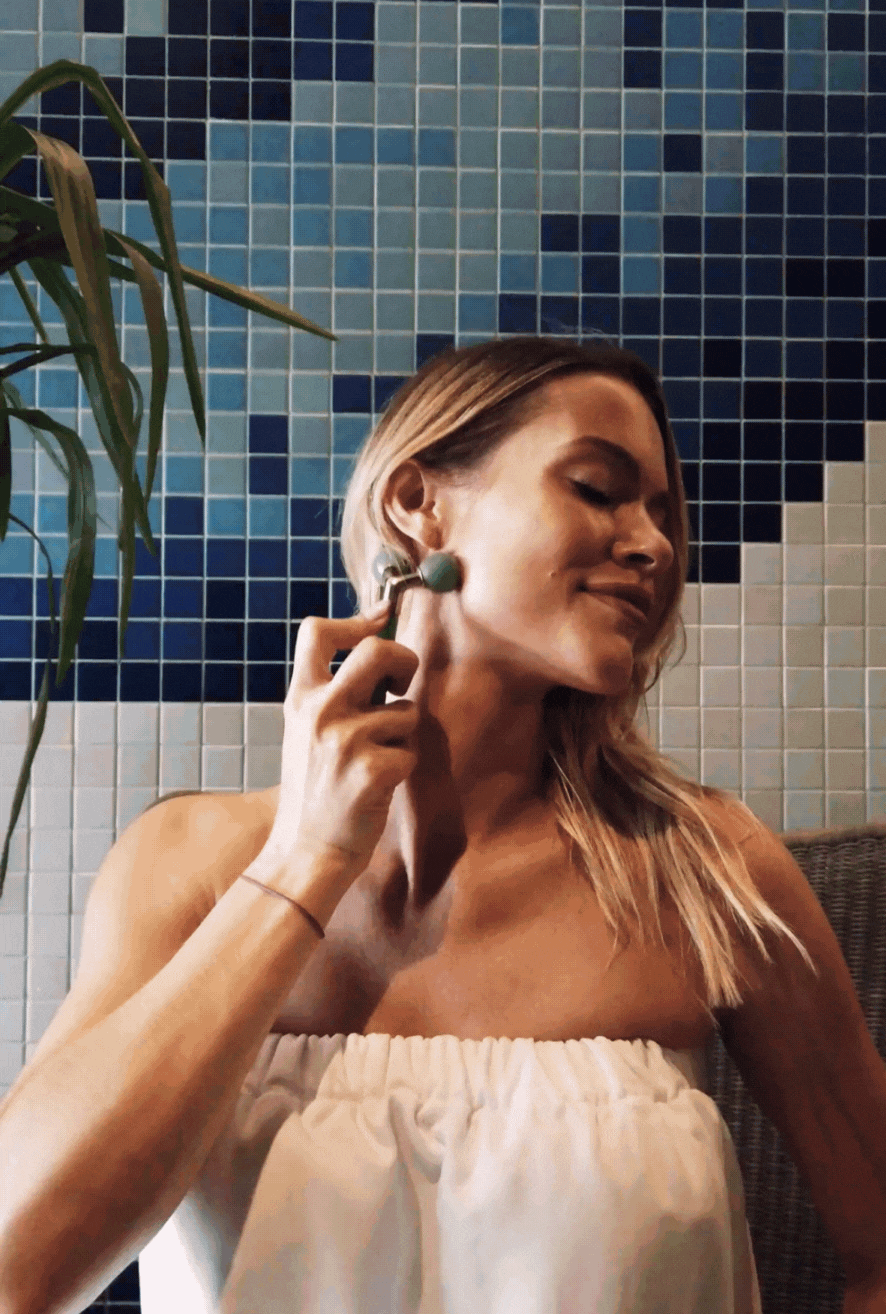 RELEASE TENSION IN THE NECK
Using the notched side of the stone place the tool at the back of your neck where your neck meets your spine. Glide the tool upward toward the base of your skull and pause at your hairline. Gently apply pressure and wiggle the stone to help loosen up stored tension. Repeat five times. Follow with a little bit of Yoga Balm for added comfort!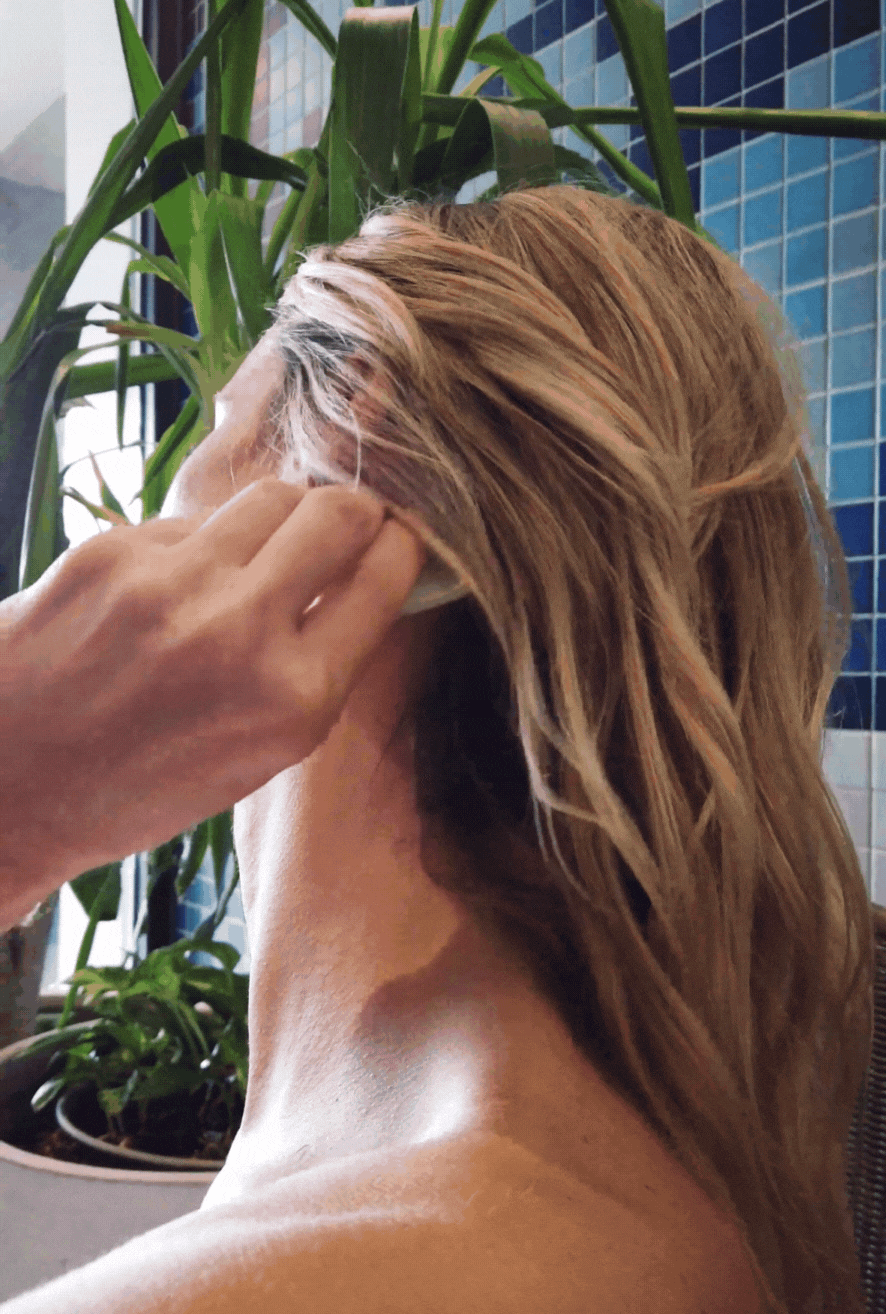 RELEASE TENSION IN THE SHOULDERS
Using the flat side of the stone place the tool at the edge of your shoulder. Gently glide the tool upward to your ear. Repeat 5 times and then switch tides. This is a great movement to use is you work on a computer or device all day.
This balm offers an integrative path for those who seek to enhance the body's inclination toward wellness. With Frankincense & Yakima Peppermint this mix offers a balanced, instant sensation of relief as it works to prime your  pores to open for a deeer absorption into your system. Thus leaving you with an immediate feeling of release and progression toward long-term holistic wellness. Plus, it is one of the top selling products in The Spa Boutique.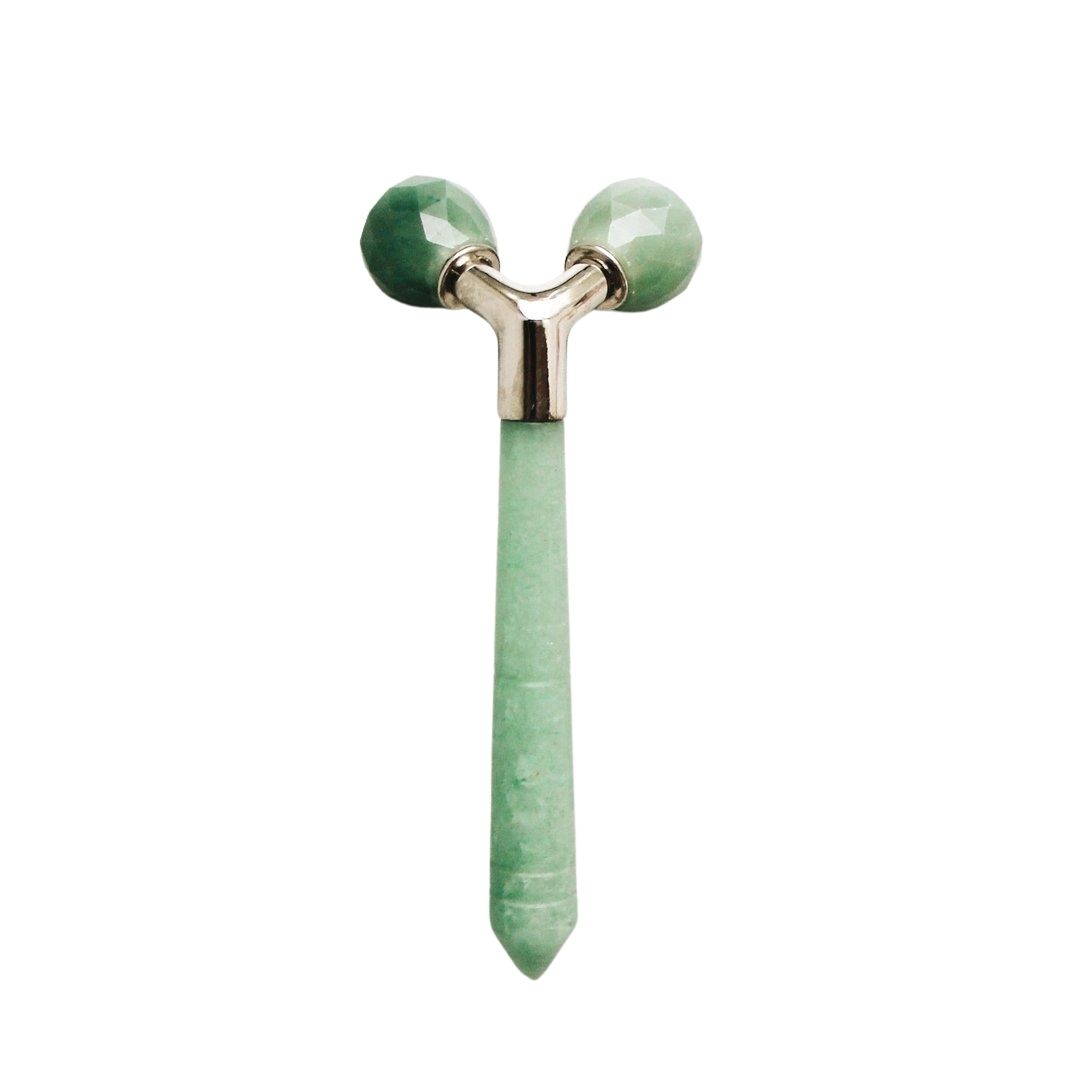 The Jade Face + Neck Massager deeply kneads the skin and muscles while offering a luxurious, professional facial massage. It is designed for both the face and neck and to help you sculpt and add definition to facial features, massage the face to release tension, reduce facial puffiness, firm and tighten the skin over time.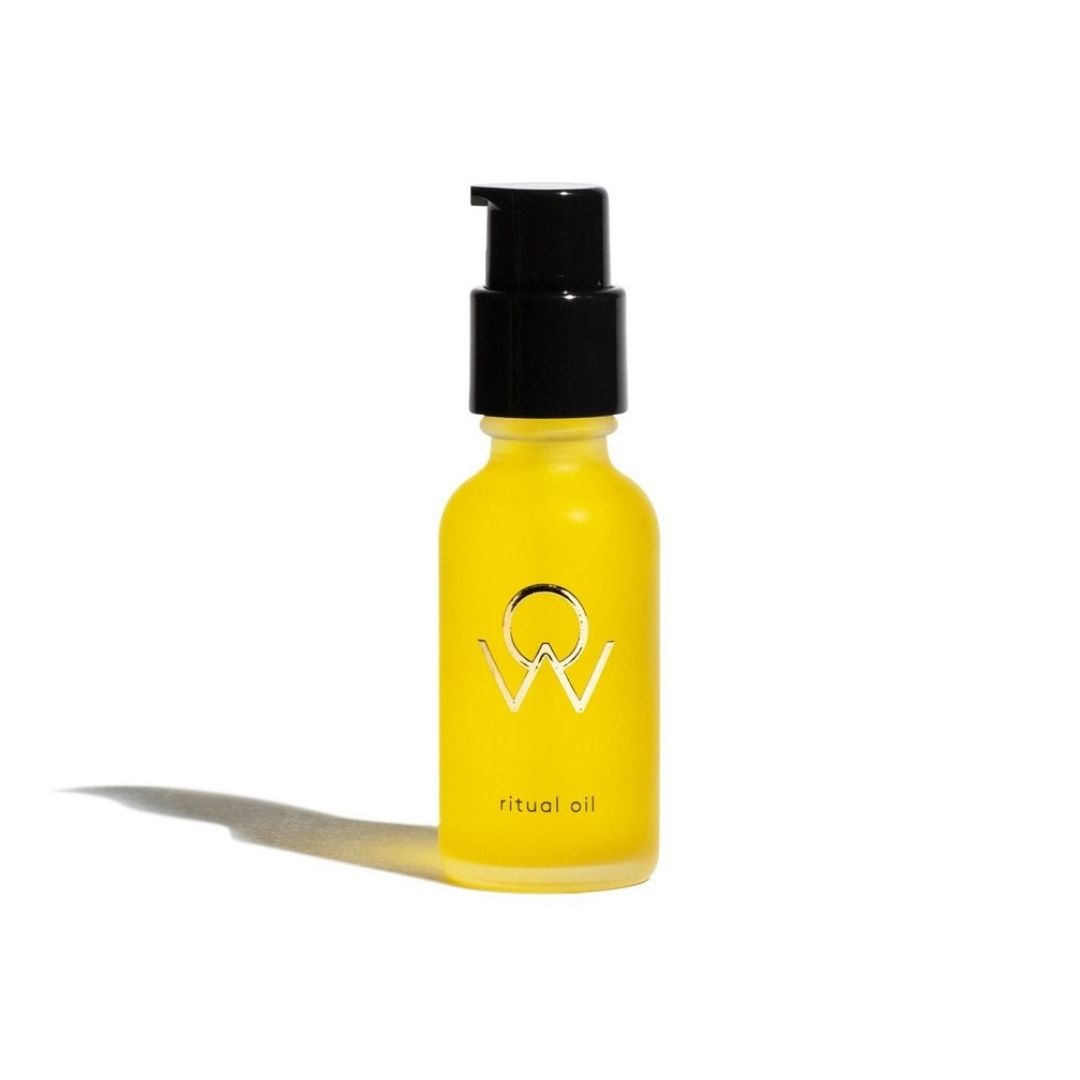 This luxurious oil instantly gives skin a sigh of relief from dryness, tightness and flakiness. When using a facial oil, it should be the last step in your routine, on top of your moisturizer. Simply place a few drops of the oil into your palm and press over the face. Ritual Oil is formulated to combat fine lines and reduce redness on the face when used daily but with the organic Baobab, Camellia & Argan inside it also works great as a facial treatment, hair serum and cuticle oil.
You can buy these products and more at The Spa of Woodside Boutique. The Boutique is open Monday – Thursday 9AM to 8PM, Friday and Saturday 9AM to 6PM and Sunday 9AM to 4PM. If you have any questions ask a member of the team they are happy to help you find the perfect products for you and your individual needs.