NATIONAL MAKE LUNCH COUNT DAY
Tuesday, April 13 is National Make Lunch Count Day. Woodside Executive Chef, Michael Giampetruzzi is celebrating with a special feature and sneak peek at the new summer menu. You can try the Jackfruit BBQ Sandwich with the new Woodside Green from 11AM to 2PM, April 13 at The Kitchen. Read more on what he had to say about the dish below.
CAN YOU DESCRIBE THE DISH AND WHY IT MAKES A GREAT MAKE LUNCH COUNT CHOICE?
I wanted to put together a special that allowed members to try a couple of new items off the summer menu launching next month. I thought that the Jackfruit BBQ Sandwich paired nicely with the Woodside Green for a lunch that is filling but also fresh and packed with nutrients and antioxidants that are good for your body. 
CAN YOU TELL US MORE ABOUT THE WOODSIDE GREEN AND JACKFRUIT BBQ SANDWICH?
THE WOODSIDE GREEN
The new Woodside Green is just that – an all-green salad. Spinach, broccoli, edamame, cucumber and scallions are paired with arugula and garnished with a pistachios for crunch and radishes for a pop of color. We toss that in a house-made Green Goddess dressing which has a nice herbed flavor that pair well with the greens.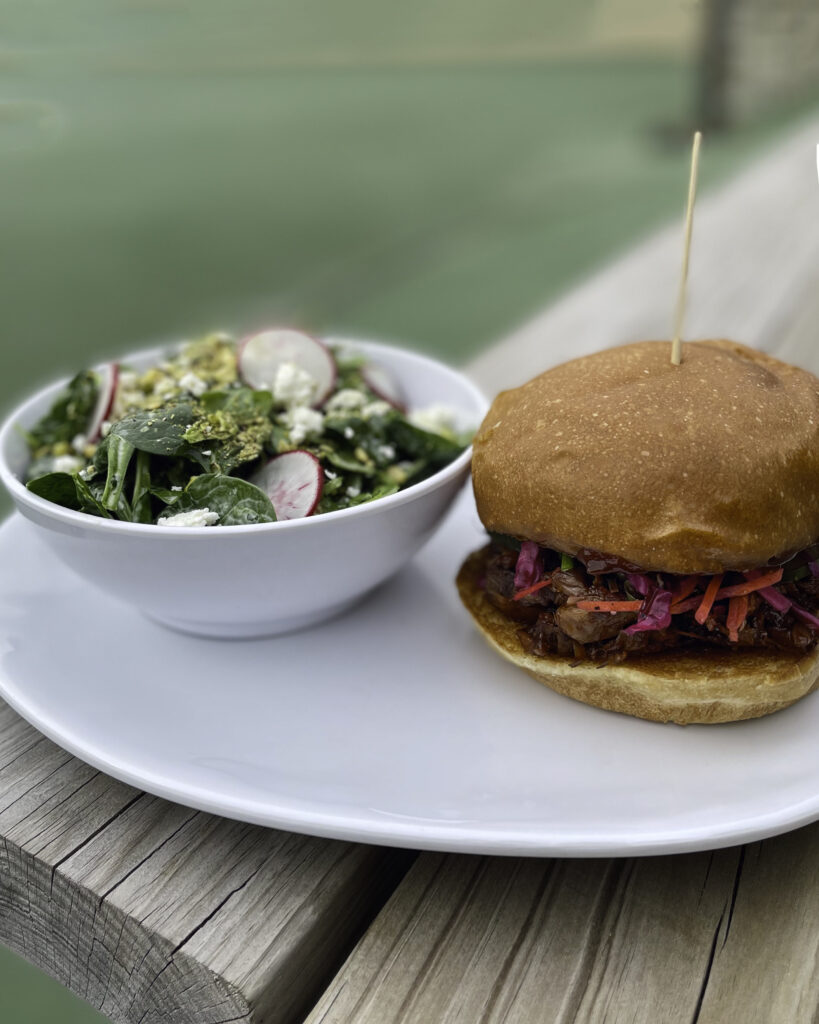 THE JACKFRUIT BBQ SANDWICH
The Jackfruit BBQ Sandwich is a fun play at a pulled pork sandwich. Jackfruit is a relative to figs and grows in tropical areas of Southeast Asia, Brazil and Africa. It has become more and more popular as a meat alternative due to its consistency and versatility. We shredded and sheared the jackfruit and tossed it with BBQ sauce and it tastes like you are actually eating a pulled pork sandwich. We are serving it on a fresh Farm to Market egg bun, topped with a refreshing cabbage, cilantro and mint slaw.
WHAT CAN YOU TELL US ABOUT THE NEW SUMMER MENU?
Essentially, I wanted to find a good balance between healthy food options and traditional poolside fare. The new menu utilizes a lot of fresh vegetables and house made sauces but also your poolside favorites like a hot dog or burger – just with a twist. I drew a lot of inspiration from one of my favorite cuisines so you will see a lot of Asian-American fusion.
You can try this dish Tuesday, April 13 from 11AM to 2PM at The Kitchen in the Main Clubhouse. The Kitchen is open 8AM to 9PM. Stay on the lookout for more information on the new summer menu on social and your inboxes soon.