Woodside offers 95 weekly group fitness classes spanning strength, cardio, yoga and Pilates, cycling and more included free with every membership. As leaders in fitness and wellness Woodside is always looking to add new formats and styles to meet industry trends. This month, we are excited to offer a new format of yoga to our lineup – Kemetic Yoga. Woodside Group Fitness Instructor Dr. Auburn shares more information on the style and benefits from the class.
Tell us a little about yourself and how you got started in your practice.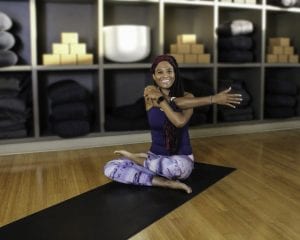 I began my yoga journey in 2014 by taking a Hot Vinyasa Flow class. I was a public school teacher in Chicago who really craved strategies to quiet my mind. Yoga became necessary during that time as it helped me develop ways to achieve a quieter mind after a day of teaching. From that class and regular practice, I started exploring other styles of yoga and fell into a regular Kemetic Yoga practice. This led me to enroll in a 200 hour yoga teacher training in 2017. My training was completed in Chicago at the House of Hotep, founded by Yirser Ra Hotep. Currently, I am a 300hr E-RYT who teaches 4+ yoga styles and have been teaching yoga for over three years.
What is Kemetic Yoga?
Kemetic Yoga is the ancient Egyptian system of yoga enlightenment based on physical movements combined with controlled deep breathing and meditation. It is characterized by a series of geometrically progressive postures that creates alignment of the spinal column and corrects defects in the skeletal muscular system. 

What are the benefits of Kemetic Yoga?
The philosophic principals of Kemetic Yoga places emphasis on the rejuvenation of the entire body and mind, not just physical development of outer muscles and flexibility. With regular practice one can expect increased blood circulation, nutrient and oxygen supply to vital body systems and the flow of internal life force energy is supported through the movements in this style.
Why should someone look into a regular yoga practice?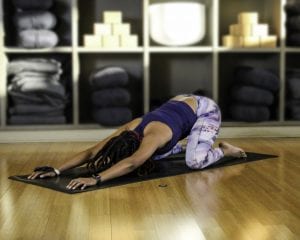 Especially now, with higher levels of stress and anxiety — practicing yoga can help you develop strategies for calming your mind and body on and off the mat. Yoga is a great way to activate the parasympathetic  nervous system and relax the body, which in time will relax the mind! Yoga also helps you stretch and build strength — this can help with some of those aches and pains some of us might be experiencing with working from home.
Who should take your class?
This is a beginner friendly class, all levels welcome. I always offer modifications and variations to create the practice your body needs. Come share love, light and harmony with Dr. Auburn!
Members can take Kemetic Yoga with Dr. Auburn from 8:30-9:45AM every Thursday. Reserve your spot today via the Woodside app. Reservations open 48 hours in advance. View the full group fitness schedule here. Please note that face masks are required in this class.