At Woodside, we are proud to bring together a team of full-time, dedicated and passionate training professionals who must complete a minimum of 100 hours of classroom and practicum training to be Ortho-Kinetics certified. Our trainers work tirelessly to help their clients reach their goals and live the fullest, healthiest lives, whatever that looks like to them. Learn more about some of our trainers below. To schedule your free hour, click here. 
SHELBY CHADD

FAVORITE EXERCISE: ANY KIND OF STRENGTH TRAINING OR PILATES REFORMER
Shelby grew up in Denver, CO but has resided in Kansas City for a decade. She studied vocal performance and loves to sing and play guitar. When she is not at Woodside you can find her staying active outdoors, traveling to national parks, camping or watching movies and hanging out with her Chocolate Lab, Chewbacca. Shelby is also a Reformer Pilates trainer and teaches spin classes at Woodside.
What motivated you to go into a career of training?
My background with fitness is an interesting one. I was a dedicated athlete and runner but struggled with finding a healthy balance with nutrition. I would under eat and continue to push my body to perform – eventually, I had to seek professional help to relearn proper nutrition, what a healthy body and a general healthy fitness-filled lifestyle looked like. I started working with a trainer that showed me the proper way to lift weights and strength train and my life was changed. Through that journey, I found strength in myself not only physically but also mentally. I noticed how this new mentality directly impacted so many other areas of my life and I wanted to be able to share that same feeling with others through training.
What is your favorite part about your job?
I enjoy getting to work with so many different types of people and populations. I also love being a teacher and motivator for my clients. It is exciting to show someone that they are capable of more than they give themselves credit for. I want my clients to be able to have a healthy lifestyle that includes fitness, and in a way that they are excited about and enjoy doing.
How would you describe your training style? 
I am extremely dedicated to and care a lot about each and everyone of my clients. I strive to create a space in which they can leave the noise of the world at the door and focus on taking care of themselves. I work hard to help create healthy mindsets around fitness that go deeper than body styles so that they can have a long and healthy relationship with their fitness journey. I will be there to teach, guide and support them every step of the way.
LEE PARFITT
FAVORITE EXERCISE: SINGLE ARM OVERHEAD DUMBBELL PRESS
Lee grew up in State College, PA and has lived many places in the United States. From North Carolina to California — and now in Kansas City, MO. Lee has 5 years of personal training experience and when he is not at Woodside, you can find him playing and listening to music, taking a cross country trip or watching college football.
What motivated you to go into a career of training?
After a diagnosis of ulcerative colitis at 18, I took an interest in fitness and nutrition to see what I could do to improve my own health and well-being. Turns out the answer to that was A LOT. The first of which included becoming more active in my daily life. I went on to grad school and studied active recreation and eventually, over the years, my interest in fitness grew exponentially. After that,  I decided to get my certification to begin my career as a personal trainer.
What is your favorite part about your job?
Helping empower people to realize that they are in control of their own health and fitness. Sometimes we all feel powerless to outside influences in life but changing your habits, abilities, lifestyle, physical appearance and confidence are all possible. You just have to be willing to invest the energy to do so and have the right resources to help. I enjoy being a resource and guide to helping my clients achieve that.
How would you describe your training style? 
If our relationship is a road trip, I'm the navigator but you're driving the car. I'll create the road map, find the best route, tell you when to punch it and when to fill up with gas, and promise to only doze off when you know where you're going. Ultimately, I want you to look forward to your workouts and enjoy the journey of training with me even when it gets hard.
LEE CLARK

FAVORITE EXERCISE: FREE FITNESS ACTIVITIES
Lee grew up in Kansas City, MO. Not only is Lee a seasoned trainer, but a chef who has a deep passion for cooking—creating healthy, balanced, delicious meals. When he isn't at Woodside or in the kitchen, you can find him outdoors participating in "free fitness" activities like Ultimate Frisbee, running, hiking, camping and rock climbing.
What motivated you to go into a career of training?
Since I was old enough to lace up my own cleats, movement and food have always been passions of mine and thankfully come quite naturally. Consequently, I have always had a strong desire to help others achieve their personal fitness and health goals. Whether you want to be an Olympic sprinter, swing a racket without shoulder pain or just feel good in your own skin, I want to help.
What is your favorite part about your job?
That's easy. The favorite part of my job is that it doesn't feel like work. I have the privilege of coming to Woodside every day, sharing what I love, and helping others improve their quality of life. It's extremely rewarding.
How would you describe your training style? 
I am always seeking answers—my education in this field never ends. I take all the time necessary to get to know you and your specific needs through a postural and joint analysis to fully understand how you move and why. This information enables me to guide you through a personalized training that will improve your overall well-being. Every person's body is different and has different needs. By learning all I can about how your body functions, its strengths, weaknesses and imbalances, I can create a plan targeted specifically for you—no cut and paste routines!
My philosophy is that consistency is as key as enjoying the journey. Fitness is not a punishment and food is not a reward. For lifelong health and fitness success you need to find a balanced plan that works for you. I want to help you become the 'ultimate' version of yourself inside and out.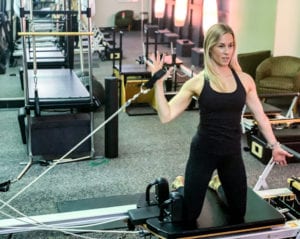 KERSTIN ROBERTSON
FAVORITE EXERCISE: LIFTING, PILATES REFORMER OR YOGA
Kerstin grew up in St. Louis, MO where she was an avid gymnast and later played Field Hockey and Lacrosse. Kerstin is one of the Training Managers at Woodside as well as a Pilates Trainer. When she is not at Woodside you can find her enjoying the outdoors, cooking, reading, traveling or getting a session in on the Reformer.
What motivated you to go into a career of training?
I grew up in the gym training as a gymnast and it has always felt like a natural habitat since then. After leaving the world of competition and organized sports, my passion for fitness stayed with me but it was pushed aside through college where my attempt at a healthy lifestyle, like most young adults in college, instead developed into an unhealthy cycle of over exercise and overeating. Thankfully, I was able to find a healthy balance between nutrition and movement again through fitness — and I wanted to share that with people. Thus, I started my journey to become a personal trainer. I want people to become the best versions of themselves.  Helping people achieve their goals is quite possibly the most rewarding thing out there. With fitness, your life is guaranteed to improve and stress will decrease. What's not to love about that?
What is your favorite part about your job?
Everything! I enjoy getting to talk about food and movement all day. I love hearing peoples individual stories and making their process of finding wellness less intimidating. I like helping people find a way to move their body more efficiently which in return can help with recovery, stress, or general pain. Watching people meet their goals, with a little help and guidance, is extremely rewarding.  Plus, I am a morning person so I look forward to those early morning sessions.
How would you describe your training style? 
Tell me your goals and I will tell you how to get there!