Woodside Executive Chef, Michael Giampetruzzi, talks about the inspiration of his third menu launch at Woodside. Originally from Bangor, ME, he has lived in Kansas City for over twenty years most recently serving as the Executive Chef at Café Trio before joining the Woodside team. Read more on what he had to say below. 
Tell us a little about how you became a Chef and your cooking style.
Growing up, the lifestyle of both sides of my family revolved a lot around food. We always gathered to eat breakfast, lunch and dinner as a family. During this time, we would tell stories and discuss that day's events or plans. Sitting down for a meal together without distractions was important to us. I looked forward to helping cook and learning from my family in the kitchen. Tasting the food we made together was just the cherry on top. Looking back, I suppose food intrigued me at a young age – it just took me a while to realize I could make it a career.
After spending about ten years in corporate banking, I decided I wanted to try something new. After enrolling in a few culinary courses at Johnson County Community College, I never looked back. It was in those courses that I realized I had a natural ability for cooking and using only my senses as a guide – especially with from-scratch cooking. Now as a chef, I often cook with my senses rather than a recipe. I enjoy letting the recipe create itself along the way. Of course, I want consistency in a menu, but it isn't my priority to have each of my dishes taste the same every time you order it. I want you to come back each time thinking it was better than the last.
This is your third menu to launch at Woodside – what sets this menu apart from the others?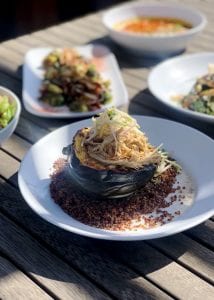 In my opinion, this menu was a big change from the norm thus far. We replaced most of the previous menu items, keeping only a handful of dishes that remain popular with our members. It was important to me that this menu conveyed the changing of seasons. I tried to draw from ingredients that felt, tasted and looked like fall. I want members to receive their meal, like the Harvest Bowl or Brussels Sprouts for example, and experience that change of season on their plates.
One of your goals when coming to Woodside was working to make a from scratch and sustainable kitchen – does this menu support that goal? How so?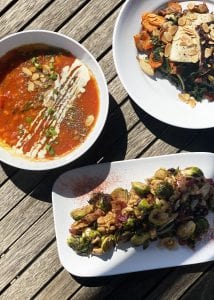 It does. We are definitely a from-scratch kitchen and pride ourselves on being so. When you peruse our menu, you will see things such as hazelnut butter, bone broth, falafel, or pumpkin hummus, all of which are made in house with quality sourced ingredients. To reduce waste, we also utilize items on the menu across multiple dishes like our bone broth for example. Our ingredients simmer low and slow for about twelve hours or more to create a deep and rich flavor that is nutrient-rich and delicious on its own — but add it to the quinoa in our Harvest Bowl, and suddenly we can elevate another ingredient in the dish. We also like to utilize scraps from vegetable preparation and re-purpose them in our stocks and soups.
At Woodside, we utilize the Six Standards of Quality in everything we use in the kitchen, which is also reflected in the sustainably raised meat, chicken and fish that you'll see on the Fall menu.
You can view the new fall menu here. While you can still dine in, we are happy to announce that members can order ahead for carryout from the Main Clubhouse or Southside. Place your order today through the Woodside app or ChowNow.
The Kitchen is open Monday – Friday 8AM to 9PM and Saturday – Sunday 8AM to 6PM