8 WAYS PILATES BENEFITS YOUR LIFE
If your exercise routine is getting a little stale, it may be time to consider a change in your routine. Don't worry, this sort of thing happens to everyone! However, you don't want to run out of steam and end up losing track of your goals or essentially end up undoing all the hard work and effort you've already put into achieving them. 
One way to spice up your routine is by taking a pilates class! Pilates has been around for years, and is popular among celebrities as well as fitness gurus and influencers alike. However, you don't have to be any of those things to reap the benefits of pilates and have fun doing it! 
 1. KICK STRESS GOODBYE
If one of the reasons that you work out is to relieve stress and shake off the weight of the day, then opting for a pilates class is a great choice. Because of the intensity of the class, you are able to see results quickly, and this is a great motivation booster. Also, you release a lot of endorphins in the hour-long class, leaving you feeling better not just about your workout, but about yourself overall. So whether you take the class first thing in the morning or after a tiring day at the office, you're sure to exit the gym with a smile on your face.

 2. LED BY A TRAINER
Sometimes, making a workout plan can seem like a daunting task. You're already trying to organize and keep track of enough in your life – your work calendar, your childrens' event schedule, upcoming social events. It can all add up and just seem like too much! Don't sweat it any longer! Come to pilates and receive organized instruction so that all you have to do is focus on giving your very best, rather than trying to make sure you've calculated enough reps or that you've counted all your calories.
 
 
 3. STAY IN SHAPE
Pilates is a full-body experience, designed to target all muscle groups and areas. Abs, arms, legs, shoulders – you name it, and in a pilates class, you're going to target that zone. Walk out of each class sweating and feeling fatigued in the best way! For those who are seeking to lose weight or stay in shape, this is a solid choice.
 4. IMPROVED FLEXIBILITY
Other than building muscle tone quickly, pilates is also very effective in improving the body's overall agility and flexibility. The Stott-certified personal trainers who lead our classes here at Woodside are trained in all areas of your body's biomechanics. Because of this, we are able to give our members the most out of the program, focusing on areas that a typical gym or weight-lifting session couldn't give you, such as improving your balance. In pilates, you are able to work at a safe, well-layered pace to increase the length and stretch of various muscle groups.
 5. LOW IMPACT ROUTINE
If you are someone who suffers from regular joint pain or has a past sports injury, such as an ACL reconstruction, you know how important it is to be able to find a low-impact workout routine that is still challenging. Pilates comes with over a thousand possible exercises and modifications, including those to help individuals with joint pain issues. As you build up strength, you can continue to make modifications suited for your abilities and how you're feeling from day to day.
 6. IMPROVED POSTURE
Because pilates focuses on building core strength, it enables the body to have a strong foundation. With solid core muscles comes the proper alignment of the spine, which leads to improved posture and stability as well as better breathing. Incorrect posture or slouching can lead to aches and pains in the neck, back, shoulders, and more. If poor posture turns into a chronic habit, it can have even more detrimental, long-term effects.
 7. SAFE WHILE PREGNANT
Above, we mentioned low-impact modifications that are great for those with injuries. The same can be said for those that are expecting! A strong core helps to shorten labor pains and delivery times, as well as decreasing back and pelvic pains. Also, being in shape before delivery helps you to recover quicker post-partum. However, as with any type of exercise, it is best to consult your doctor prior to taking a class.
 8. BETTER TOGETHER
One of the best benefits of pilates is that it is offered as a class! With groups ranging from small to large and across different skill levels, it is easy to join a class that's right for you. Taking group classes allows you to be social and build a community that helps hold you accountable, while simultaneously removing the stress of having to plan each individual workout all by yourself.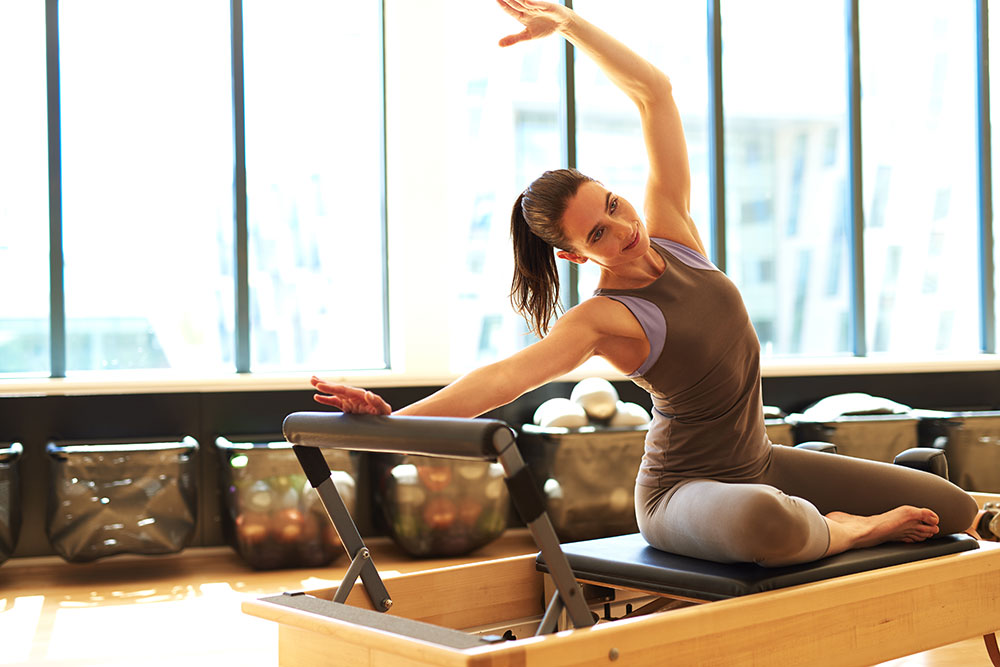 TRY PILATES AT WOODSIDE
Here at Woodside, we offer pilates classes led by our Stott-certified personal trainers that feature individualized instruction. We also have reformer small group classes or one-on-sessions available, where pulleys and springs create resistance, resulting in long, lean muscles.
There are two types of pilates classes that we offer: mat classes and reformer sessions. So, what is the difference?
Mat Classes – This is the best choice if you're a beginner and new to exercising using the pilates method. These courses usually entail building up strength, learning the basics, and navigating some of the introductory moves. It also typically doesn't use any sort of weight or equipment. Stay at this level as long as you like to make sure you have a solid foundation before moving up to the reformer sessions. 
Reformer Sessions – Once you are ready to move up from the mat classes, it's time for the reformer sessions. These focus on fluid movements using resistance from pulleys and springs, and using the reformer cart and bars to create a dynamic workout. These are available as one-on-one or group sessions with a Stott-certified instructor. Reformer sessions are great for performance-focused workouts and overall conditioning.
If you're looking for gyms near Kansas City, don't settle on any old rec center or fitness facility. Come to Woodside and experience a club truly capable of focusing on all areas of fitness, including a pilates studio.