Looking for more ways to relax this summer? Our Kansas City health club, Woodside, can help you beat the heat and put some true relaxation into your life! 
Woodside is Kansas City's premier luxury health club. It is so much more than a gym. It's a daily retreat curated to serve the individual fitness goals and mental well-being of our members.
Let's look at a few of the amenities at Woodside that can help members relax, rejuvenate and get ready for the demands of everyday life: 
#1) The Pools
Many people enjoy being in and by the water, so our pools are a wonderful place to find the rest you need and enjoy your downtime. Members at Woodside enjoy a variety of pools to benefit their needs. We offer two spacious outdoor swimming pools that are adult-only for your relaxation.
At our pools we offer food and drink service; a full concierge service that includes a water station, books and magazines, sunglass cleaning, towels, phone charging and more. Our pools have comfortable seating and tables and even music and entertainment. 
In addition, if you are looking to relax with the family, we have a family pool that will accommodate your entire family, with a baby pool and toddler splash areas included. Lifeguards are on duty at this pool, which includes a diving board, lap lanes for a good workout, food service and a variety of chairs and other lounging options for the family. 
Our pool hours at your Kansas City health club can be found on the schedule of hours here. 
2) The Spa 
When many of us consider the need for relaxation, our minds go to a spa setting, and The Spa at Woodside will not disappoint you with its numerous offerings and amenities for members. 
For those desiring a massage and the relaxation and invigoration it provides, Woodside offers several different types, such as Classic Swedish, Deep Tissue, Hot Stone and many more with a variety of enhancements that can be added to your experience. 
Our providers also offer expert facial and skin care opportunities. Along with our signature facial, a lifting and firming one and a brightening one, we offer the Geneo™ Customized Advanced facial, formulated specifically for your skin type and concerns. Learn more about our facials and the enhancements offered along with them to see the pampering awaiting you with your membership at Woodside.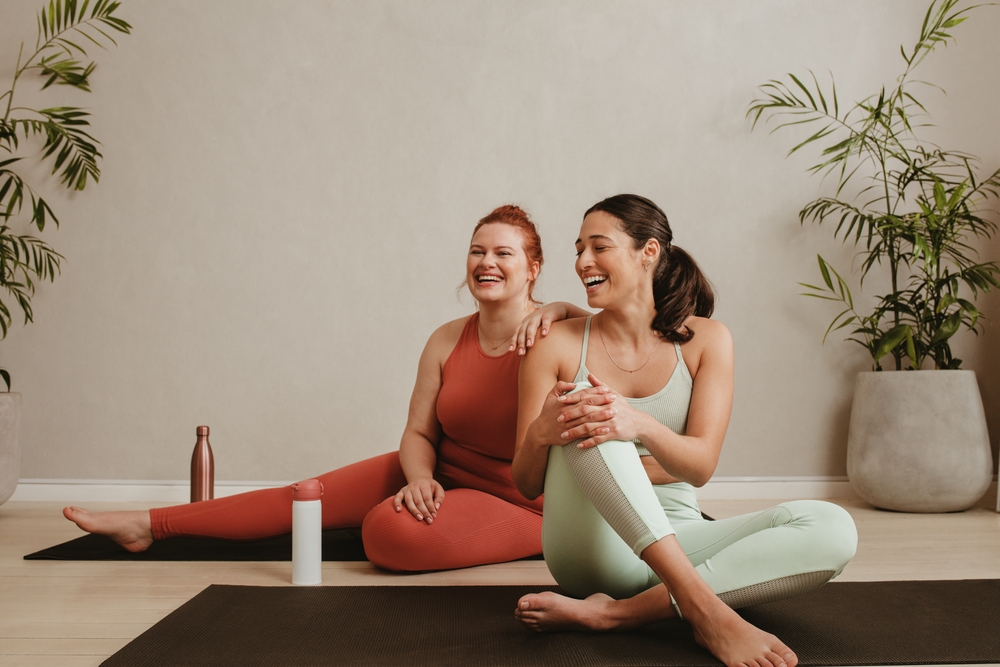 #3) Yoga Studio
Yoga is a tremendous benefit for those seeking relaxation of the mind and body. Our Yoga Studio offers over 30 classes each week with different skill levels, so we can accommodate both beginners to yoga and those who are more advanced. 
You can decide between yoga offerings such as Foundations, Restorative, Yin and more that move into more powerful sessions. Look over the descriptions of these to find what is best for your needs!  You can also review our class schedule for other group classes to see all that Woodside has to offer. 
#4) Food and Drinks
What is better in helping you relax than knowing you can find healthy food options? At Woodside we follow standards that will assure you of the quality you are receiving when you order any of our food. Some of these include hormone and antibiotic free meats, and our ingredients are USDA Organic and certified Humane. 
At our various food service areas, most items can be made gluten-free, vegetarian or vegan. Just ask and we will do our best to accommodate! We are happy to assist in providing you with the best meal or snack possible. 
We offer different menus and services at our various eating areas, such as The Kitchen, The Pool, The Bar and The Earthbar. In addition, we also offer Grab + Go options for those times you want to enjoy our food on the run! Just another way to relax and enjoy your time. 
#5) Social Activities
At Woodside we realize that you may not exercise every time you come to the club. Relaxation is as important to your mind and body as is exercise and activity. This is why we have numerous areas to do just that. You can meet up with friends by the pool or in any of the numerous seating areas around our club. 
While we believe exercise is crucial to your livelihood and longevity, we know community is as well. We believe community is the glue that holds us all together. When you join Woodside, you join our community of people who believe in and are striving to be the best versions of themselves. We come together and support each other through events, group fitness classes, tennis leagues, pool time and socializing in our bar and lounge.
Woodside also offers a variety of group events throughout the year that may help you meet other members. 
MAKING WOODSIDE YOUR KANSAS CITY HEALTH CLUB
Along with exercising and community we believe in rejuvenation of the body and mind. We know recovery is vital to a healthy lifestyle. We offer nutritious food options, relaxation amenities ranging from stretch classes to yoga, a full-service spa, hydrotherapy and lounge areas inside, courtside and, of course, poolside. We know you will find numerous ways to relax and benefit your health at Woodside.
If all of these offerings at Woodside make our club look enticing to you for your relaxation and rejuvenation needs, we hope you will reach out to us for more information and a tour. We would love to show you around and answer any further questions you may have.