Summer is here and in full swing! As the temperatures rise and the days become longer, it's time to make the most out of your summer evenings. 
At Woodside, we're a Westwood wellness center, meaning we are more than just a gym: we're your total health destination. Relaxing and taking time to unwind is just as important as working out. After the very stressful year the world has had, and with more events opening up due to lifted restrictions, it's time to take this summer back and really enjoy it! 
Check out these five great ways to relax and unwind, all without ever leaving the comfort and privacy of our Club! 
THE SPA
To kick off the list of our great amenities here at Woodside, let's start off with one of our most popular options: The Spa at Woodside . If you're on a mission to rejuvenate and restore your body and mind, we highly recommend trying any of the treatments that we offer. 
Book a massage with one of our caring and professional Licensed Massage Therapists. With a myriad of choices, ranging from deep tissue to prenatal, give your body a gift it truly deserves. Or, show your skin a little love with a signature facial or collagen mask. Gain a confidence boost by ditching the mascara and letting your natural beauty shine through with a lash or brow tint. 
With five wet and dry temperature zones, our indoor pool area offers unparalleled amenities. Enjoy a dip in our heated indoor pool or expansive hot tub. Relax in our steam room or dry sauna to sweat out stress and relieve aching muscles. We are also home to the only full-body cold plunge in Kansas City, offering contrast therapy. Our towel station even offers up chilled, eucalyptus-infused towels and a water bottle refill station. 
ENJOY A RELAXING DINNER
Skip cooking at home tonight – pay a visit to our world-class restaurant instead! Our kitchen features a specially crafted seasonal menu of locally sourced ingredients designed to keep things fresh and healthy. It is essential that our Executive Chef utilize the Six Standards of Quality with humanely-raised, wild-caught and grass-fed proteins as well as organic produce. 
Eating out doesn't have to be unhealthy, either! Enjoy a guilt-free, delicious meal from our fresh and delicious summer menu, each item cooked to order and with our Six Standards of Quality in mind. These standards are designed to get out what you put in and provide the highest-grade ingredients possible for your body and mind. 
HAPPY HOUR
If you're wanting a great atmosphere to kick back and unwind in, be sure to stop by our bar! Sip, savor and socialize with a variety of options from our bar menu, chock-full of house-made mocktails, hand-crafted cocktails and local brews. If wine is your thing, check out the different choices we have from rosé to white to red, we are sure to have your new favorite. 
While our indoor bar is open year-round, if you're looking to enjoy a drink by the pool, you'll love what's next on the list!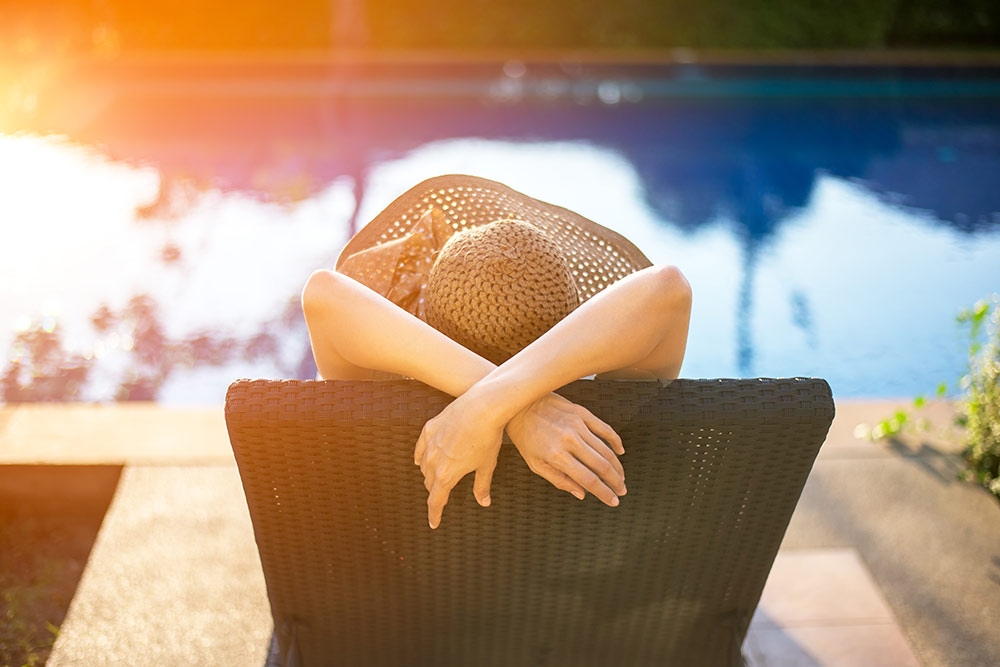 LOUNGE BY THE POOL
Cool water and hot weather – these two are a classic pair and only come around once a year. Amp up the combo by adding a signature drink to enjoy poolside at our adult-only pools. This oasis is designed to offer up some hard-earned relaxation and features two spacious swimming pools with a full bar and hospitality team. 
If you forgot something at home, no worries! Our concierge service has sparkling and still water stations, towel service, sunscreen, sunglasses, hats, and more. With three oversized cabanas with swinging chairs, you're sure to find the perfect spot to cool down and kick back. 
Rinse off before and after your dive with our on-deck showers, or use the direct access to the Main Clubhouse via the lower level, including a way to get to the locker room and spa.
If you're bringing the family, our Westwood wellness center can accommodate that, too! With parking lot access, our lower pool hosts families as well as fitness with our lap lanes. Kiddos can enjoy the diving board while a separate baby pool and toddler splash pad are available for the little ones. Lifeguards are on duty during operating hours, ensuring your family's safety. 
PARTICIPATE IN AN EVENT
At Woodside, we're called a club for a reason. More than just fitness, we're also about community and connection. After the year we've all had, it's more important than ever to get out, socialize, and renew our spirits by socializing and solidifying the bonds with like-minded individuals. We are so thrilled to offer some amazing events this summer, including our weekly Poolside Sessions, Family Nights and the Woodside Week-ender.
Every Thursday evening this summer, enjoy live music, great drinks and even better company by stopping by the upper deck. Local musicians bring a renewed energy and vibe to an already wonderful atmosphere. Catch up with friends and get the weekend started just a little early! 
An awesome all-ages event is our Family Night, offered every Friday during the summer. Bring the whole gang to the lower pool for an evening of food specials and great Friday night live entertainment. Jump into the water with the kiddos or lounge poolside with your favorite beverage – either way, you've earned the chance to have a little fun!
Beat the heat with the Woodside Weekender, a great mid-day event that happens every Sunday during the summer. A poolside DJ and drinks specials give you a great way to close out the weekend with a little fun and sun. This event takes place in our upper pools and is for adults-only, giving you the perfect opportunity to unwind! 
No matter which of these wonderful options you end up choosing, you can't go wrong here at Woodside! Our Westwood wellness center isn't just about working and building your body, it's about showing it a little love, too. Don't wait to unwind – treat yourself before the summer slips past!