5 REASONS YOU SHOULD CONSIDER WORKOUT CLASSES IN KANSAS CITY
 Teamwork makes the dream work, especially when it comes to reaching our fitness goals.
There is just something about going with a friend to the gym or exercising as a group that really amps up the quality of your workout and motivates us to finish strong. But why is that the case? Turns out, there is strength in numbers, and while waking up at the crack of dawn can seem like a loathsome activity, knowing you have a familiar face and your friend waiting for you at the gym can be just the motivator you need to keep going. 
So why else should you consider workout classes? Keep reading to find out!
ACCOUNTABILITY IS KEY 
One of the most important benefits of joining a fitness class is that you have a support system at your side. Sometimes, it can be extremely difficult to hold ourselves accountable when it comes to fitness. Life happens, and we can get stressed out and discouraged. We offer up excuses like 'I'm just too tired today' or 'skipping one day won't kill me'. However, these can snowball, and before we know it, we're totally out of routine.
If this sounds at all familiar, consider trying a workout class! These group settings offer structure and give you something to look forward to, as well as people who care about you and want to see you succeed. Once you've built friendships with those around you, it makes it that much harder to hit snooze and roll back over. 
INCREASED COMMITMENT
Working out with others improves consistency because it involves a level of commitment that is visible to others. Sometimes, a gym membership can go unused for months on end, and despite the money we are wasting by letting it lapse, we still aren't motivated because it is easy to hide. 
However, when working out in a group setting, it is going to be quite clear when you miss a day or skip a class. Sure, things happen and you may not be able to attend every single one and that's okay! But a little positive peer pressure goes a long way in this setting, and it can help motivate you to stay committed and stick to the class routine.  
PUSH PAST YOUR LIMITS
When you're in a class and surrounded by others, you feel the urge to keep up. You won't be tempted to view falling behind as a viable option, and you'll see how hard everyone else is working and that will make you strive to push past your limits. 
This sort of competitive edge is a good thing! By watching others train to the fullest and work hard, we can use this as a catalyst for our own motivation. Research has shown that by working out with a partner that we perceive as better or more fit than ourselves, our productivity and intensity increase by 200%. Talk about a way to take your game to the next level!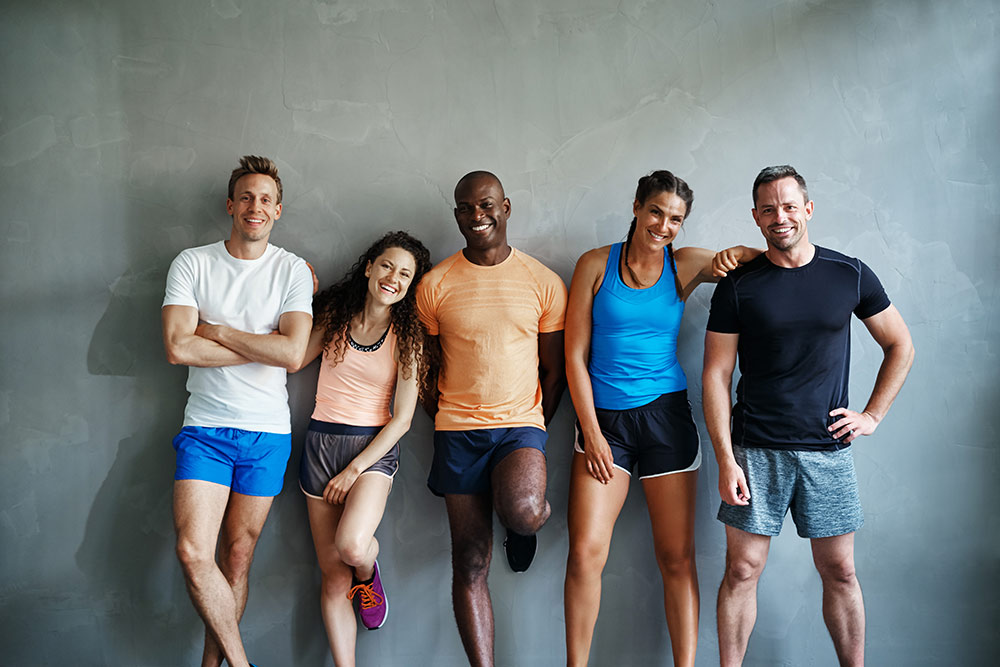 CONTAGIOUS POSITIVITY
Don't just step up your physical game – give your whole mentality a boost! Working out in a group setting has many mental advantages over opting for just a solo workout. One of these ways is actually through the simple act of smiling! Studies have shown that smiling boosts endorphin levels which in turn, increases your mood. So smiling through your workout will keep the positive energy flowing even when facing a challenging task. 
Not only that, but it will also encourage those around you. Smiling is contagious, and once those around you see your grin, they'll be sure to follow suit. Don't forget to laugh where you can! After all, it's more than okay to have a little fun. 
A CHANGE OF PACE
No one likes doing the same thing day in and day out. If each and every day, we woke up and ate the same exact food or listened to the same exact song on repeat, we would surely get bored stiff! Treat your workout routine the same way. Sure, we can alternate between leg day or arm day or cardio, but joining a fitness class is sure to really mix things up.
Even if it is just once a week, working in something like a spin class or a group yoga session will help keep you motivated and moving. Diversifying your workouts will also help teach you new techniques under direct supervision. Say you've always wanted to try a new stretch or pose, but were never sure how to do it yourself, taking a structured course is a great way to safely learn, even if something is wholly unfamiliar. 
CLASSES AT WOODSIDE
If you're looking for workout classes in Kansas City, then look no further than Woodside Health and Fitness Club. We are proud to offer up KC's most robust fitness schedule with over 100+ classes on rotation each and every week. No matter what skill level you are, or what you are interested in, we can guarantee that we have the right fit for you. 
Elevate your wellness by signing up for one of these great courses:
Cardio: Burn fat and build lean muscle in our completely redefined boot camp, complete with supercharged workouts and a playlist meant to get you hyped!

 

Woodside Ride: If you're into cycling, give our class a spin, led by renowned instructors who guarantee a transformation.

 

Create Zen: Cool down and build flexibility with a yoga course. This centuries old practice is sure to connect your body and your mind.

 

Signature Series: If you're in the mood for something really unique, it is high time to check out some of the courses listed on our Signature Series. From Shock + Shred to Barre and Pilates, these courses are sure to be unique and inspiring.
What are you waiting for? Don't put off your health and well being any longer. If you aren't a member yet, be sure to book a tour of our state of the art facility and sign up for a membership today!