5 REASONS WHY YOUR FAMILY SHOULD VISIT THE POOL THIS SUMMER
Now that the end of May is upon us, it's time to bust out the sunscreen and your bathing suit as the unofficial start of summer is well underway. Within the next week or so, the area Kansas City pools will be open for people of all ages to enjoy. Many will be flocking to take a refreshing dip in the water, show off their best swan dive on the diving board or simply look forward to curling up poolside with a good book. 
That being said, did you know that swimming actually has some benefits, too? Mentally, physically and socially, a visit to the pool can be an excellent summer activity for many reasons. Keep reading to learn more!
1.) STAY FIT AND ACTIVE
Getting in the water and going for a swim isn't just a fun way to cool off. Actually, it is quite good for you, too! Swimming builds strength in so many different areas of the body, including arms, chest, legs and core. It is also considered a cardio activity, which means that it is great for maintaining heart and lung health. 
Plus, swimming is one of the few physically demanding activities that is both low impact as well as good for recovering joints. If you have ever faced an injury like a torn ACL, it can be difficult to find workouts that don't cause additional pain or discomfort at the injury site. When you are in the water, you are buoyant. This means that because you float, it will take the strain off of any joints. 

2.) REDUCE STRESS
One of the best things about Woodside is that our facility features not one but three outdoor pools. There is one pool that is for family fun and two additional pools dedicated to our adult crowd. If you are looking for a spot to relax and unwind after the work week is up, then you need to check out the best adult-only pool scene that Kansas City has to offer. 
If you want to swim a few laps for an excellent full body workout, that's great! But if you're in the mood to chill out and enjoy the water at your leisure, we have all the amenities you could ask for. This includes a full bar and hospitality team, a concierge service offering sparkling and still water stations, towel service, sunscreen, sunglasses, hats and more, as well as access to the full food and drink service from The Woodside Kitchen. Pair this with on-deck showers, oversized cabanas with swinging chairs, soft seating and lounges, and you're ready to relax in style.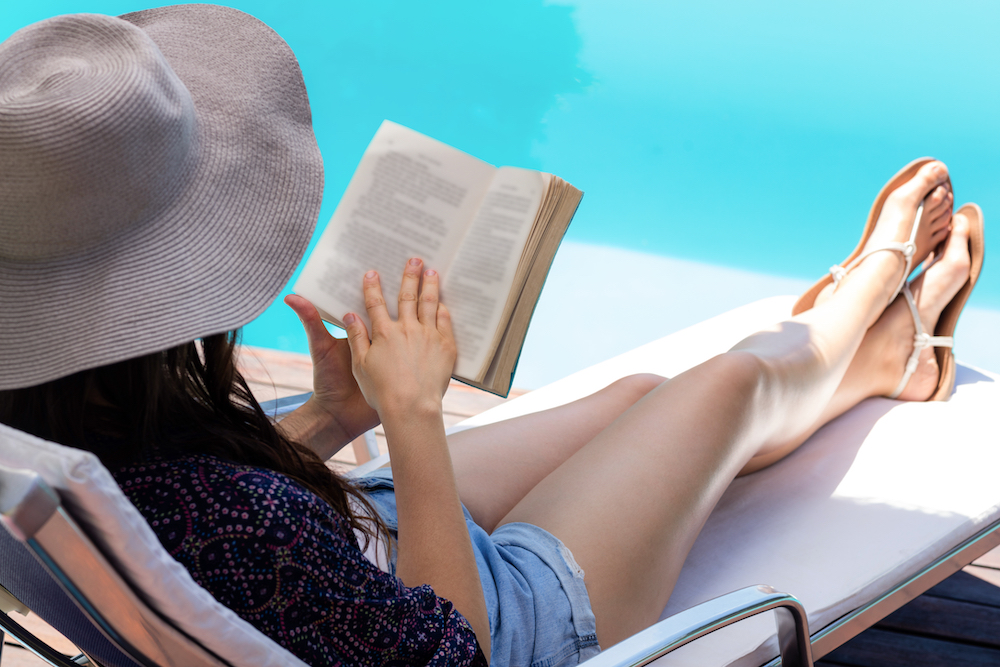 3.) ENGAGE AND SOCIALIZE
Over the past two years, getting the chance to spend time together in person has been scarce thanks to the pandemic. However, as things open back up and people are able to reunite face to face, many are eager for the opportunity! A trip to one of the Kansas City pools can be a wonderful way to socialize and reconnect with others. 
Of course in the family pool, children can make new friends and playmates. Children typically take naturally to playing with one another, engaging in any number of games and activities. It's not just good for the little ones, however! Adults can have their time to socialize and engage with other adults, too.
Also, don't miss out on enjoying live music and entertainment! This includes weeknight sessions and even weekend DJs. Grab your friends and experience an atmosphere unlike any other.
4.) ENJOY FAMILY BONDING TIME
For those of us in the Midwest, getting to enjoy time outdoors in a recreational pool only comes around one time a year thanks to our intense swing of seasons. Summer means that the kids are out of school and eager to make the most of their vacation time, especially now that the weather is hot. For many children, this includes a visit to one of the area Kansas City pools and jumping into the water. While clearing one's schedule can be hectic, it's important to do so if at all possible! You won't want to miss out on the precious quality time that you can spend together
When you visit our private pools with your membership from Woodside, you can schedule a full day of fun at our family friendly area. Spanning depths of three to 12 feet, this pool comes complete with lap lanes and a diving board. As an added bonus, there is also a separate baby pool and toddler splash pad available for the little ones. No matter what age your children are, our family pool will have something for everyone. 
5.) LEARN ABOUT WATER SAFETY
While it is a harrowing statistic to talk about, accidental drowning is the number one cause of death for small children. Pools, lakes and the water in general can be a lot of fun, but they do present their own set of concerns. There is one instrumental way to lower the risk of drowning, however: water safety.
While our family pool has lifeguards on duty in case of an emergency, it is still vital to know about water safety. Between learning water safety and how to properly swim, you and the members of your family will have the tools necessary to keep yourselves safe. There will be scenarios that you or a lifeguard might not be around, such as if your child is swimming at a residential pool or while visiting a local lake. Going to the pool as a family presents an excellent opportunity to review water safety together, giving you better peace of mind in various scenarios. 
JOIN WOODSIDE TODAY
If you don't quite have your membership to Woodside yet, summer is the perfect time to join! Purchase a membership for yourself or for your whole family. Apart from having access to the best Kansas City pools, you are also opening yourself up to a myriad of other amenities. This includes our expansive fitness center, luxurious spa, robust group fitness schedule and so much more! Head over to our website to sign up today!