5 GUA SHA MOVES TO SUPPORT LYMPHATIC HEALTH
Gua Sha type is a style of massage that incorporates a small stone scraping tool, or board, to help move lymph fluid out of the body and increase circulation. This ancient Chinese healing technique—pronounced "gwa sa"— has gained traction in the U.S. beauty and wellness scene over the last few years.  This "rubbing technique" works to clear stagnant energy, otherwise known as chi in traditional Chinese medicine, and encourage lymphatic drainage that results in firmer, more toned-looking skin. We talked with Woodside Licensed Massage Therapist, Morgan Hanlen and Spa + Retail Manager Tori Connelly to learn five moves that will help your lymphatic health.
The first step in getting started with gua sha is choosing your tool. There are many types of gua sha tools with a variety of stones that serve many purposes. For example Jade is known for its balancing effects and its ability to cool, which helps with inflammation and de-puffing your skin. Rose quartz relates to the heart, so it's especially beneficial to use on the neck and chest. To start, we recommend a wing, fin or dolphin shape tool as these are the most popular and can be used in a variety of ways. We love all of the products from 
Mount Lai 
which can be picked up in The Spa Boutique.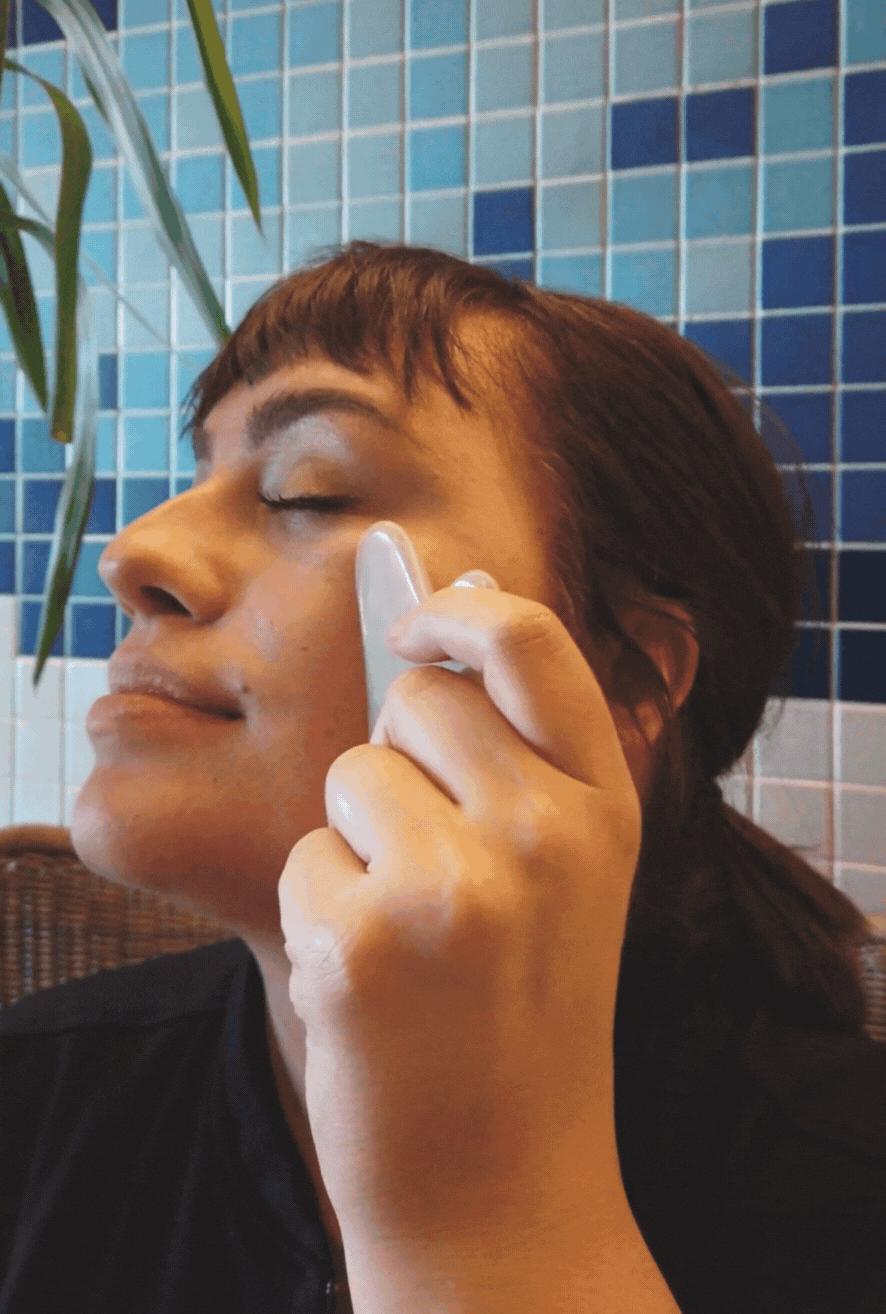 GETTING STARTED WITH GUA SHA
Before you begin, it is important that your face is wet and clean – never gua sha on dry, bare skin. We recommend using a serum or oil, like The Wildland Organics Daily Ritual Oil.
Then, take your gua sha tool and hold it flat against your face working in an outward motion. Do not move the tool back and forth or up and down across the face, always move outward and replace the tool flat against your face before repeating. For best results, repeat each move 3 – 5 times and gua sha daily. 
Woodside Licensed Massage Therapist  Morgan Hanlen demonstrates five of her favorite movements you can use to help support lymphatic drainage through the body.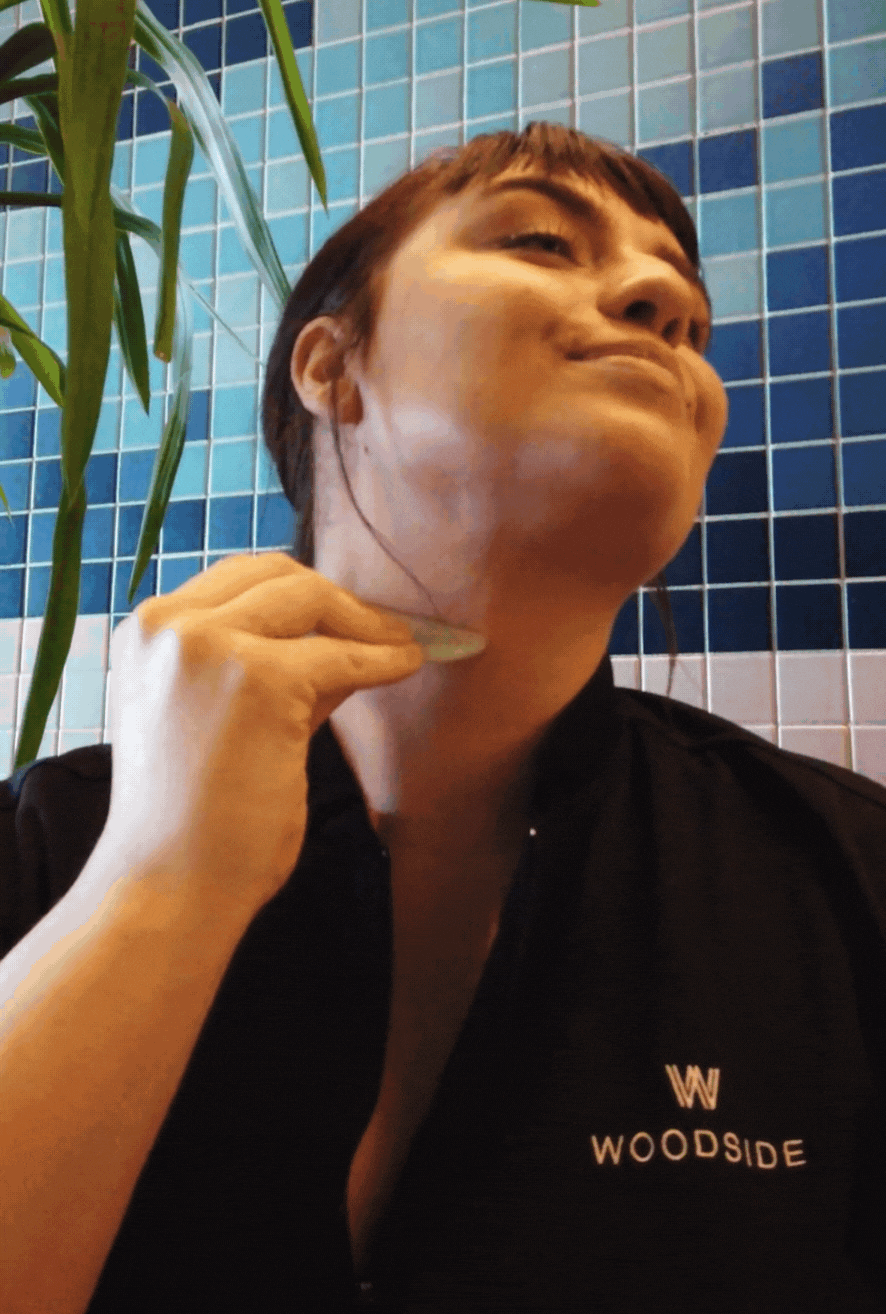 Using the flat side of the tool, gently place it flat against your neck where it meets your chin and/or jaw. Slowly and gently move outward towards your heart. Repeat 3 – 5 times, alternate sides, and repeat the same process.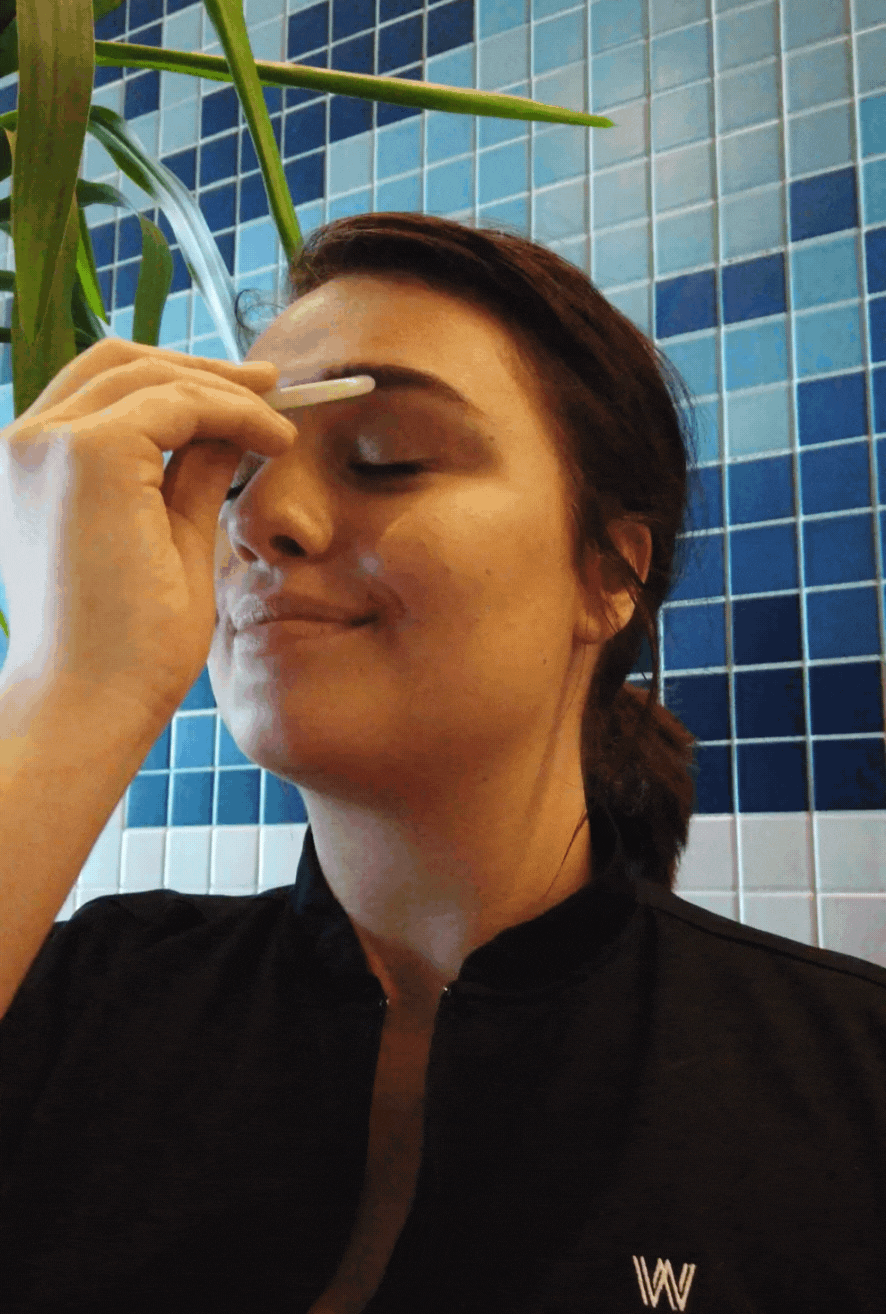 Place the tool flat against your forehead where it meets the tip of your nose. Slowly and gently move outward towards the crown of your head. You can even move into your hairline. Repeat 3 – 5 times.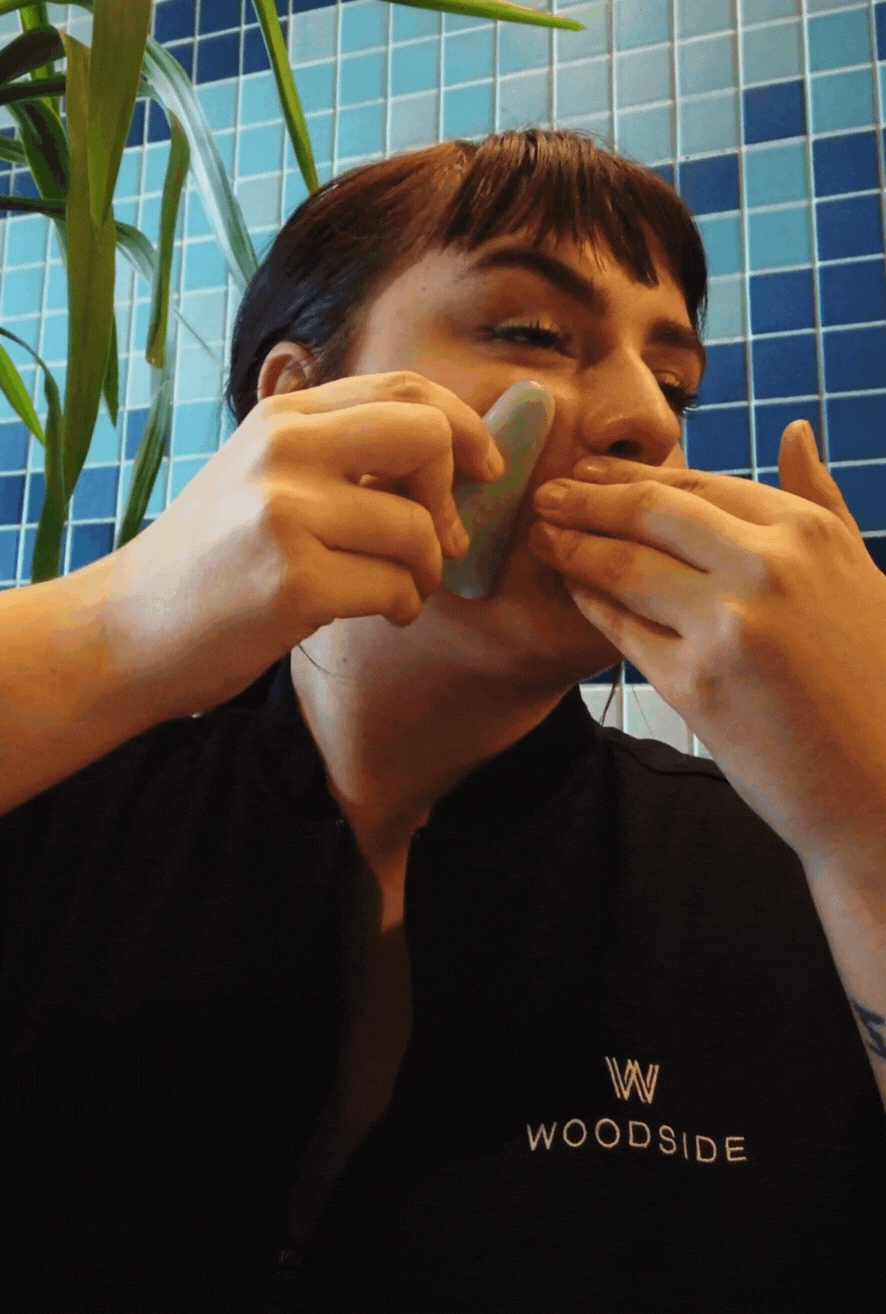 Taking the flat side of the tool, place your tool on your cheek where it meets the corner of your lip. Place your hand next to the tool and gently hold down as you move the tool across your cheek towards your ear. Repeat 3- 5 times then switch sides and repeat the same process.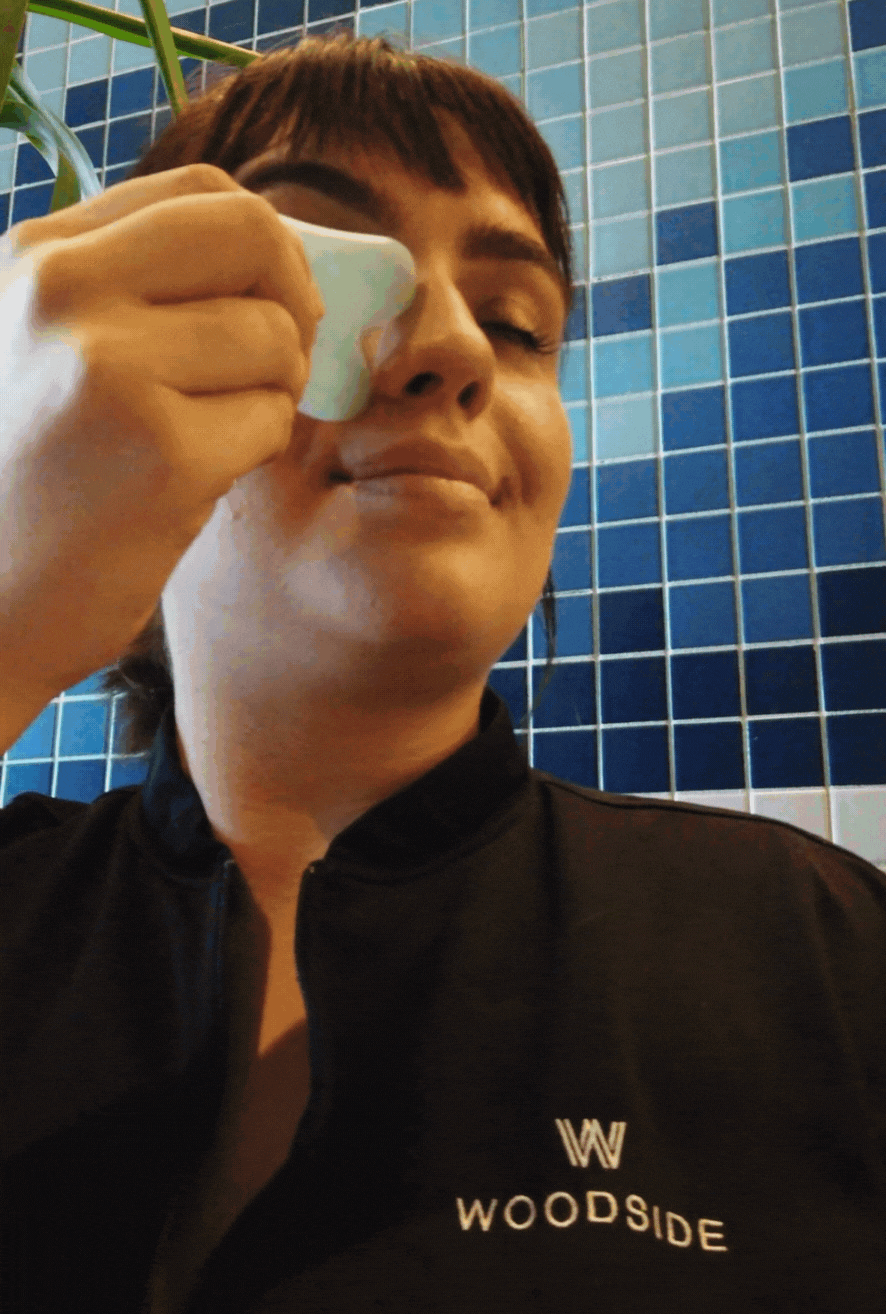 Using the grooved side of your tool, place at the tip of your cheek bones where it meets the nose. Slowly pull outwards towards your ear trying to keep your cheekbones in between the grooves of the tool. Repeat 3-5 times, switch sides and then repeat the process again.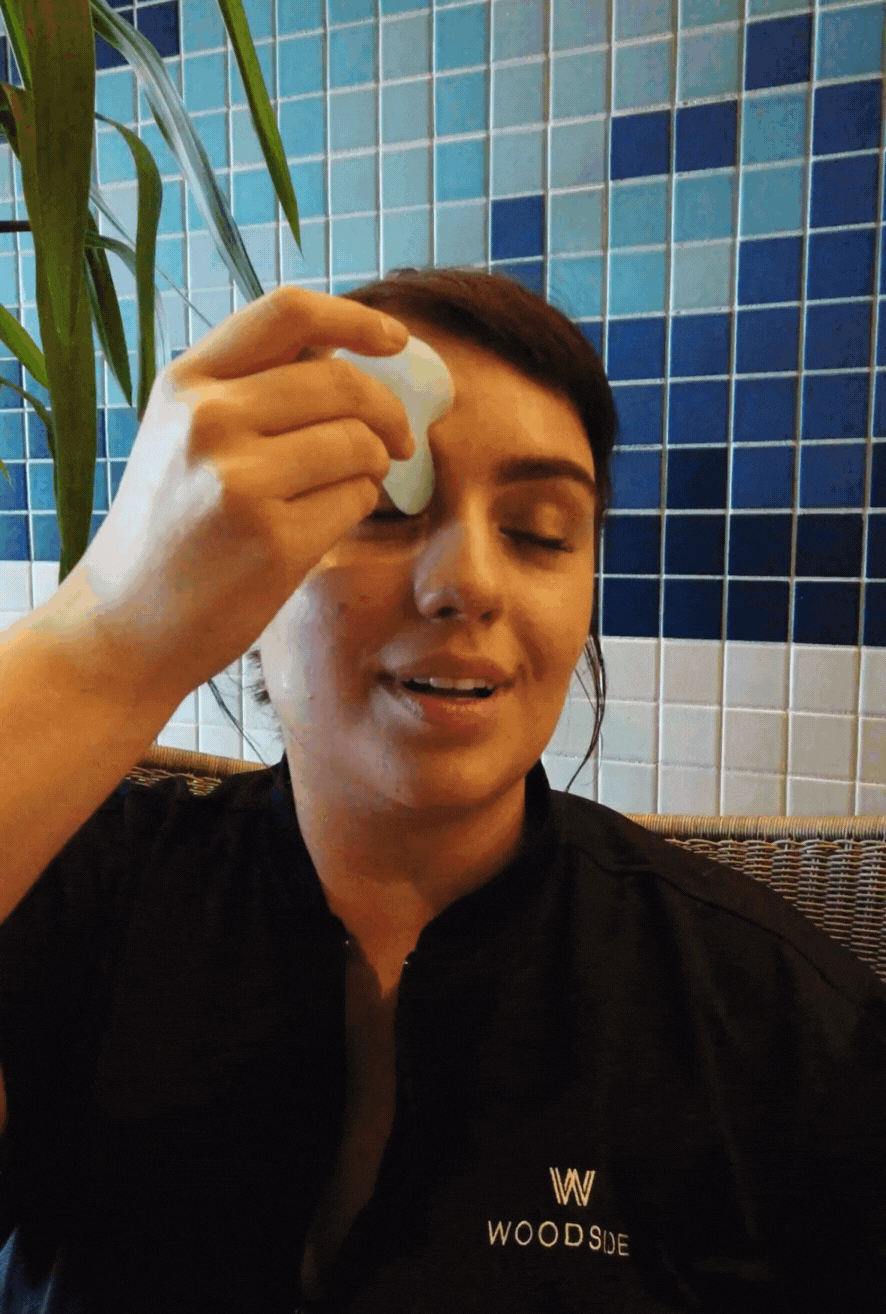 Taking the grooved side of the tool, gently move the tool outward and slightly upward to your temple. You can also hold the other side of your face gently pulling the skin away for extra support. Repeat 3- 5 times then switch sides and repeat the same process. 
RECOMMENDED PRODUCTS FROM THE SPA BOUTIQUE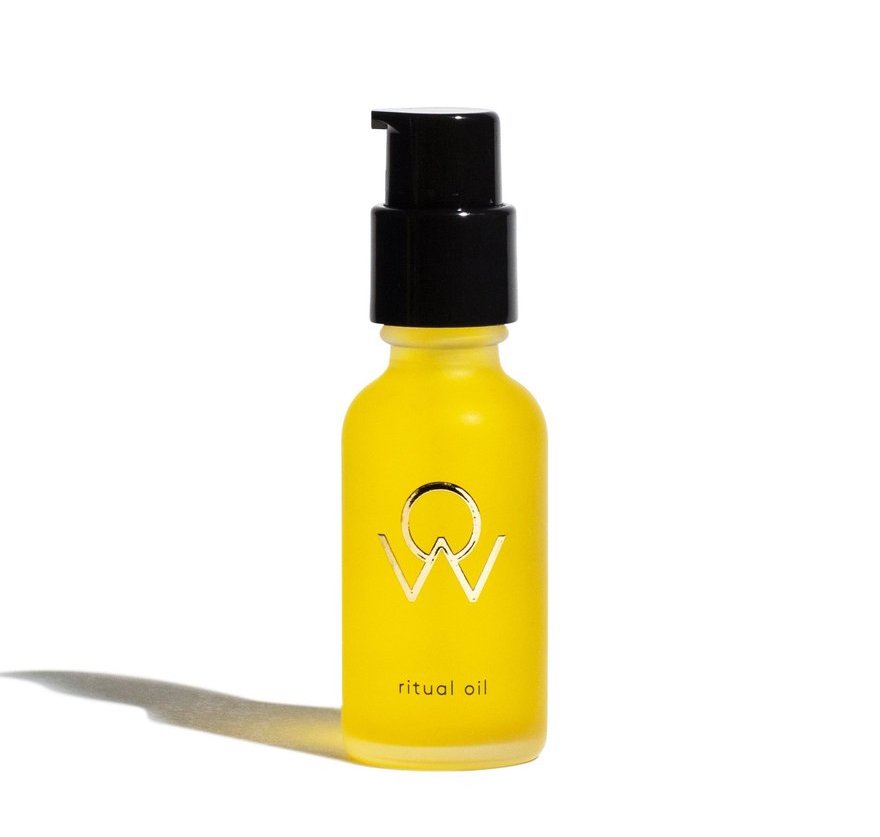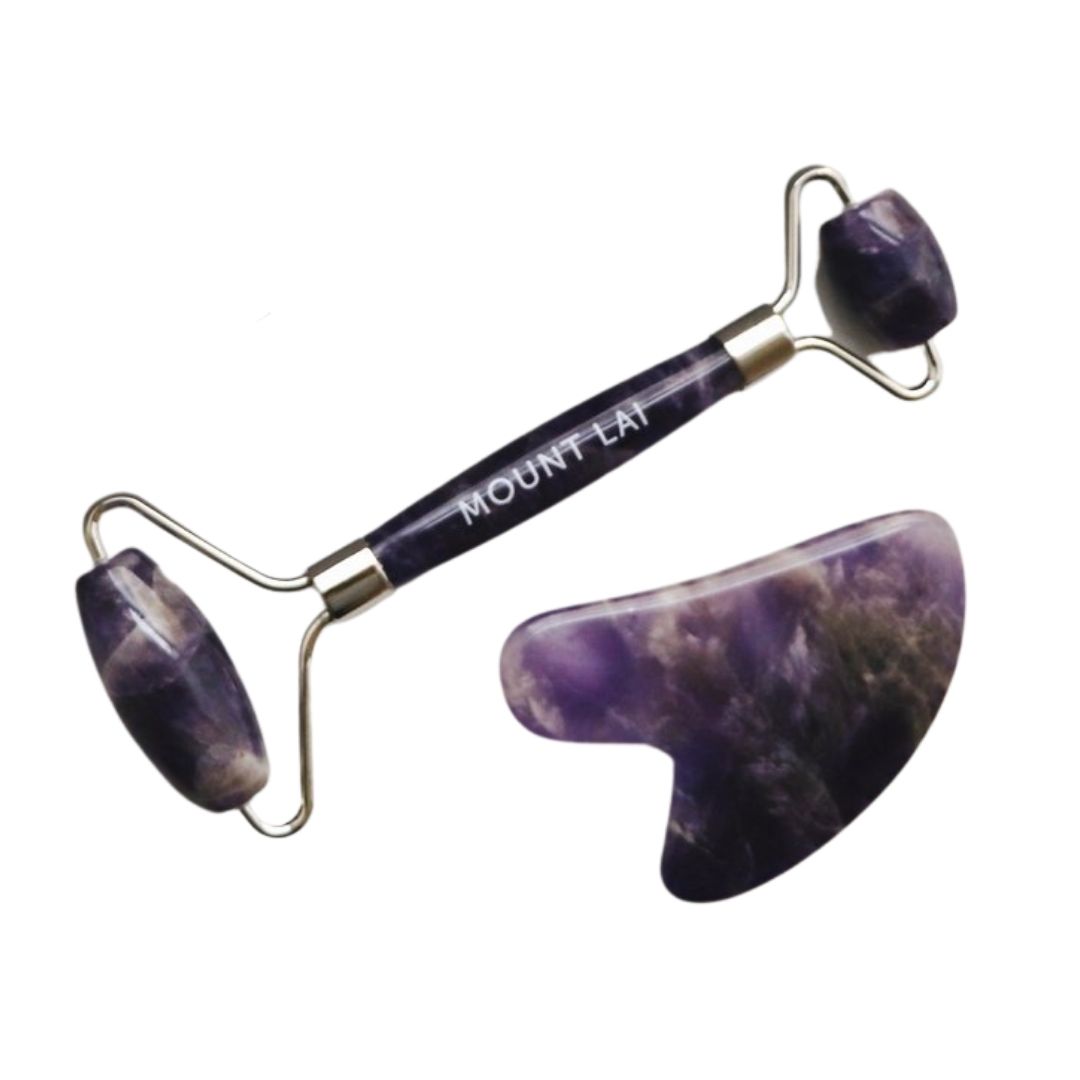 This luxurious oil instantly gives skin a sigh of relief from dryness, tightness and flakiness. When using a facial oil, it should be the last step in your routine, on top of your moisturizer. Simply place a few drops of the oil into your palm and press over the face. Ritual Oil is formulated to combat fine lines and reduce redness on the face when used daily but with the organic Baobab, Camellia & Argan inside it also works great as a facial treatment, hair serum and cuticle oil.
This powerful duo that works to depuff, soothe and lift the skin through facial massage for a radiant glow.  These tools can also help improve blood circulation, reduce puffiness and inflammation of skin, promote lymphatic drainage and relieve facial and jaw tension. The tools work together to enhance your beauty rituals and pair perfectly with a serum or facial oil for maximum results.
You can buy these products and more at The Spa of Woodside Boutique. The Boutique is open Monday – Thursday 9AM to 8PM, Friday and Saturday 9AM to 6PM and Sunday 9AM to 4PM. If you have any questions ask a member of the team they are happy to help you find the perfect products for you and your individual needs.