10 THINGS YOU SHOULD KEEP IN MIND BEFORE TAKING YOUR FIRST YOGA CLASS
Downward facing dog, bridge pose, half frog – when it comes to yoga, it certainly feels like there is a lot to keep track of and learn! However, don't let that intimidate you or keep you from trying it as one of the many group fitness classes we offer here at our KC wellness center. There might be a lot to learn at first, but we are here to help.
Before signing up and packing your yoga mat into your gym bag, keep reading to learn more about what you should know prior to attending your first yoga class.
1.) GATHER THE NECESSARY GEAR.
Yoga mat? Check.
Water bottle? Check.
Comfy leggings and a loose top for improved mobility? Check!
You will want to ensure that you have everything you need prior to heading to class. While yoga is done mostly without equipment, having these items at the ready will certainly help make things easier. If you haven't purchased a mat, you can find an affordable one on Amazon. It doesn't have to be anything fancy, especially if you are a beginner!
2.) PLAN ON A LIGHT MEAL BEFORE CLASS.
Whenever you eat something heavy, the last thing you likely want to do is try to twist your body around into various positions. Eating something carb heavy or binding before heading to your yoga class can certainly give you a disadvantage. Opt instead for a lighter meal, something with a lean meat or protein as well as fruits and veggies. Plan to eat it no sooner than about an hour before class. This will give you the necessary energy for your course without leaving you feeling sluggish and bloated.
3.) DON'T BE LATE!
Showing up late to class is not only embarrassing, but it can put you behind and cause a distraction for others in attendance. Especially if it is your first time, try to show up about ten minutes early so that you can get comfortable with your surroundings. If possible, even introduce yourself to your instructor and let them know that this is your first course. They will be excited to meet you and may even have some advice or insight about what will happen during the class.

4.) BE PREPARED FOR 'NAMASTE'.
In some of our yoga classes, the instructor might say 'Namaste' at the completion of the course. This is a Sanskrit phrase that means "I bow to you." If you wish to return the sentiment, you would simply place hands together at the heart, close your eyes and bow, repeating the phrase. It is offered as a sign of respect and good peace both on and off the mat. However, you do not have to participate if you don't wish to! No one will think you are rude if you skip this step.
5.) SKIP PURCHASING SOCKS OR GLOVES.
Sometimes when a person is new to yoga, they are marketed to buy socks or gloves. However, it is important to note that these purchases aren't necessary. When you use socks and gloves during yoga, it can create a false sense of being grounded to the mat. This is something you want to develop over time naturally, and socks and gloves can hinder that.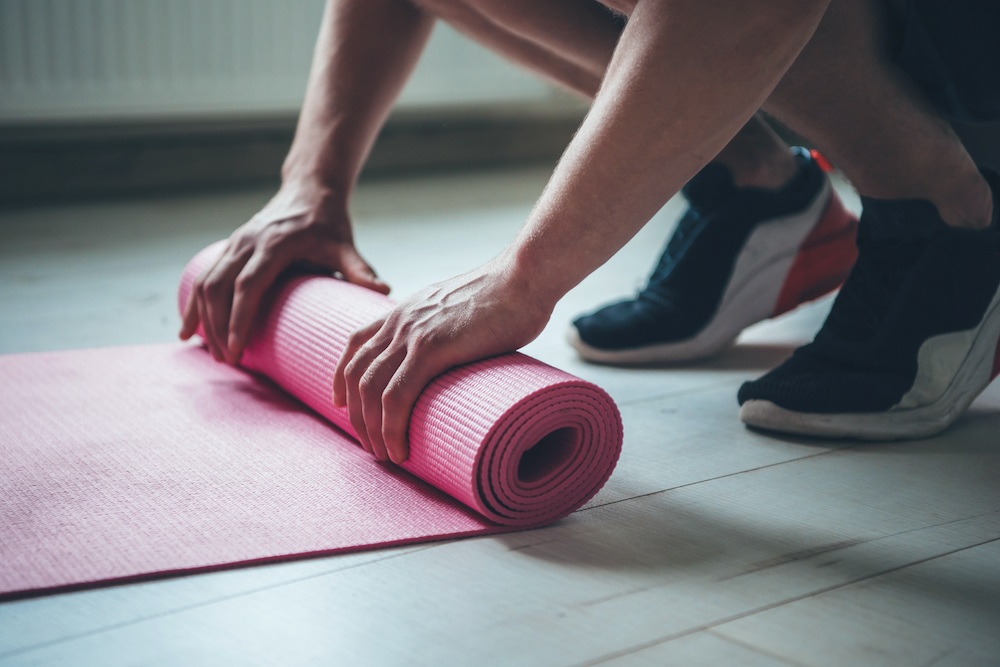 6.) SHAKE IT OFF!
No, that's not just an earworm courtesy of Taylor Swift! Once you are situated in class, do your best to shake off any tension present in your body. Start by relaxing your shoulders and unclenching your fists and toes. Staying stiff can cause some of the yoga poses to feel painful and they may even be difficult to complete. You want to make your movement as fluid as possible. Don't worry if you can't relax all the way during your first class, however. It will simply take time and patience.
7.) FOCUS ON YOUR BREATHING.
Apart from stretching, the other big focus of yoga is breathing. At the beginning of class, take note of how you are breathing. Is it forced and shallow? By the end of class, you should be breathing deeper. It should feel more relaxed and have more control. When you feel your focus shifting during class, do your best to recenter. Again, this is something that will happen more naturally over time and become second nature.
8.) GO FOR CHILD'S POSE.
When you are in class and there is a pose that you can't quite do yet or simply don't understand, don't worry! When this occurs, try to do Child's Pose instead. This will keep you actively engaged in class and allow you to still focus on your breathing. Odds are good that you won't be the only person opting for Child's Pose once or twice throughout the duration of class.
9.) FOLLOW YOUR INSTRUCTOR'S LEAD.
Here at our KC wellness center, we are proud to have some of the best instructors for all of our group fitness classes. And yes, that includes our great yoga instructors! They are highly trained to lead class, so do your best to trust them and follow their instructions. Whether it feels too fast or too slow, remember that this is your first course. You will get a better understanding of the flow of things the more often you attend.
10.) IT'S OKAY TO BE A BEGINNER!
Just like Rome wasn't built in a day, you won't master yoga within your first few classes. It's okay to be a beginner and ask questions. Take your time to navigate through the instruction and make sure you get the basics down before moving on to the next level of classes. Keep a positive outlook and check expectations at the door!
YOGA CLASSES AT WOODSIDE
Our KC wellness center is proud to offer a wide variety of yoga courses, ranging from beginner to more advanced. If you are new to yoga, try starting off in the Yoga Foundations class or even a Level 1 course, like Hatha Yoga L1 or Yin Yoga L1. Level 1 classes are geared towards beginners as well as those with limited mobility. From there, you can move up to Levels 2 and 3, or even try something unique such as Vinyasa or Ashtanga yoga.
If you're ready to start yoga as well as reaping all of the other great benefits that Woodside has to offer, sign up today! We would love to have you as a member here at our KC wellness center.