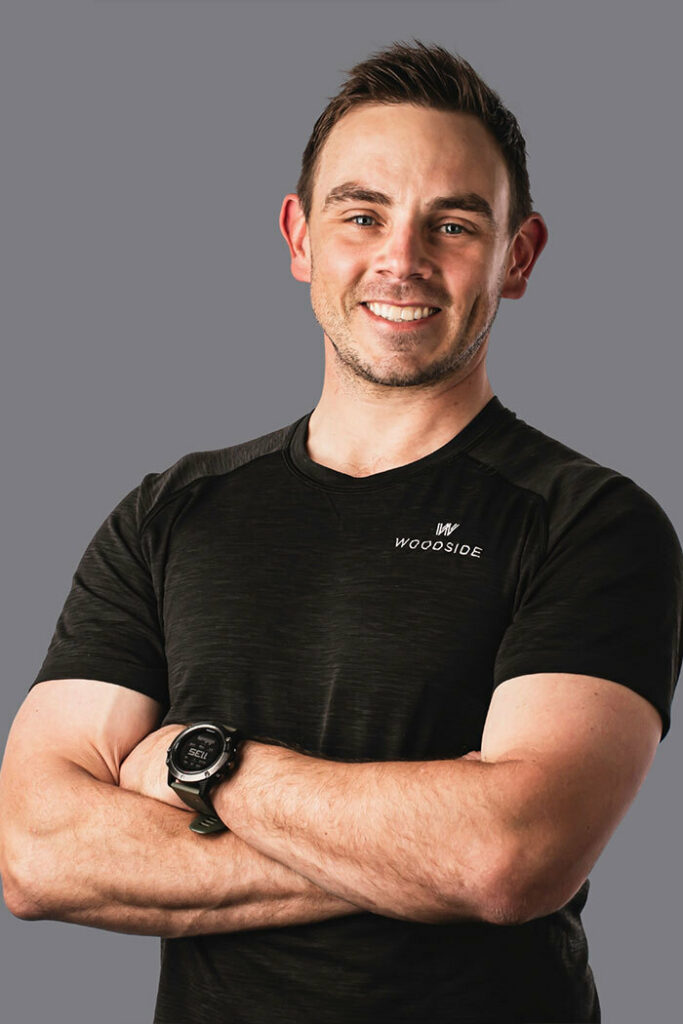 I work under the philosophy that every body is different, and therefore everyone should train to their specific needs. My goal as a trainer is to provide individualized programs that work with where my clients are currently. I enjoy working with individuals of any age or ability, whether their goal is to build stability, increase mobility, strength, endurance, sports specific training, rehabilitation or fat loss. Personal Training allows me to meet a lot of amazing people and create relationships beyond the gym floor. My favorite thing in the world to do is travel. I love exploring new places and cultures. My hobbies include hiking, mountain biking, camping, golf, snowboarding, watching Netflix and going out to eat.
Ortho-Kinetics Specialist Trainer, Fitness Institute of Australia Certified Personal Trainer
Served four years in the Australian Army Infantry Corps while leading group fitness programs for the Australian Army.
I've worked with several trainers over the years (at Woodside and elsewhere) and Simon is absolutely unmatched. I injured my back over a year ago and working out with Simon is the only thing that got me better – physically and emotionally. I really can't overstate what a game changer it is for me to get to train with Simon. Yes, he's super talented and knowledgeable but it's not just that, he's such a good person, completely trustworthy and pays attention in a way that he can tell when there's something he needs to ask about. If someone were to ask me what's absolutely necessary to my wellbeing/what would I not give up – it would be training with Simon. There's no one out there like him – trainers, physical therapists, etc…they can't compete. He's a gem and I'm lucky to get to train with him!
– KATHLEEN D.
Training with Simon these last four years has been an amazing experience and one of the best investments into my health and well-being. Not only does he challenge me physically and push my limits, he is a kind and thoughtful person who I enjoy spending time with every week. Even though I may dread the hard work and sweat, I always leave a session feeling better about myself and that is a direct result of Simon. It's much easier to get motivated to go to the gym when you genuinely look forward to seeing your Trainer.

I appreciate Simon's view on an overall healthy lifestyle. He motivates and educates me on how to improve my eating, drinking and cardo habits, but he is a realist in understanding that sometimes life situations make it difficult. He encourages change but does not judge. This last year has been a roller coaster for me and my family and Simon has been a steady source of comfort. Through his workouts I have become a much stronger and healthier person but maybe even more importantly, I have gained a wonderful friend. I can't say enough about Simon or the other Woodside Trainers I have gotten to know. It's a great place to feel good about yourself!
– DIANE H.
Simon without a doubt changed my life when it comes to my health and physical fitness. I worked out regularly before we met. The harder I worked out the worse my body and back felt. Which at the time didn't make sense to me because I was doing all of the things the "experts" out there said to do. He not only diagnosed why I hurt, but implemented a workout plan that has me pain free.
– DAVID R.