Just in time for the holidays, Woodside Executive Chef Michael Giampetruzzi shares an easy and healthy dessert packed with fall flavors like orange and vanilla, and bourbon, for a little kick. Bring this to any holiday event, or just to enjoy as breakfast throughout the week (with or without the bourbon, we won't tell). Did we mention there was no cooking required?
We have all come to know and love an overnight oat recipe. Packed with nutrients and flavor, this dairy free, gluten free spiced pudding is a take on the breakfast classic. To transform it from breakfast to a dessert you only need a few additional ingredients and little bit of time. The great thing about this recipe is you can really make it your own, swap out the dried fruits for fresh fruits or add some nuts for additional crunch – the possibilities are endless. Here is what you will need to get started.
2 Cups Quaker Whole Grain oats
2 Cups unflavored almond or hemp milk
2.5 Cups plain coconut yogurt
2 TBSP chia seeds
2 TBSP ground flax seed
3 TBSP maple syrup
1 TSP vanilla extract
1 TSP ground cinnamon
¼ TSP ground clove
Zest of one orange
½ Cup dried cranberries
½ Cup golden raisins
1.5 ounces bourbon (optional)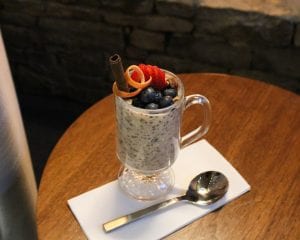 Instructions:
Place the dried cranberries and golden raisins in a bowl and cover with hot water. Allow them to sit for 10 minutes. They should get a little plump over time. Drain and set aside. 
Add all of your remaining ingredients to a bowl and mix to combine. Add the reserved cranberries and raisins and stir to combine. Allow the mixture to rest, covered, overnight so the oats and chia seeds can absorb the liquid. 
Garnish with some roasted nuts for crunch. (I recommend pecans or walnuts). Garnish with some fresh peppermint and a cinnamon stick. Serve and enjoy!