At Woodside, we are proud to bring together a team of full-time, dedicated and passionate training professionals who must complete a minimum of 100 hours of classroom and practicum training to be Ortho-Kinetics certified. Our trainers work tirelessly to help their clients reach their goals and live the fullest, healthiest lives, whatever that looks like to them. Learn more about some of our trainers below. To schedule your free hour, click here. 
KARA MICKELETTO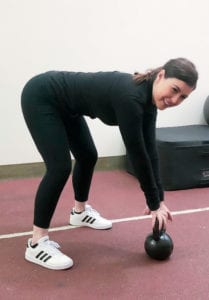 FAVORITE EXERCISE: KETTLEBELL SWINGS
Kara grew up in Overland Park, KS and traveled to Huntington Beach, CA where she worked at Equinox as a personal trainer. She returned back to Kansas City and joined the Woodside team. When not at Woodside you can find Kara traveling and hiking, playing sand volleyball, spending time with family and friends and cheering on the Chiefs. 
What motivated you to go into a career of training?
I was an athlete my entire life until I got to college. There, I had to transition from working out through sports to a gym setting, which I wasn't as knowledgeable in.  So, I hired a personal trainer and through working with them I saw a big transformation. I had more energy and generally felt like a healthier version of myself.  This experience fired my passion in fitness and to help others reach their health and fitness goals. 
What is your favorite part about your job?
Watching my clients progress from not only moving towards their fitness goals, but also learning and excelling within new movement patterns — there is nothing better!
How would you describe your training style? 
My value to my clients goes deeper than putting someone through a workout. I provide a program that is maintainable and that is targeted to meet my clients specific needs and wants and that ultimately will make a difference in their day-to-day lives. My hope is for every client to achieve their goals, learn in the process and maintain this lifestyle throughout the rest of their lives. No matter ones fitness level or goals, I can help make a difference. 
DENISE SARVER
FAVORITE EXERCISE: ANYTHING FROM MY BOOTCAMP WORKOUTS
Denise grew up in Wichita, KS. She went on to study at Arizona State University then moved to Newport Beach, CA where she began her career in fitness and personal training. She also worked as a group fitness instructor and snow ski instructor before returning back to Wichita to take on the a Figure Skating Director role at an ice rink. She now resides in Kansas City. When she is not at Woodside you can find Denise competing in triathlons and urban races, attending country music festivals, traveling or volunteering at multiple organizations around the city.
What motivated you to go into a career of training?
In college I was an Exercise Science major  and wasn't really sure what career path I would follow.  When it came time to do my internship I got in with a Personal Fitness Training Studio.  At the time, personal training was rare — only celebrities did it. I figured it would be an easy 'A' as I had been involved in fitness my whole life and decided to do it.  At the end of the semester, I had not only gained the knowledge of how to train other people but I had also achieved great results myself!  I was so excited by the knew knowledge that I began training my roommates and sure enough they saw results, too. When I realized I could help people change their lives I got certified and have been a trainer ever since.
Training has taken me some amazing places — I traveled as a national presenter for many companies, trained future instructors at Air Force bases and trained other instructors across the Midwest. I also got to go to the 2008 Summer Olympics in Beijing to work with Olympic athletes. I love what I do and have loved making a career out of it.
What is your favorite part about your job?
Empowering people to take control over their lives in an effort to not only get healthy, but stay healthy.
How would you describe your training style?
My goal is to empower you with the knowledge and tools you need to take control of your lives and live a happy and healthy lifestyle.
TAYLOR DEEDS
FAVORITE EXERCISE: YOGA, RUNNING AND HIIT TRAINING
Taylor grew up in Springfield, MO. She has been teaching yoga for over a decade and has been in the training and fitness world for over 4.  When she is not at Woodside you can find her doing Yoga, participating in Spartan obstacle courses and races, running, rock climbing, cooking or anything involving animals. 
What motivated you to go into a career of training?
My entire life I have always loved working out and playing sports. Anywhere from competitive swimming, to track and cross country and now to Spartan Races. However, I didn't realize the deep passion I had for this industry until about six years ago. For nearly a decade I struggled with multiple eating disorders and eventually started to work with a coach to fight through them. Through that experience I learned about the importance of good nutrition but also found a love for weight training. Even though the struggle was real, in only a few months I started to see a positive change not only in my body, but also my self-esteem. It was from that experience that I knew I wanted to help others fight against their inner battles and feel as incredible as I did.
What is your favorite part about your job?
My clients. Cheesy, I know, but Jeez Louise! I get to do what makes me happy with some incredible people every day.  Each and every client I work with is beautiful inside and out and makes me smile every time I have the opportunity to work with them. You can't beat that feeling.
How would you describe your training style? 
I am a total dork! I love having fun and laughing during training sessions so my clients leave feeling not only physically better, but mentally and emotionally better, too! I pride myself on adapting to each client and what they specifically need. No one's body is alike and everyone has different goals, so I'm here for whatever they need!