Today, cardio training is no longer just synonymous with exercises designed to promote weight loss. Today, you don't necessarily have to choose between a cardio workout and strength training. Today, the treadmill is no longer just for running: today, Skillrun is born.
A COMPLETE WORKOUT
Skillrun is the first professional treadmill that allows you to perform a cardio workout and strength training on a single product. Its features make it unique – a piece of equipment for athletes and fitness enthusiasts alike.
One of the innovations introduced with this professional treadmill is Parachute Training: the sensation of running outdoors with a parachute is reproduced in optimized conditions. Resistance is null at the start and increases as you gain speed. Ideal for speed resistance athletic training.
Boost your explosive power and acceleration with Sled Training. This exclusive Technogym workout reproduces the feeling of sled push training on grass. Resistance is high at the start and decreases to a constant rate as you pick up speed. Agility training. The wider running surface enables you to easily change direction and cadence in total safety and comfort. Stamina training. Skillrun also provides precise feedback in real time on parameters such as running power, cadence, and stride length. This way, even prolonged efforts can be monitored and managed in the best possible way.
RUNNING AT THE HIGHEST LEVEL
With Skillrun, the highest levels of run training can be achieved. The running surface is 55 centimeters wide, while the top speed of the Skillrun professional treadmill is 30 kilometers per hour, making it the perfect piece of equipment for athletes. The treadmill can be used with any type of incline, including negative. The speed and incline parameters can be adjusted instantly using the Quickpad on the console, and acceleration and deceleration times are much more immediate than those seen with standard adjustment, making the Skillrun the perfect HIIT treadmill.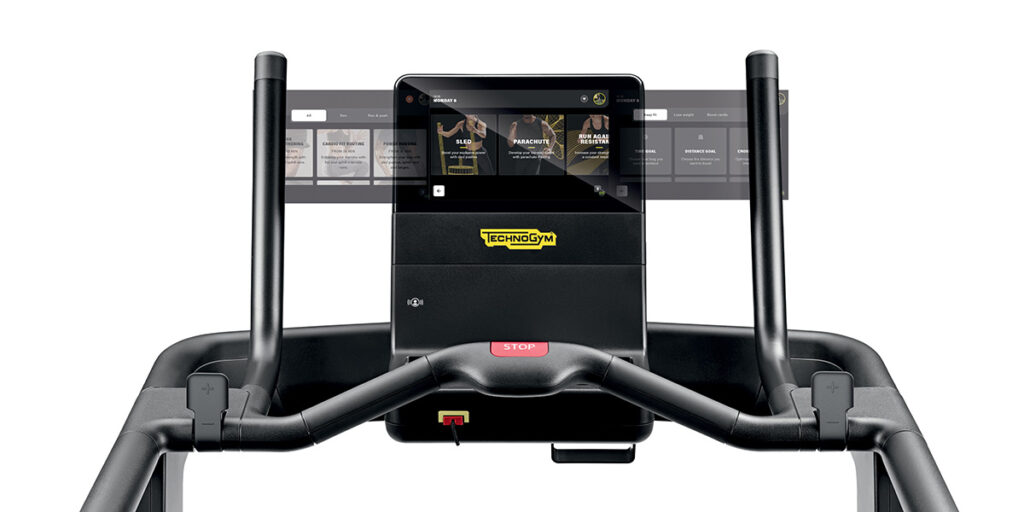 SETTING UP THE MYWELLNESS APP
Search for "mywellness" in your mobile device's app store or click the button for your device below. Download the app, then either log in with your email if you already have an account or touch Create mywellnessaccount. Once logged in, you will be prompted to use an access code. Touch Use the Code and enter WHATC. Now, next time you are using Technogym equipment at Woodside, you can log in to your account and all your workouts will be saved and accessible on your phone.
CONNECTING TO EQUIPMENT USING THE MYWELLNESS APP
To connect to Woodside's Technogym equipment, open the mywellness app and touch the QR code icon in the top right corner of the home screen (indicated with a light blue circle in this image). Use your phone's camera to align the equipment QR code in the QR code scanner. It will automatically connect your phone to the equipment and you will have access to equipment instructions and your account via the equipment screen.
TECHNOGYM SESSIONS
Choose your Session from specific training series based on your personal goals, and the virtual trainer will guide you through a one-on-one Session, offering encouragement and suggesting the level of intensity, which you are free to follow or change.
Technogym Sessions are available on all Technogym cardio equipment and can be accessed by touching the Sessions block on the equipment interface – the block is located in the upper left corner of the screen.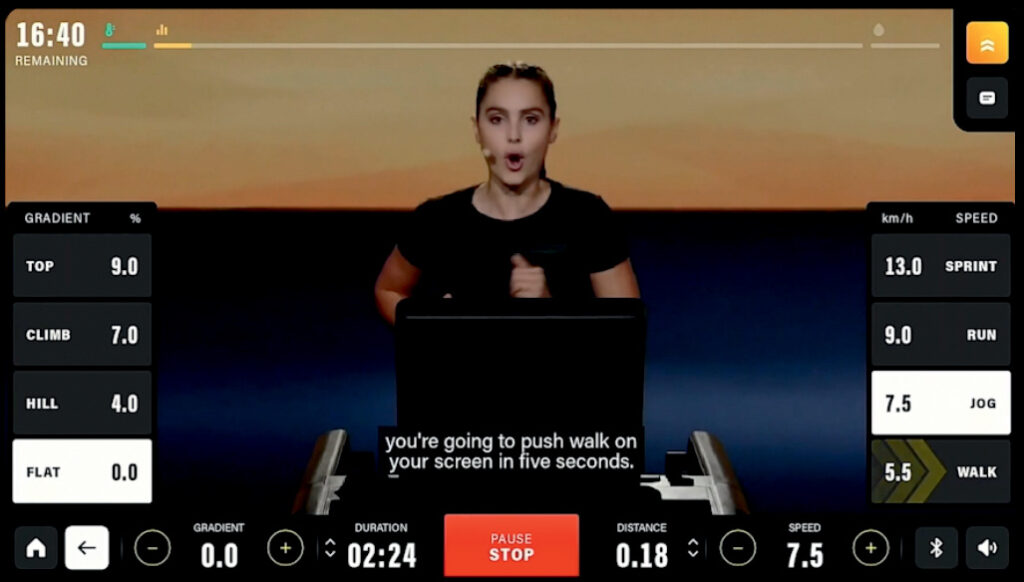 TECHNOGYM ROUTINES
Each Routine contains a variety of movements and exercises, whose intensity is automatically set up by the equipment. You will receive step-by-step guidance either by video, if you are on the Routine-dedicated screen, or by pop-up messages, if you are enjoying entertainment content.
Technogym Routines are available on all Technogym cardio equipment and can be accessed by touching the Routines block on the equipment interface – the block is located in the bottom left corner of the screen.
TECHNOGYM OUTDOORS
As the weather cools off, you may find yourself drawn to the comfort of climate-controlled treadmills to get your cardio in. If you miss the scenery outside, try the TechnoGym Outdoors function and enjoy an outdoor training simulator where you can work out virtually in nature, seaside and city locations all over the world. Click here to learn more.
Our Training team can help you incorporate the Technogym Skillrun into your workout routine. To learn more click here or email us.