Woodside Bar Lead, Jacob Scott, talks about creating the new fall drink menu for The Bar. Jacob has worked in the service industry for over fifteen years and joined the Woodside team two years ago, helping cultivate multiple menus featuring a wide range of craft cocktails, mocktails and diverse selection of beers and wines. Below he shares where he drew inspiration from in creating the new fall menu and some of his favorite drinks.
Tell us a little about yourself and your role at Woodside.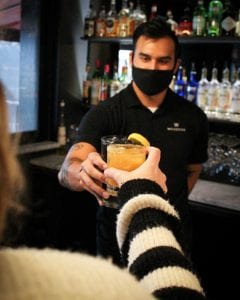 My career has been heavily shaped by my time in the service industry. Over the last fifteen years I have worked every position in the front of house and back of house in some capacity which has given me a deep understanding of the industry. From busboy to server or dishwasher to line cook – I have seen how a restaurant operates from every angle and know what it takes for one to be successful. With this knowledge I opened and operated my own event planning company, Twilight Entertainment, in which I planned weddings, non-profit events, auctions and more. Through this endeavor I was able to hone in on my creative side and create in ways I had not been able to before. 
I joined the Woodside team in fall of 2018 and have loved being apart of the Food + Drink department. As time went on, I wanted to become more involved in drink and menu creation and was promoted to Bar Lead last fall. This allowed me to create custom cocktails and mocktails, select craft brews and a breadth of wine offerings that not only paired with but heightened the experience of eating and drinking, together at Woodside.
Where did you draw inspiration from for this menu?
With my culinary background and overall love of cooking, I always look to create drinks that pair well with a meal. In creating this menu, I worked closely with our Executive Chef to make drinks that complimented his dishes which utilizes a lot of not only classic, but unique fall flavors. I wanted the drink menu to do the same. Whether paired with a dish or stand alone, you can expect to taste exciting combinations of some of your favorite fall flavors, or a twist on some of your more traditional year-round favorites.
What drink are you most excited for others to try?
The Brown Butter Rum.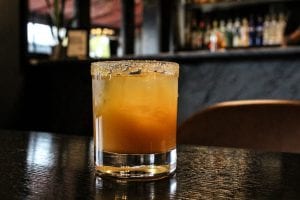 I really enjoyed being able to get creative on a traditionally sweet drink that uses ice cream. I worked with Chef to replace it with an acorn squash puree for a healthier and lighter sweetness that is packed with flavor.
The Fall Flip is a seasonal take on a Nog-like cocktail, utilizing almond milk, pumpkin and an egg to create a creamy, smooth, Autumn favorite. This was exciting to create a non-alcoholic version of a popular seasonal cocktail.
For those who might be new to building a home bar — what would you say are the top three things they should have in their home collection?
Bitters — especially for the winter months it is an extremely versatile ingredient that can add a comforting warmth to any drink.
Agave Nectar – not only is this great to have on hand as a natural sweetener for a cocktail but it also can be utilized in smoothies, teas and even as a substitute for maple syrup on breakfast classics.
Tequila – as a personal favorite of mine, tequila is great to sip on its own (Reposado or Anejo) or combined with other ingredients (see that agave is already coming in handy) for a refreshing Margarita or Paloma (Blanco or Plata).
The Bar is open Monday – Friday 4PM to 10PM and Saturday – Sunday Noon to 4PM. You can view the full fall drink menu here.