If you are looking for adult tennis lessons in Kansas City, Woodside is the right place for you! The goals of the Woodside tennis community are to learn more, have more fun and become better competitors. What a wonderful atmosphere in which to challenge yourself while learning more about the sport of tennis!
We offer lessons, clinics, leagues and social events to get our members into the game, and there is something for absolutely everyone. Let's look at reasons you may want to explore tennis lessons as your avenue to better health and a great social experience!
#1.) TENNIS LESSONS WILL HELP YOU TO IMPROVE YOUR OVERALL SKILL LEVEL
Sharpening your knowledge of the game will not only make your time more effective, but it will also make it more enjoyable for you and for those who you are playing with or against. The more you know about your swing, the less energy you expend when you work to hit the tennis ball, so the more energy you have to continue playing for a longer period of time. Lessons with a pro can assist you in being more productive with the time you have on the court.
Woodside offers clinics year-round, indoor or outdoor, for all skill and fitness levels. You can begin with Adult 101, then  move on to Adult 201 for more work on your technique. There are even clinics for stroke and strategy, as well as options to work more fully on your team play. Clinics are set at all times of the year with numerous options for you and your game. 
#2.) TENNIS LESSONS CAN PROTECT YOUR BODY FROM INJURY
Since knowing how to perform any task correctly can help us do so without injury or pain, you can only imagine how knowing the ins and outs of tennis movements can help you avoid injury  as you play the game. Most of us play for enjoyment, so it is critical that we do not injure ourselves in the process. Some of the most common injuries on the tennis court involve muscles and joints, and our tennis pros can help you understand how to warm up and play the game in a way that most effectively protects your body from harm. 
#3.) LESSONS ALLOW YOU TO MAXIMIZE YOUR OVERALL HEALTH BENEFITS
If you are just happy playing tennis for a bit of exercise and fresh air, then you can continue with that. However, if you are more serious about increasing the overall benefits you could receive from the sport, you should consider investing in lessons. Since the sport involves bursts of energy, it requires a great deal of strength and speed, as well as hand-eye coordination. Working with our tennis pros can help you develop the correct techniques to become quicker and use your energy more efficiently.
In addition, you can participate in a group fitness class called Cardio Tennis that gives you a full body workout while utilizing tennis skills and drills. Even this tennis workout has several levels depending on the challenge you would like to pursue: Intro, Extreme and even a Bootcamp. As usual, Woodside has something for everyone!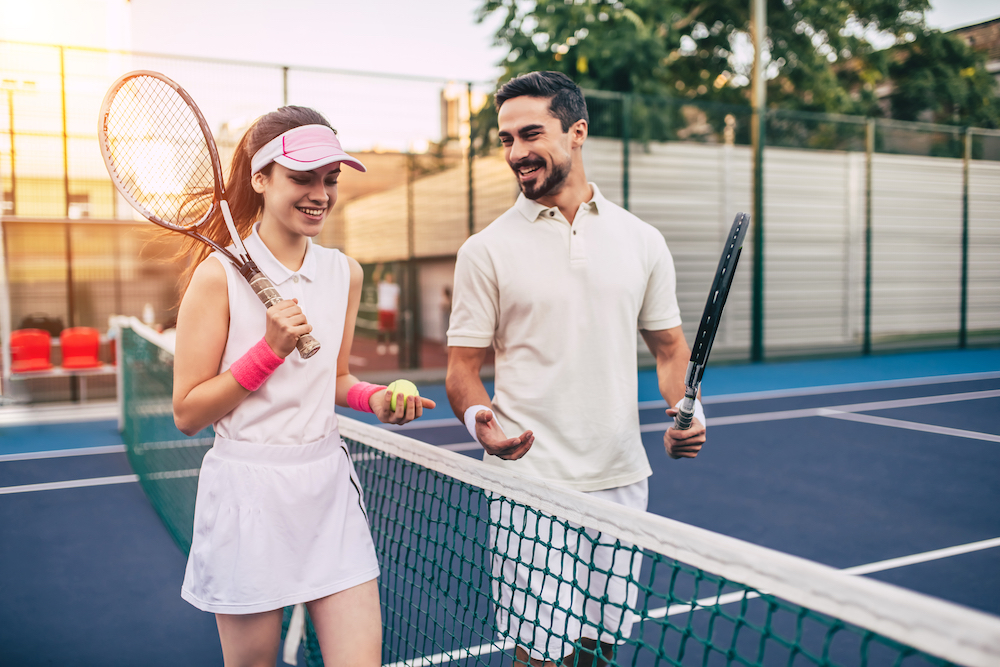 #4.) TENNIS IS A SOCIAL SPORT
Socializing is another important aspect of the sport. If you are looking for something interesting to do, taking lessons is a terrific way to spend time. Whether you are a young adult and up for the challenge of competition or an older adult who may be looking for an activity to fill time after retirement, adult tennis lessons in Kansas City are a wonderful way to meet new people and get out of the house. You may be learning something new or simply brushing up on a hobby you previously held. Either way, bringing tennis into your life at Woodside may be just the way to fill your life with action in your downtime.
Also, you can get to know other players while developing your skills and improving your overall game in an adult league. Woodside's adult tennis leagues offer men's and women's singles and doubles play for every experience level, and so they provide great opportunities to make new friends with other members and maintain friendships you have already made. 
#5.) LESSONS CAN MOVE YOU INTO A MORE COMPETITIVE SKILL LEVEL
Then there is always the question of competition. Just how competitive are you? Do you want to sharpen your skills to play at a higher level? Woodside offers the opportunity to let that challenging side come forth for its members with competitive options available, if desired. Since Woodside offers lessons with USPTA certified professionals, you can be assured you are receiving the most challenging lessons to move into competitive ranks, if competition is your desire.
There is Challenge Ladder League Play available for those with a highly competitive nature. The challenge ladder is played throughout the year, so those who would rather find their workouts on the court than in the gym will love this competition to do so. A ladder of play will be created in order of registration, and the number of spots to challenge up is determined by the number of players on the ladder. It may be all good fun, but oh, is it ever fun!
PLAY TENNIS AT WOODSIDE!
Tennis has shown itself to be a sport that offers numerous health benefits to people of all fitness levels, challenges the mind and body with the skills required and still proves to be one of the most social activities of our time. If you are in search of the perfect adult tennis lessons in Kansas City, the many offerings surrounding the sport of tennis at Woodside make it the ideal spot to land with your racquet! 
Look into new and exciting membership opportunities at Woodside now. You can join online or schedule a tour to discover more about how Woodside can meet all your health needs. Your tennis court awaits!