3 STEPS TO KEEPING YOUR SKIN HEALTHY THIS WINTER
Do you ever think about the health of your skin? As the weather begins to change you might start to notice your skin change due to stress or a lack of moisture in the air. These things and more can play a huge role on the health of your skin. With a few simple additions to your routine, you can keep your skin happy and healthy all winter long. Woodside's Spa and Retail Manager, Tori Connelly, shares ways you can fight against dull dry skin this season.
Did you know — your skin is constantly shedding dead skin cells, roughly 30,000 cells per minute. When it gets colder you might notice that those dead skin cells start slowing down and shedding less so you are stuck with much drier and tighter skin. Skin naturally renews itself every twenty eight days but with extra build up and a lack of moisture, it needs a little assistance staying on the right track. This is where exfoliation, hydration and moisturization in addition to normal cleansing play a huge role.
Step 1: Exfoliation
Sometimes, dead skin cells don't shed completely. This can result in dry, flaky patches and clogged pores. Exfoliation is the number one way to keep your skin smooth, clear of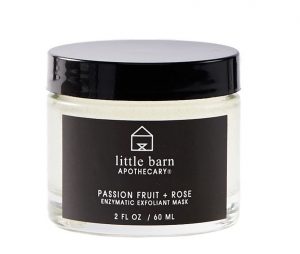 blemishes and remove dead skin cells from the surface of your skin. You can do this by using a chemical based product, granular substance or exfoliation tool. Everyone's skin needs are different but overall, most skin types will benefit from exfoliating 3-4 times a week with a gentle product like SkinCeuticals Micro-Exfoliating Scrubor a nighttime treatment that uses acids to exfoliate like the Glycolic 10 Renew Overnight. Our new product, Passion Fruit + Rose Enzymatic Exfoliant Mask from Little Barn Apothecary will remove dry skin leaving you with smooth and glowing skin.
Step 2: Hydration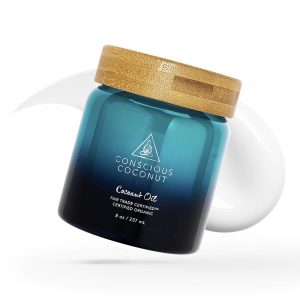 Keeping your body hydrated does wonders for your skin. Proper hydration assists your body in eliminating toxins, which will help prevent them from building up in your skin.The skin, like every other organ,  also needs water to thrive- so (water) bottoms up! Products can also help you add more moisture and hydration into your skin.A great product to pick up in the boutique is the Conscious Coconut Oil or The Wildland Organics Daily Ritual Oil.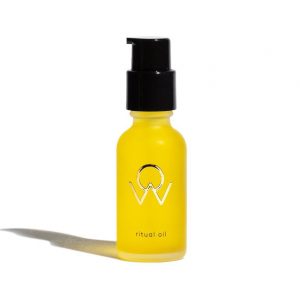 Conscious Coconut has four times the antioxidants than the average coconut oil with its all natural antibacterial and antimicrobial properties. This oil can be used to hydrate the face, body and even your hair.  Wildland Organics' Ritual Oil offers a blend of oils that not only hydrate the skin but also reduces redness and fine lines and wrinkles.
Step 3: Moisturize
Some people might feel like they have properly moisturized and then a few hours later feel their skin becoming dull and dry again. This is due to trans-epidermal water loss or TEWL (as us skin care nerds like to call it). TEWL is when water evaporates from the skin leading to the inability to hold on to moisture and is much worse in the winter months. Your skin needs both hydration and moisturization to maintain desirable levels of TEWL.  The best way to keep your skin hydrated is by using both a serum and occlusive moisturizer. The serum sinks deep into your skin while the occlusive helps lock the moisture in. Products like SkinCeuticals, Hydrating B5 Gel or Hyaluronic Acid Intensifier paired with a thicker/occlusive moisturizer like SkinCeuticals Emollience or Daily Moisture will help you lock in and keep moisturized skin throughout the day. These two steps together- hydration and moisture will results in skin holding on to water all day and you won't be dry and flakey by noon.
Healthy skin is smooth, clear and hydrated. Signs of an unhealthy skin barrier are redness, tightness, uneven skin tone and texture, as well as breakouts. If you start to notice any of those signs try adding these three steps into your skincare routine. With proper care you'll have glowing healthy skin every month of the year.
Visit The Spa at Woodside and see our skin expert Esthetician to assess and address your winter skin needs. The Spa at Woodside is open Monday – Thursday 9AM to 8PM, Friday and Saturday 9AM to 6PM and Sunday 9AM to 4PM. To make an appointment or ask questions call 913.831.0043 
Recommended Products + Services:
SIGNATURE FACIAL + COLLAGEN MASK
Includes a skin analysis, deep cleansing, décolletage massage, revitalizing mask and skin reconditioning. We use aromatic formulas selected for your skin type and specific needs. Collagen adds a calming, hydrating boost to any facial treatment.