At Woodside, we are proud to offer individualized instruction through our Pilates training. Through smooth movements working against resistance, you will start to build strength and flexibility with regular practice. We talked with Kerstin Robertson, Personal Training Manager and Pilates Trainer, about the practice, the benefits and how to get started at Woodside.
What is Pilates?
Pilates is the practice of low-impact exercise that not only strengthens muscles, but also improves your postural alignment and flexibility. It is based off 5 principles including breath, pelvic, ribs, shoulder and neck position. Focusing on these 5 things and how to control them and move them correctly is the basis of the practice.
What benefits can you receive from a regular Pilates practice?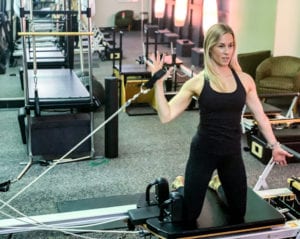 The thing that I really love about Pilates is that it goes much deeper than just physical benefits. Pilates not only improves your physical self but also works to improve your mental self. With a regular practice you can start building out a better body.  You will notice better muscle tone, posture and overall improved aesthetic but you will also gain a deeper physical awareness of the muscles in the body. With that knowledge, you then will learn how to use your core to work and stabilize every motion you do, on and off the reformer.
Pilates can also help with increasing focus and decreasing stress. Through deeper, more engaged breaths through the abdominal, you start to create a mind body awareness for combating stress that translates into your daily life.
What benefit does the Reformer apparatus provide?
The reformer enhances the Pilates experience by assisting in helping you achieve correct posture, length, and space within the body through the use of spring resistance. This system makes it a complimentary workout to all individuals at all levels of fitness. I like to call it a "controlled environment" that makes alignment and muscle activation easy to feel. On the reformer you feel the burn!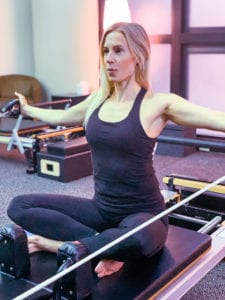 What advice would you give someone that is new to the practice or wants to try it?
The reformer was created for everyone!  You can start at any level of fitness and achieve results.  The best way to learn about Pilates, is to experience it. You'll be able to feel how every exercise can be progressed or regressed based off your specific needs, allowing you to strengthen your entire body in a truly unique way. At Woodside, we strive to individualize the experience as much as possible so that you can achieve the right results.
What's the best way to get started with Pilates at Woodside?
We recommend at least one 1:1 session to start. Which is free for new members or any current member that wants to give it a try. We offer a complimentary hour for you to meet with a trainer and learn the basics of Pilates reformer.  We'll help you understand how the machine works and teach you exercises based off your level so we can help you make the most of your group sessions.
To schedule your one-on-one session email Kerstin Robertson. You can also register for group sessions on MyWoodside. View the schedule, here.